Painted Kitchen Table Design Ideas
Got an old kitchen table that's just not doing it for you anymore? Don't trash it – paint it. We've got tons of ideas for styles and colors, and a few how-to tips to lead you to the painted kitchen table of your dreams.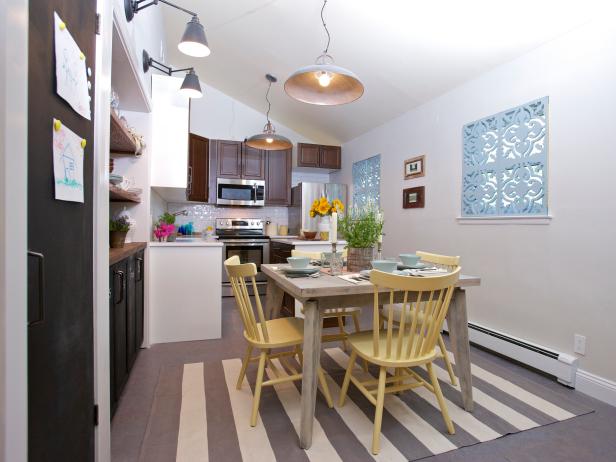 Coastal Kitchen With Driftwood-Like Table
A gray-and-white striped rug defines the dining space in this small eat-in kitchen. The table originally had an espresso finish, but once it was sanded down, a coat of white paint was added and then quickly removed to give it a whitewashed effect that evokes the look of driftwood.
Kitchen tables come in a variety of styles, from pedestal to farmhouse. But when you inherit your aunt's Queen Anne drop leaf, complete with glass rings—or maybe you find a Gustavian dining table complete with bad faux finish at a garage sale—try a few painted kitchen table design ideas.
That's right—just paint it! Painting a kitchen table is the perfect way to update it, not just because it's super-affordable, but because you can personalize it to fit your style.
Choosing color in your home can be tricky, and it can take a while to find the right scheme for your table. Pinterest comes in handy for this. Just make a board and pin pictures of tables you see. Or go old-school and create a notebook. We also love browsing paint chips at the local hardware store for fresh, exciting color combos.
Kitchen tables can, by nature, be more casual than dining room tables. So experiment by painting the top one color and the base another—or stain the top and paint the base. One favorite is a dark-stained top (think cherry or light mahogany) and a white base; it's a great look, particularly on pedestal tables.
Also consider painting the table and chairs different colors. We love aqua tables paired with apple green, white or multicolored chairs. If you have fabric in the kitchen—say café curtains on the windows—take a tip from the pros and choose your colors from there. It pulls the room together without leaving you feeling too "matched."
If you love experimenting with paint, tape off a simple pattern. For example, try midcentury modern diamonds or crisp nautical stripes, and alternate between two and four colors. Or freehand the look of mosaic tiles or a Talavera pattern on the table top.
Once you pick your colors, it's time to paint the table. Sand it with a medium grit sandpaper (a small power sander makes quick work of this). Don't worry about removing all the paint because the next step, applying primer, will create a smooth surface for the paint to adhere to.
Apply two coats of primer. When it's dry, sand it with a medium-grit block (don't use your power sander here; it's likely to sand right through the primer). Sand and wipe until you don't feel any bumps when you run your hand across the surface.
Then apply two coats of base paint. When that's dry, apply your pattern, if you're doing one. You can seal it with a non-yellowing polyurethane.
Another option is chalk paint, which gives the wood a matte, weathered finished. Our editors can't get enough of this stuff!
More Kitchen Table Design and Decorating Ideas
Other Kitchen Table Ideas