Learn how to devise a paint palette for your kitchen.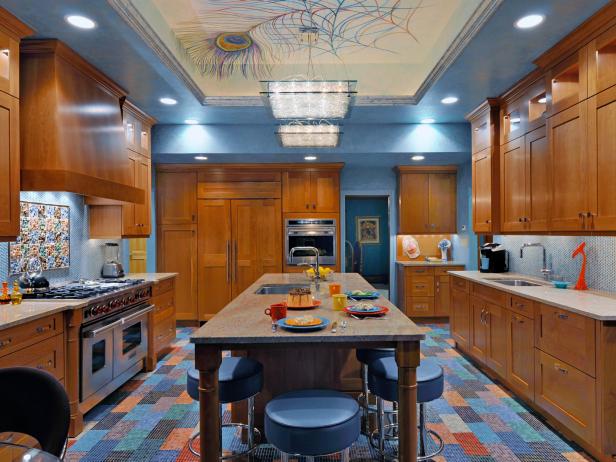 Ignoring Lighting
Hammer Heads carpenter Carmen De La Paz says, "Another mistake that homeowners will often make is not taking into consideration the lighting in their home. The lighting in your home can completely change the colors, the feeling, the ambiance." Designed to Sell's Lisa LaPorta adds, "There are really three main types of lighting: general lighting, task lighting and drama or accent lighting. You need a combination to have a really good end design."
When deciding on a color palette for your kitchen, it's important to think about the overall design of your home and the vibe you're trying to achieve.
Kitchens in Color: Ideas for Brightening the Kitchen with Color
See All Photos
One of the safest ways to add color to your kitchen is via your walls and kitchen accessories. If you opt for white cabinets and wooden countertops, consider adding a colorful standing mixer or vibrant dish towels to help brighten the space. A fun light fixture or colorful hardware can also help brighten the room.
Ask yourself how you want your kitchen to feel. Is it country chic? Modern and sleek? French bistro? There are many different pieces of your kitchen that need to coordinate, including your cabinets, countertops, backsplash, wall color and even appliances—and knowing where to begin can be tricky for some.
There's no set rule on where to start when it comes to choosing a color palette for your kitchen, but your wall color can help dictate how you design the rest of the room. Lighter wall colors tend to work well in kitchens and can create an airy and inviting atmosphere.
The color of your cabinets can also have a major effect on the overall design of your kitchen. Many people play it safe and go with white cabinets, a fresh and classic look. Others gravitate toward wood cabinets in a range from blond to brunette while other options include dark gray, navy blue or even bright red. If you definitely want to paint your cabinets a color, consider using a lighter color on top and a deeper color on bottom, or vice versa. Or, if you have an island, just paint the bottom a different color and keep the other cabinets neutral. This will help the kitchen from feeling overpowered by one hue.
Countertops are another area in the kitchen where you can incorporate some color. Available in an array of natural materials and bold custom colors, countertop options are endless. Classic marble or butcher-block-style wood are neutral choices that work well with an array of wall and cabinet colors, while granite, quartz and other surfaces come in a wide range of colors.
Backsplashes are another way to add some color to your kitchens, and there are many different directions to go, from simple white tiles to more intricate and colorful designs. If you're set on using bold colors in your kitchen, your backsplash is a safe place to do it, and it can help liven up more neutral cabinets and countertops.
More Ideas for Painting the Kitchen
Kitchen Paint Inspiration