9 Of-the-Moment Kitchen Cabinet Hardware Ideas
Small but mighty, hardware can make or break the look of your space.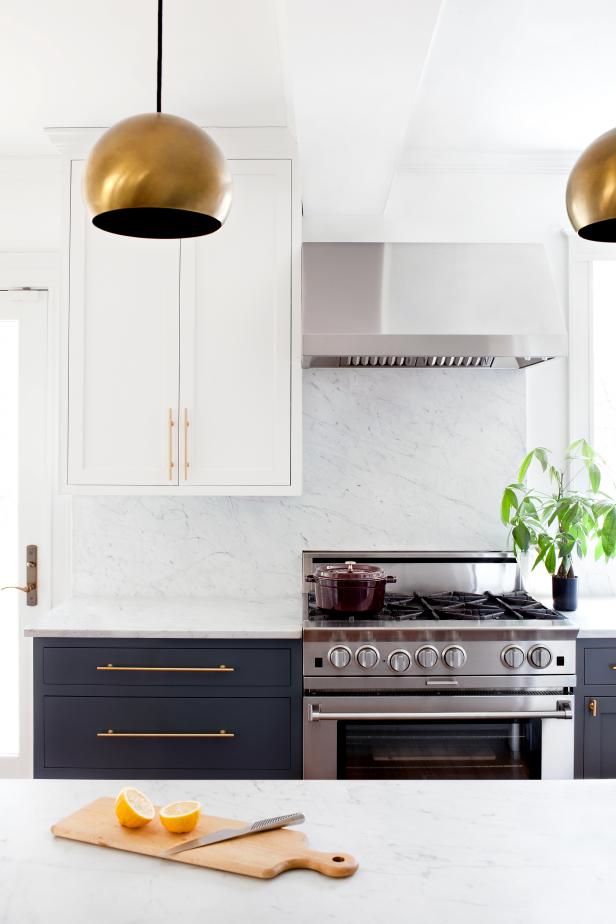 Plenty of Counter Space in Stylish, Functional Kitchen
A large kitchen island as well as base cabinets that surround the kitchen space give the homeowners plenty of counter space for meal prep and serving.
Accessorizing is the most important part of any outfit. A little glimmer, a little glam or maybe something unexpected and modern can make an ensemble. Well, I think that accessorizing happens to be just as important when decorating your home, which is why we're exploring the "jewelry options" for the kitchen: hardware! Often overlooked, but capable of extreme 'wow' factor, the pulls on our cupboards can easily be swapped out to drastically change the style of your space.
I'm currently on the hunt for the perfect brass pulls to update my run-of-the-mill silver knobs. But to get a whole sense of what's available at the hardware store these days, I'm looking beyond just brass and test-driving a few other options as well. From handsome black bars to boho porcelain and even DIY leather, these gorgeous hardware options are sure to inspire.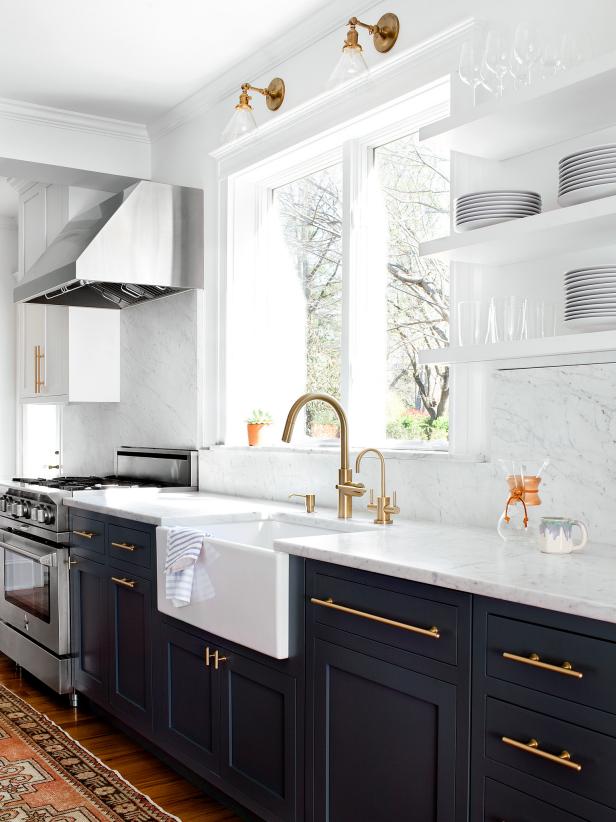 Bright, Airy Kitchen With Warm Metallic Hardware
Chrome, nickel and stainless steel finishes will never go out of style, but warm metallics offer a fresh, modern look. For a quick update, consider replacing your lighting, faucet or cabinet hardware with products in gleaming brass or bronze like the ones in this chic space. "The updated satin brass cabinet hardware is really striking against the simple shaker cabinets," says designer Elizabeth Lawson.
Jennifer Hughes; Design By: Elizabeth Lawson, Elizabeth Lawson Design
Luxuriously Lean: Long, lean brass and gold drawer pulls are quickly becoming a staple in many homes. Modern yet traditional, they have the ability to adapt to a variety of styles and color palettes making for an effortlessly-easy update.

Dresser-Like Delicates: Think outside the kitchen aisle and bring in unique hardware pieces intended for other rooms and furniture. These dainty drop pulls get stylish balance when paired next to more substantial hardware like cup pulls and knobs, which keeps the space from feeling overly-frilly and yet incredibly fashionable.
Shape-Shifters: Full disclosure, these hexagonal knobs are currently in my online shopping cart! I love that an antiqued brass finish can look so modern when taking on new shapes. The V-shaped pulls are a nice contrast, while still carrying through the overall geometric vibe.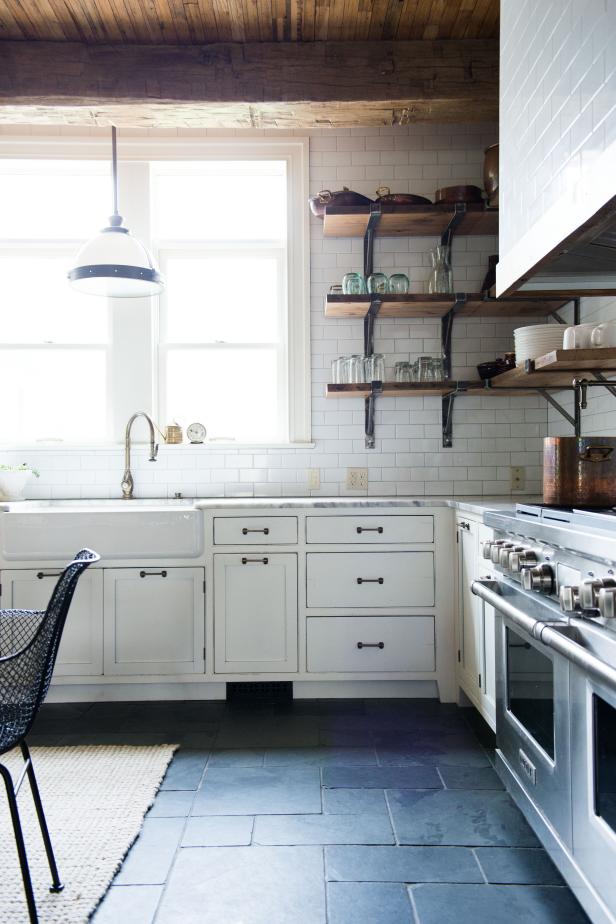 Repurposed Cabinets Give Remodeled Kitchen a Custom, Rustic Look
The kitchen cabinets in this design are from the original home. They have been cleaned, painted and reconfigured to give them new life and, when combined with the new cabinet hardware and drawer pulls, give the space a custom, unique, rustic look.
Classic Combo: It doesn't get more classic than black and white. This kitchen makes a nostalgic nod to retro schoolhouse style with lean black bars paired with industrial lighting and shelving. Old-fashioned yet modern all at once.
Boho in Blue: Black hardware takes on a new personality when paired with blue-washed cupboards. The otherwise stark look becomes quite eclectic and sophisticated in this surprising combination.
New Wave Neutrals: Black hardware never looked so elegant than when paired with rustic, unstained wood. A handsome coupling that feels mid-century modern, but definitely heavier on the modern.
Porcelain Pretties: Whether you're going for a boho look or trying to add a little romantic detail, painted porcelain creates a powerful punch in a tiny little package. Such a perfect and pleasant way to add a hint of color and texture in all kinds of kitchens.
Dreamy DIY: Have you ever seen something that makes you want to break out the craft kit and get to down to business? Well these leather drawer pulls with brass rivets are so luxuriously handsome it makes us want to rip out and redo every single pull in the house. I can only imagine how delightful these will begin to look when worn with use — a little imperfection to balance and roughen up such a posh space.
Knock Out: Sometimes the most impact comes from absence. These cut-out pulls are giving this minimalist space life and unfortunately tempting us to break out a saw and start cutting some holes! Such an inventive and architectural look.