10 Simple Ideas to Decorate the Office at Work with Items from Home
Cubicle life doesn't have to be devoid of good design. Check out our budget-friendly office decor ideas for work.
Whether you have your own office or are a member of the cubicle community, you spend a lot of time at work. So don't overlook your workspace as a place for great design potential.
Here are 10 simple ideas for decorating the office with things you can steal from home.
1. Light With Lamps from Home
Office lighting can be dull, especially if you aren't close to a window that lets in natural light. Bring a decorative lamp from home and brighten things up. It's a great way to provide extra light and it adds a personal touch. Bonus points if the lamp is colorful, too. (Nothing like a bright pop to dress up greige cubicle walls.)
2. Add Energy With Area Rugs
Even if you have just a little floor space, adding a patterned area rug is a fun way to give your office some energy.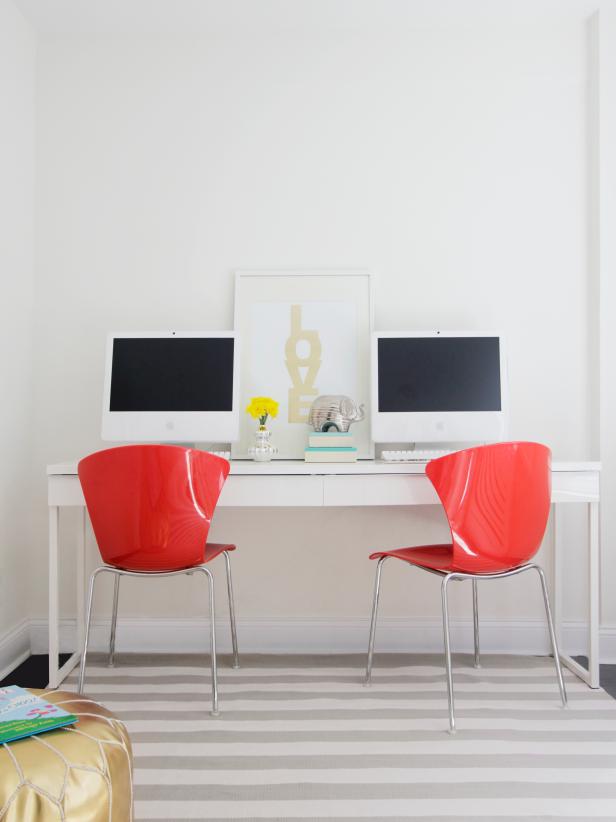 Modern White Home Office With Bold Red Desk Chairs
Bold red desk chairs bring a fresh splash of color to this white modern home office. A striped rug adds texture to the space, while subtle artwork makes the room feel welcoming.
3. Swap Dull Notepads for Books & Journals
Make some space for a few of your favorite books and journals and prop them up with a bookend. Not only can decorative journals add a little visual glam, they offer an organized way to jot down ideas and tasks so you can get rid of messy sticky notes and basic notepads.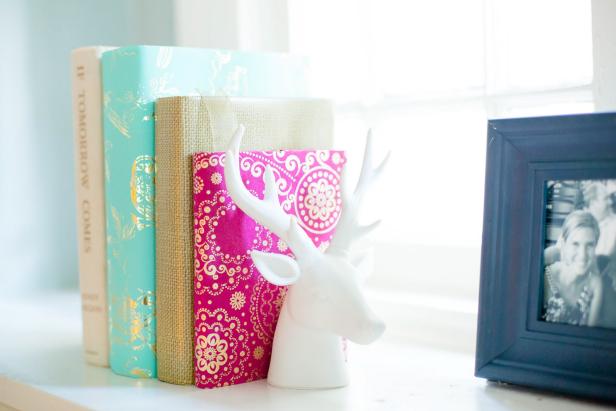 Book Covers
Not every book is worthy of display on your smartly styled bookshelf. Wrap those not-so-cute (or guilty pleasure) hardcovers in vibrant papers for a bit of colorful eye candy.
Flynnside Out Productions
Bring in some of your favorite prints and pin them on the wall. If you want to get extra creative, use twine and clothespins to hang your prints.
5. Repurpose Kitchen Glassware
I have a problem of buying too many cute glasses and then running out of kitchen storage. If you're like me, here's an easy solution: Take them to work and use them to hold everyday office supplies.
Office Supply Holder
Need a splash of color in your workspace? Use a colorful antique tumbler as an alternative to your typical office supply holder.
Flynnside Out Productions
I'm sure we all have a couple of our favorite photos displayed somewhere in our office space. Instead of a cluttered picture wall, give your photos some love and attention and put them in decorative frames.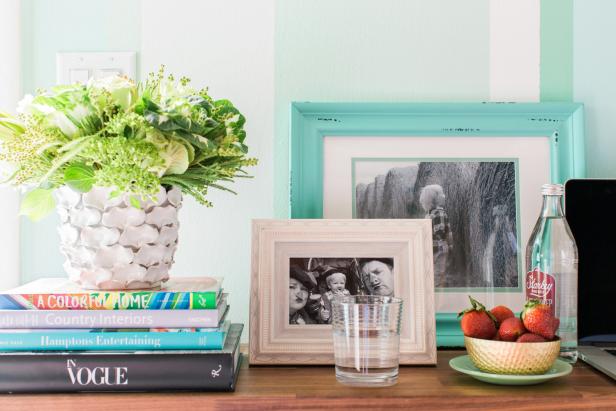 Simple Decorations Add Practical Style for a Lived-In Look
It's important to make a workstation feel personal and lived-in so you'll be drawn to the space when it's time to tackle business. Keep the overall look simple using stacks of books as risers to display happy items like fresh cut flowers, then layer in framed photos of loved ones and shared memories.
Photo By: Flynnside Out Productions
7. Pack Snacks in Jars from Home
I am a snacker. In fact, I have an entire drawer at work for my snacks. If you also get the work munchies, here is a creative way to store your favorite treats: Rummage through your kitchen, collect all those miscellaneous jars and pack them with snacks. Add cute labels to keep them organized.
8. Add Easy-Care Greenery
Bring life into your workspace, literally. Succulents and terrariums are great and space-friendly ways to bring the outdoors inside. While you might not have any extra terrariums lying around, there are tons of easy ways to make your own at home.
9. Use Calendars as Wall Art
With technology these days, we don't really need a tangible calendar. However, displaying a calendar with a cute print can add some charm to that blank wall or desk space.
10. Hang a Photo Bunting Banner
If you have an abundance of photos you want to show off at work but have little space for them, consider a photo bunting banner. It's small, dainty and easy to hang up anywhere in your office.
For more ways to jazz up your workspace, check out the new HGTV.com digital series, Cube Takeover, starring HGTV Handmade's Meg Allan Cole.
More Inspiration
Designing your home office doesn't have to be a budget killer. Source items you can reuse in surprising ways to help corral clutter.
Get Your Home Office In Order