Brush up on rustic kitchen cabinets, and create the country kitchen you've always dreamed of.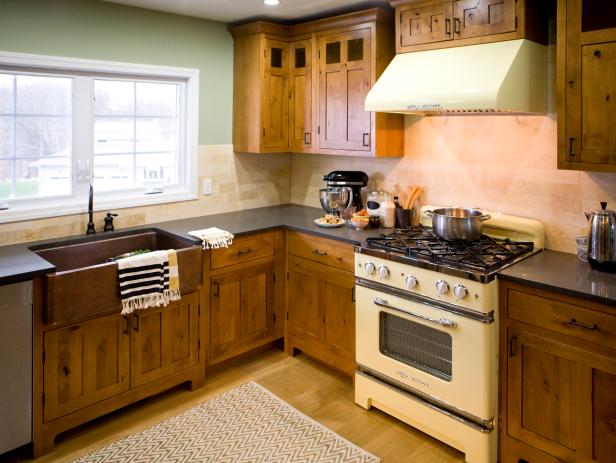 Rustic Mint Green Kitchen with Vintage Stove
This rustic kitchen features golden brown shaker cabinetry paired with a mint green wall hue and neutral tile backsplash. An ivory vintage stove and hood add retro charm to the space, while a copper trough sink finishes off the look of the space.
If you're looking to create a stylish country kitchen, you'll likely want to start by exploring the range of rustic kitchen cabinets available.
Country kitchens are known for their "down home" style, but with the right design touches, they can be the perfect combination of country comfort and high style. When it comes to country kitchen cabinets, a good place to start is with which material you want to use. Traditionally, wood is the material of choice for a more rustic kitchen look. Other materials, like laminate, may be able to approximate the appearance of natural woods—but if you're looking for the genuine article for your cabinets, there are a few species that are best suited for a rustic appearance.
Pine is a fairly popular choice, because it displays the visible knots for which rustic kitchen cabinets are well known. Pine is also readily available and reasonably priced; however, it's not terribly strong, and if it isn't properly treated, it can leak pitch.
Cherry, oak, maple and hickory are also popular choices for kitchen cabinets. Cherry sits at the high end of the wood cabinet spectrum—it's very strong and won't dent, crack or warp easily, and it offers a gorgeous dark wood appearance. Maple and hickory are also sturdy woods, but each will fall slightly below cherry on the pricing scale. Oak is probably the most popular wood of all for cabinets because of its combination of strength, appearance, availability and cost.
Once the wood is chosen, it's on to the hardware. There are certain styles of pulls, knobs and door handles that work well with rustic designs—particularly those in the 'antique metal' family. Most home improvement stores will offer a range of these to choose from, so you should have no problem finding the perfect complement for your rustic kitchen cabinets.
Other Kitchen Cabinet Styles
More Kitchen Cabinet Ideas