How Far Apart to Plant Blueberries Plants
The secret to a great blueberry crop is picking and placing the right types so they'll cross-pollinate.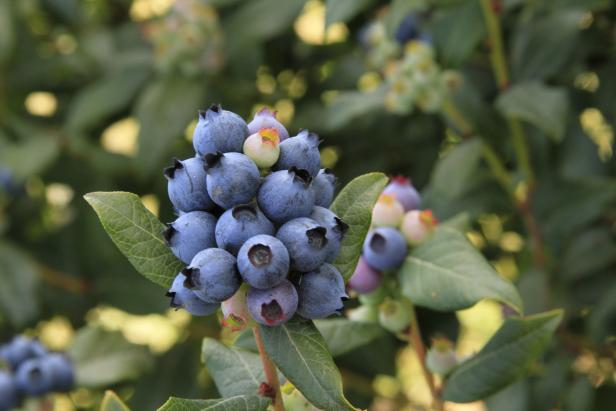 Perpetua Blueberries
Blueberries like 'Perpetua' (Vaccinium spp.) love acidic soil. A soil test kit, available online or from a hardware store or garden center, makes it easy to determine whether your soil is acidic or alkaline. First, take dry soil samples from different parts of your garden. Then mix them with the chemical solution in the tubes, and mark the tubes so you'll know where each sample came from. (Unless your test results are all the same--which is not common--you may need to add different amendments to different areas in your garden). Now compare the solution colors to the chart in the kit. Dark green indicates alkaline soil (a pH below 7. Green means neutral soil, while yellow and orange indicate acidity (a pH above 7). To increase your soil's acidity, use sphagnum peat around your blueberries or apply a high-acid fertilizer.
Pssst, want to grow enough big fat blueberries to keep your in jelly, pies and fruit smoothies all season? Plant your bushes so that they cross-pollinate with one another. Sure, most blueberry varieties can self-pollinate, but you will get a bigger crop of fatter, sweet blueberries if you let two different varieties of berries that bloom at the same time cross-pollinate.
If you slept through high school biology class, cross-pollination is when pollen from the male parts of one plant mixes with female parts of another plant. The pollen is moved by insects and wind. Mixing up the gene pool via pollen results in larger, better and more fruit. In berries, just as with people, crossbreeding beats inbreeding every time.
You can encourage your blueberry bushes to share their good genes by picking the right varieties and planting them so that bees and breezes can work their pollen-moving magic. Here's what you need to know.
Plant the bushes no more than 10 feet apart so bees will be likely to visit several of them when they're out on a foraging trip. You want the bees to pick up the pollen from one bush and carry it over to another bush, so make it an easy flight for them. Planting bushes closely makes it easier for wind pollination to happen, too.
Growing fruits and vegetables isn't rocket science, but it does involve science. Here are easy tips to help ensure your success in growing food in the garden.
Before we get to the specifics of which blueberry varieties make good pairs for cross-pollination, let's talk about the basic types.
Northern Highbush blueberries grow in cold climates, tough enough to survive as far north as Canada. They grow 6 to 9 feet tall, self-pollinate, but produce a better, bigger crop if they cross-pollinate with another type. Popular cultivars, arranged by bloom time, include early-blooming "Earliblue" and "Collins;" mid-season blooming "Blueray," "Bluecrop," and "Berkeley;" and late-blooming "Jersey" and "Patriot."
Rabbiteye blueberries are native to the Southeastern United States. They grow from 6 to 10 feet tall and cannot fertilize themselves. I repeat, rabbiteye blueberries cannot fertilize themselves. They need another blueberry buddy nearby to make fruit. Cultivars include standard-blooming "Tifblue;" early-blooming "Climax" and "Woodward;" mid-season blooming "Briteblue" and "Southland;" and late-blooming "Delite."
Southern Highbush is a cross between Highbush and Rabbiteye. They grow 6 to 8 feet tall, and while they self-pollinate, they make better berries with a buddy. Cultivars include early-blooming "Oneal" and "Southblue;" and mid-season blooming "Jubilee" and "Sunshine Blue."
Dwarf blueberries grow in containers and stay under two feet tall. They can self-pollinate, too, but pollen from a neighbor makes a better crop yield for these tiny guys. Cultivars include mid-season "Dwarf Northblue;" and late blooming "Dwarf Tophat."
Bloom times matter more than spacing when planting to encourage cross-pollination. Plant bushes that have the same bloom time close together so their pollen will be available for bees at the same time in the growing season. So "tifblue" is a great choice to pair with any other rabbiteye berry because it blooms for a long period, overlapping the bloom time of the other varieties.
You'll get the best blueberry crop if you plant at least three bushes with similar bloom times. They can mix and match their pollen that way.
There's no master guide for choosing varieties for blueberry pollination. Check bloom times for different varieties, and talk to your local Extension Office for suggestions on how to pair berries for cross-pollination. Remember, don't mix types. Blueberries can only cross-pollinate within their families. So a rabbiteye blueberry can't cross with a Southern Highbush. There's only so much trait-mixing that can happen in blueberry land, people.
Learn how to plant and care for blueberry plants so they will reward you with delicious berries for years to come.
Keep this popular superfood around all year with easy freezing instructions.