Garage Door Buying and Information Guide
Garage doors can make up a large portion of your home's front facade and be a big part of the curb appeal. Before you buy, learn about the options, cost and how well they are insulated.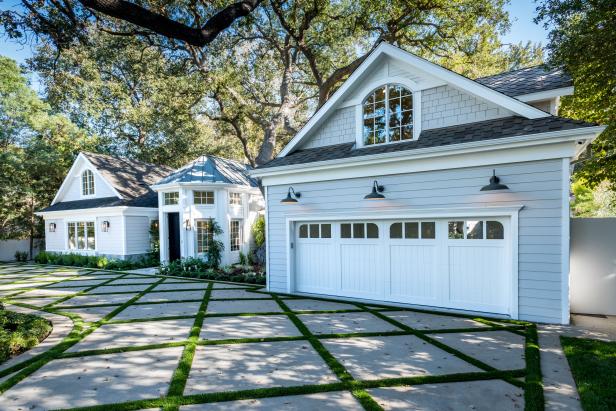 Courtyard and Driveway With Grass Between Paving Stones
The courtyard of this Encino, CA mansion features grass growing between the concrete pads that make up the front courtyard and driveway.
Pinnacle Estate Properties, a member of Luxury Portfolio International
First impressions, curb appeal, best foot forward — your garage door does it all when it comes to the appearance of your home. That's especially true of suburban homes built in the last several decades. Designed for drive-right-in accessibility, many have garages that occupy up to 30 percent of the front facade.
Small wonder that upgrading a garage door is a popular home improvement project. In fact, according to the 2019 Cost vs. Value report from Remodeling magazine, a garage door replacement is one of the few projects in the survey that recouped more than 90 percent of its initial cost when a house is resold.
If you're ready to scout out styles and options for a new garage door, take a deep breath: there are a lot of choices. Garage door manufacturer Wayne-Dalton, for example, boasts 19 design options, 10 window patterns and 15 colors for its Model 9700 door alone. That's a possible 2,850 combinations.
Thankfully, many manufacturers' websites are equipped with digital visualization tools that help you sort through possibilities to get started. These interactive tools allow you to upload a photo of your house and overlay hundreds of styles, window shapes and colors. When you're finished, send your design to the manufacturer for a customized quote.
Lucky for us, garage doors have come a long way from the boring builder-grade choices. Take inspiration from some of our favorite designs to add instant beauty to any home.
Manufacturers have their proprietary techniques and methods for putting together garage doors, but the basics are:
Single-layer construction features a simple outer layer of steel, fiberglass or engineered wood. The basic doors are lightweight, easy on springs and are low cost. Their insulating value is negligible.
Double-layer construction has an inner and outer skin sandwiched around a layer of polystyrene board for rigidity with an insulating value between R-4 and R-7.
Premium construction has inner and outer layers of high-quality steel, wood or fiberglass sandwiched around a thick layer of polystyrene or polyurethane insulation for maximum stiffness with insulating values that exceed R-15.
With so many material options, it's important to consider the pros and cons of each type of garage door — including basic information, insulating value and cost. Remember that with insulation, it's all about the R-value — the higher, the better.
Courtesy of Clopay
This garage door is constructed with steel for strength and durability while molded, faux-wood overlays and cross-beam detailing create the popular carriage-style look.
Steel garage doors feature outer layers of heavy-gauge steel that are available in traditional frame-and-panel styles or embossed to mimic wood grain and even stucco. Overlays, such as moldings and cross-buck designs, give the look of carriage doors. Foam cores add strength and insulating values, and some models are rated to withstand winds of 120 mph or more.
Most steel doors can be purchased with factory-applied finishes and are virtually maintenance-free. Some manufacturers offer hundreds of color options. Looking for a DIY project? Order your door primed and do the painting yourself.
Heads up: Steel can dent and is hard to repair.
Insulating value: R-6 to R-20
Cost for a 16x7 double door: $750 to $3,900
Courtesy of Amarr
Tough and versatile, fiberglass garage doors are the easiest to maintain and come in nearly any design and color. Here, molded fiberglass gives the garage doors a realistic wood look.
Fiberglass doors are known for their resistance to dents, moisture, insects, warping and changes in humidity. Thick outer skins of fiberglass surround an inner foam core and a steel framework that provides strength and stability. Fiberglass excels at mimicking the colors and grain patterns of real woods such as cherry, oak and mahogany.
Heads up: Single-layer versions can be brittle — a layer of insulation adds stiffness.
Insulating value: R-4 to R-12
Cost for a 16x7 double door: $1,200 to $2,500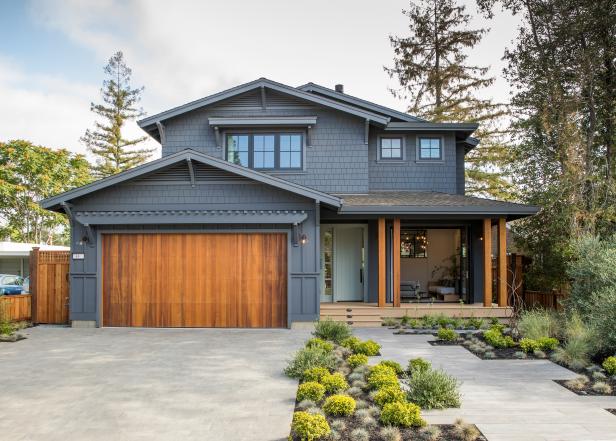 Gray Exterior and Front Yard
The dark exterior of this home draws attention to the wooden garage door and matching porch columns for a pop of warm contrast.
Thomas Story
The dark exterior of this home draws attention to the wooden garage door and matching porch columns for a pop of warm contrast.
Not as strong as steel nor as tough as fiberglass, all-wood garage doors made from moisture-resistant cedar, redwood and cypress provide curb appeal like no other. Note, however, that even wood comes at various prices and levels of quality. The best quality doors feature all-wood frames and panels. Opt for polystyrene backing to add insulating value.
Heads up: Real wood needs periodic refinishing.
Insulating value: R-3 to R-8.
Cost for a 16x7 double door: $1,200 to $1,800 for average quality; $2,000 to $4,000 and up for superior quality
Courtesy of Clopay
The straight lines of these aluminum-framed doors add a modern element to the home's exterior, while frosted glass panels elevate the look and allow light into the garage during the day.
These doors have a modernist flair, with panels of tempered glass or acrylic panels set in anodized aluminum frames. Choices of painted or powder-coated frame finishes and glass types make for a contemporary, attractive finished product. If available, insulating and low-E glass helps thermal performance.
Heads up: Glass panels can be fragile.
Insulating value: Insulating glass can provide R-2 to R-4 values.
Cost for a 16x7 double door: $1,500 to $3,500. Highly customized models can exceed $5,000.
Courtesy of Clopay
These garage doors may look and feel like real wood but are made of moisture-resistant materials that won't rot, warp or crack. Like real wood, the doors can be painted or stained to match any style.
This sandwich-type construction features a strong, insulating core of polystyrene wrapped in composite wood. Composite wood is panels made from wood fibers and weatherproof resins. Many manufacturers use recycled wood fibers for the panels, providing a bit of green factor.
Molded with grain patterns, composite wood can be difficult to distinguish from the real thing. Unlike wood, however, composite doors won't split, crack or rot. Composite doors come factory finished or can be custom stained or painted.
Heads up: can be nearly as costly as real wood
Insulating value: R-5 to R-8
Cost for a 16x7 double door: $1,200 to $2,200
Rust-resistant and fade-resistant, vinyl garage doors are incredibly resilient and low maintenance. Vinyl garage doors are great for hot, cold, humid and coastal climes alike.
Standard construction sees layers of durable, weatherproof vinyl surrounding an inner core of foam insulation, although the cheapest models lack the foam core. Lightweight and impervious to insects and rot, vinyl doors are very durable. Colors extend throughout the vinyl layers, so scratches don't show.
Unlike steel, vinyl is resistant to dings and off-target Frisbees; many types come with lifetime warranties. Over the long run, vinyl doors may be a more cost-effective option than steel.
Heads up: Polyvinylchloride (PVC) is considered environmentally unfriendly.
Insulating value: R-4 to R-12
Cost for a 16x7 double door: $1,000 to $3,500