A Boy's Bedroom Plays With Red
Inspired by his favorite superheroes, Mino Kon's bedroom is transformed into a multipurpose activity and sleeping space packed with his favorite color, red.
When Stacy Kon decided to remodel a small bedroom of her Los Angeles home into a multipurpose activity and sleeping space for her son, Mino, she wanted to use bold red without the color becoming loud, intense, jarring or dramatic.
"Although the room was intended for playing as much as it was for sleeping, I was afraid red-covered walls could become overly energetic, so much that it might keep Mino from being able to fall asleep," says Stacy. "And if my 6-year-old doesn't sleep, I don't sleep."
A designer introduced Stacy to the dos and don'ts of using red effectively in interior design. The color enthusiast and mother of two adds, "I'm always up for a challenge, and since Mino loves red so much, the color of his favorite superheroes, I figured, 'Why not?'"
One of the difficult things about using red in residential spaces is its tendency to be overpowering. It instantly draws attention to itself more than any other color. When you see signage associated with danger, you're certain to find red type font or graphics.
With one glance, one reacts to the red. The color is associated with energy, movement and speed, as well as its ability to elicit excitement. Keeping these traits in mind, it's important to know where, when and how to use this intimidating color successfully in interior design.
First and foremost, you need to understand the physical reactions people can have to red. Studies have shown that when surrounded by red, a person's heartbeat will increase. In some situations, red stimulates the appetite, as well. Depending on the intensity of red and how it's used, people may also experience shortness of breath or anxiety when surrounded by the color.
Keeping this in mind, it's best to consider using red in spaces where physical activity and social interaction are encouraged, such as playrooms, activity spaces, dining rooms, multipurpose rooms and lounges. "Mino's new room fits four out of those five categories," Stacy says. "That was all I needed to hear to give the project the green light."
Luckily for Mino, active spaces for children are a perfect fit for red. Since Mino's new room is geared toward playing with big sister Zoe, climbing around on a new loft bed, and being creative at a new homework and craft area, Stacy was certain red was the perfect fit. "As long as the space ended up being fun, warm and full of life, I'd be one happy mom," Stacy says.
Love and warmth are also associated with red, making it a favorite tone for dining rooms or eat-in kitchens. In traditional homes, it's common to see dining room walls covered in red paint. When using red in other areas of the house, it's best to use it in small doses, using red as an accent instead of a dominant color.
With a better understanding of how to use the color most effectively, Stacy decided to kick Mino's activity and sleeping space project into high gear. "My designer friend explained red tends to always steal the show, and to be certain to use it sparingly." Stacy says.
Before construction could begin, Mino's room needed to be cleared out, a task that proved to be harder than anticipated. "I wanted to clear it out myself, but there were things I couldn't reach, so I just helped," Mino says. "While my mom and Dad took things apart and got them out, I made sure my dog, Berkeley, stayed out of the way. He really likes my room, so it wasn't as easy to do as it sounds."
With everything out of the room, Stacy and husband Danny were able to take a mental inventory of what to keep versus what to donate. Since the room in its initial state was packed with clutter, they were determined to ensure that once redesigned, Mino's room would stay neat and organized.
White bamboo hardwoods were installed in Mino's room for two reasons: to balance the intensity of the room's red accents and to reflect the abundant natural light, making the room appear slightly larger.
Beautiful Bamboo Flooring
After a full day of clearing out the room, white tongue-and-groove bamboo hardwoods, as well as the new 1x4 MDF baseboards and door casings, were installed.
"I didn't even know about the floors," says Mino. "But when I walked in the room after school, I knew something was different, so I ran and showed my sister, Zoe. The white wood is so cool!"
Stacy and Danny learned something new about wood floors during the process. Wood flooring needs to acclimate to a home prior to being installed, otherwise it could buckle or swell, causing planks to come loose or become warped. To ensure proper acclimation, the contractor dropped off the floors four days before installation, keeping them in the hallway just outside of Mino's room.
In addition to the flooring, Stacy put together a to-do list to accomplish in one week with a budget of $5,000.
Replace baseboards and casing with 1x4 MDF trim
Install graphic wallpaper, update the ceiling and new trim with blue paint
Replace the existing ceiling fan with a pendant light fixture
Add black-out lined Roman shades to the window to help control harsh afternoon sunlight
Update the closet with cubbies and hanging rods
Create a custom homework station
Add a custom loft bed
Incorporate lounge seating
With the flooring complete, Stacy's new understanding of keeping red balanced came into play. "I instantly started to see what the designer was talking about," says Stacy. "Using a really light color like white in a room would balance red's intensity."
Next up was paint and wallpaper, design elements that go hand in hand. Two shades of blue inspired by the wallpaper pattern were painted on the ceiling and trim. While the ceiling was painted a light shade of blue-gray, the baseboards and door casings were painted dark navy blue.
Once the paint was dry, Mino's contractor installed the new ceiling pendant, a polished nickel, art deco-era fixture with three light bulbs that give off diffused light.
With the background of the room set, it was time to start layering in the red.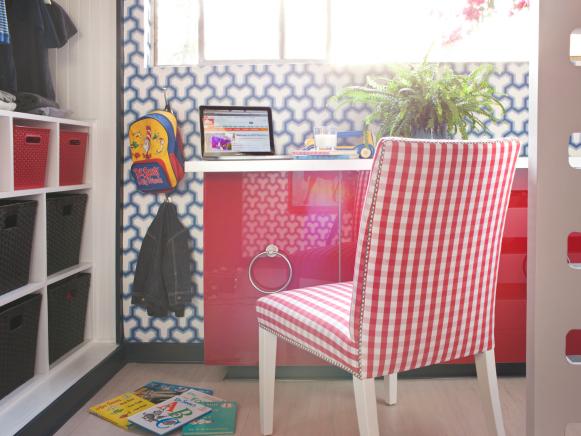 Boy's Homework and Craft Station
Red is a stimulant, so it was the perfect color for Mino's homework and craft station. Ready-made cabinets in a glossy red lacquer finish from a big box retailer made a spot for Mino to work on school assignments or get creative with crafts. The workstation was integrated architecturally below the room's 8-foot window.
Red is a stimulant, so it was the perfect color for Mino's homework and craft station. Ready-made cabinets in a glossy red lacquer finish from a big box retailer made a spot for Mino to work on school assignments or get creative with crafts. The workstation was integrated architecturally below the room's 8-foot window.
A Fire Engine Red Homework Station
To create a functional homework station and craft area, Stacy's contractor installed lacquered fire-engine red cabinetry to the wall, finished with a laminate top. "My desk area is awesome!" Mino says. "It's red just like all my superheroes, and all my books and supplies are kept inside. It's not a mess like it was before."
A custom desk chair with red and white gingham upholstery and polished nickel nailheads, and a Roman shade made of cherry red canvas completed the color scheme.
The Loft Bed and Mino's Hiding Spot
After Mino had a chance to test out his homework station and learn how to use the Roman shade, the contractor began installation of the custom loft bed. To maximize space in the room, a bed was constructed from paint-grade plywood, sanded, spackled, caulked, then sprayed with glossy ultra-white paint. To keep the loft bed sturdy, its side rails were fastened directly into the wall studs on two perpendicular walls with extra-long wood screws.
The loft bed's clean white finish allowed another chance to pop red into the space, both with bedding and pillows above, as well as classic midcentury modern swivel swan chairs below.
"I have the best bed in the whole universe," Mino says. "It's high so that I can have a Mino-size living room underneath. My little room is not even little anymore!"
Once Mino's room was done, Stacy and Danny had learned how to use red successfully and they had a better understanding of remodeling in general. "Now when someone mentions things like MDF or HVLP, I'll know what they're talking about," says Stacy. "MDF is medium density fiberboard and takes paint better than wood, and high-volume, low-pressure sprayers give furniture those showroom-like finishes."
As far as how Stacy feels about red, she says its characteristics go hand in hand with her son. "The red room is exactly like Mino. During the day, it's packed with energy and activity, then at night, it's warm and cuddly."
Daring and bold, this color commands attention. Learn how to use shades of red in your design.