Making a Tiny Apartment Livable
Blogger Caitlin Flemming uses expert space planning to design a living room, workspace, bedroom and dining room in her 375-square-foot apartment.
When Sacramento Street blogger and decorator Caitlin Flemming first set out to design her tiny 375-square-foot apartment in San Francisco's Presidio Heights neighborhood, it didn't start out swimmingly.
"My husband and I went away for the weekend and left our apartment to our painters," explains Caitlin. When we returned home, we walked into an apartment that was supposed to be painted a custom shade of soothing gray, but instead it was covered in a light blue.
What originally seemed like the beginning of a long, exhausting experience became the first step in turning her modest apartment into a stylish, blog-worthy home. After living with the blue shade for several days, Caitlin embraced it as a happy accident.
Maximize a Small Space With Color
The light blue hue enhanced the apartment's limited amount of natural light. Although the sleeping area near the windows receives its fair share of sun, the seating and lounge area is almost always in the dark.
The faint shade of blue counterbalances the darkness with just enough white in it to help reflect the available natural light into the darker areas. By using this same light color throughout the apartment, it creates the illusion of more space through cohesiveness, due to the fact that each area is not being chopped up by different hues.
When it comes to choosing colors which are a perfect fit not only for small spaces but also for high-design appeal, Caitlin suggests choosing colors with strong hints of gray in them rather than super-saturated or dark hues. The addition of gray helps make a color a bit more neutral, allowing it to work with several other accent colors while also remaining light.
When it comes to painting trim work and moldings in small spaces, consider detail. Is the molding elaborate and special enough to serve as a highlighted feature? If so, it's smart to paint it a few shades darker or lighter than a wall or cabinet's main color or with white, resulting in a clean, subtle and sophisticated contrast. Keep in mind that contrast also causes the eye to stop and focus, rather than move fluidly through a space. This could lead to chopping up a small room, making it feel even smaller.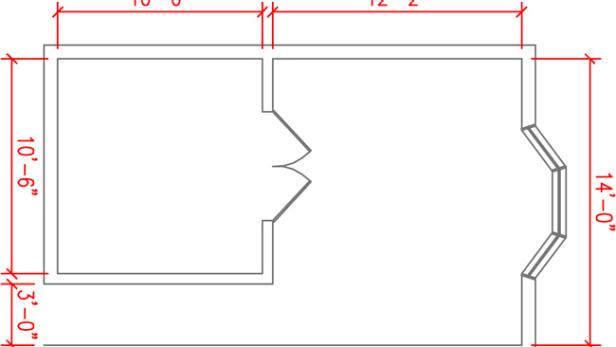 MR-sacramento-apartment-before2_s4x3
BEFORE. Classifying Caitlin's apartment as a studio, one-bedroom or junior one-bedroom is difficult to determine due to its uncommon layout. Upon entry, the dining room opens onto the sleeping area, thus making the proper placement of living room furniture challenging.
Loree
BEFORE. Classifying Caitlin's apartment as a studio, one-bedroom or junior one-bedroom is difficult to determine due to its uncommon layout. Upon entry, the dining room opens onto the sleeping area, thus making the proper placement of living room furniture challenging.
After the color scheme was set, a difficult challenge surfaced: How do you add a living room, workspace and reading space to a small area designed to serve only as a bedroom and a dining room?
The answer: Expert space planning
Caitlin needed a functional space plan for an apartment that was one large, open room. "Technically, the apartment is referred to as a junior one-bedroom since the sleeping area has French doors that close it off from the dining room," explains Caitlin. "But almost everyone who's been over thinks it's a studio apartment."
Mastering the Bedroom Layout
The decorator needed the bedroom to become a multifunctional great room. Caitlin saved room by choosing a queen-sized bed instead of a king, setting up a small workstation, making the bay window a reading area, and designating a corner of the room for lounging.
"Storage wasn't a problem in the dining area or the sleeping area," says Caitlin. "My husband and I each have separate walk-in closets."
With the sleeping room outfitted as a full-fledged multipurpose great room, Caitlin turned her focus to the dining area. After stepping back and thinking about how to best maximize the dining room's built-ins, she decided to use the space for storage and to display several items in addition to serving ware.
"In fact, there's so much room to store stuff in the built-ins that we've put them to use for several things, including what I refer to as our wine cellar," says Caitlin. In addition to wine and dishware, the built-in area housed Caitlin's books, camera equipment, cookbooks, wrapping paper and Eric's collection of San Francisco Giants bobble-head dolls.
For additional display space, a Parsons shelving unit joined the built-ins in the dining area. These shelves serve as the couple's bar as well as a display space for some of their favorite treasures. The shelves are also home to a vast collection of Astier de Villete ceramics. "A couple of years ago my mom and I started a tradition where we exchange a piece of Astier for Christmas," says Caitlin. "To this day we've never given each other the same piece."
"I came across this fixture at the Alameda flea market and stopped dead in my tracks when I say the price was $60," says Caitlin. "The vendor mentioned that he had also just rewired it, which made it even more desirable to purchase."
The glass globe pendant was ideal for the tiny apartment for several reasons.
Smoked glass is semi-transparent, allowing Caitlin and guests to see directly through it and into the adjoining multipurpose room; it doesn't take up any visual space.
The reflective quality of the glass plays with the natural light beautifully, bringing another element of design into the dining room.
The globe helps diffuse light, resulting in a soft glow, which illuminates the entire dining space evenly.
Since the dining room light switch was already equipped with a dimmer, it was easy to install. Using the existing junction box not only made the lighting update quick, but it also kept costs down. In historic buildings like Caitlin's, it's likely that ceilings are covered in plaster, which makes the installation of new junction boxes extra messy and much pricier.
Determined to incorporate into the multipurpose room a space for blogging, Caitlin opted for a streamlined, classic Parsons table to serve as a desk. Rather than a clunky computer monitor, she topped her desk with a glossy white 26-inch flat-panel TV. By forgoing a media console beneath the TV, Caitlin created the look of a mini workspace tucked into the corner.
Caitlin chose an armless sofa to add lounge space to the corner of her multipurpose room without taking up valuable visual space.
"I can't tell you how many times people ask me where my TV is," she says. "All they see is a clean, classic workspace, not a big TV overpowering the room." In addition to using all of the space on top of her desk, she made use of the area below to house essentials, such as her collection of comfy throw blankets.
The apartment's studio-like layout made finding the right placement for seating almost as challenging as finding the right sofa. The space lacked an obvious place along the wall for seating and, when searching for the right sofa, it became evident that most standard sizes would overpower the room.
Caitlin selected a traditional-style, armless two-seater sofa upholstered in neutral Belgian linen. The sofa's armless style gives extra room for seating and creates the illusion of slightly more space.
Thanks to fantastic space planning, Caitlin and her husband are not only living comfortably themselves, they're also able to accommodate guests for intimate dinner parties. Whether the tiny apartment is technically a junior one-bedroom or a studio remains unclear, but one thing is for certain: Caitlin has made it home.