Terra Cotta: Old-World Staple Turned Modern-Day Trend
Find ways to incorporate this classic material into your home.
Don't let the high-gloss, glaze-crazed tiles from the '80s frighten you — times have changed, my friends. Designers are steering clear of the glossy-tiled look altogether. Instead, they're opting for matte finishes that embrace the natural beauty of the earthenware tiles in almost every space.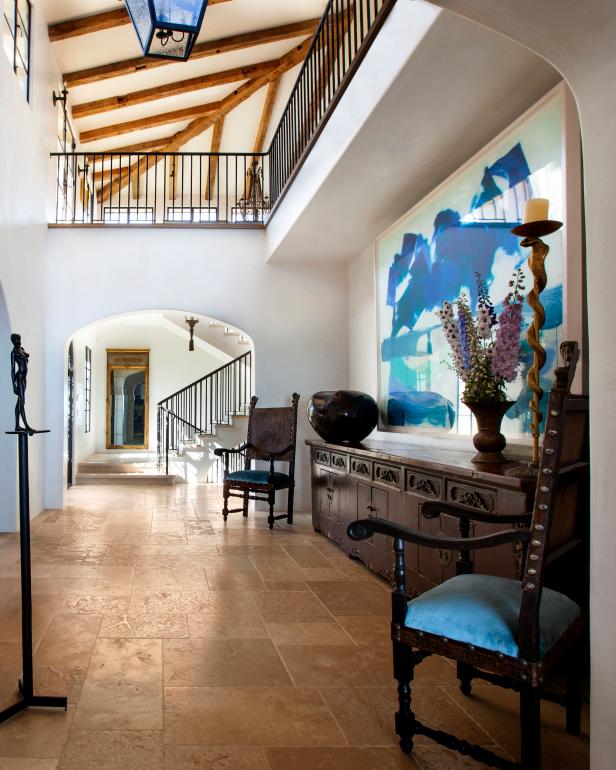 Hallway with Ceilings Open to the Second Level, Exposed Wood Beams and Large Modern Art Painting
Painting a lofty room in white or light tones enhances the sense of space in an already large room. To keep the room from feeling plain or uncontained, wood beams have been added here to provide a cozy air. The owners added a large painting to further add to the artistry of the space; only a room with this scale can handle such a piece.
You know what they say about first impressions — you only get one. But with a foyer like this, who needs any more than that? These rich, earthy tiles offer that sought-after, "lived-in" look and envelop the foyer with a warm wash of color. Practical bonus: Easy cleanup for any muddy boots, soaking rain jackets or sandy towels.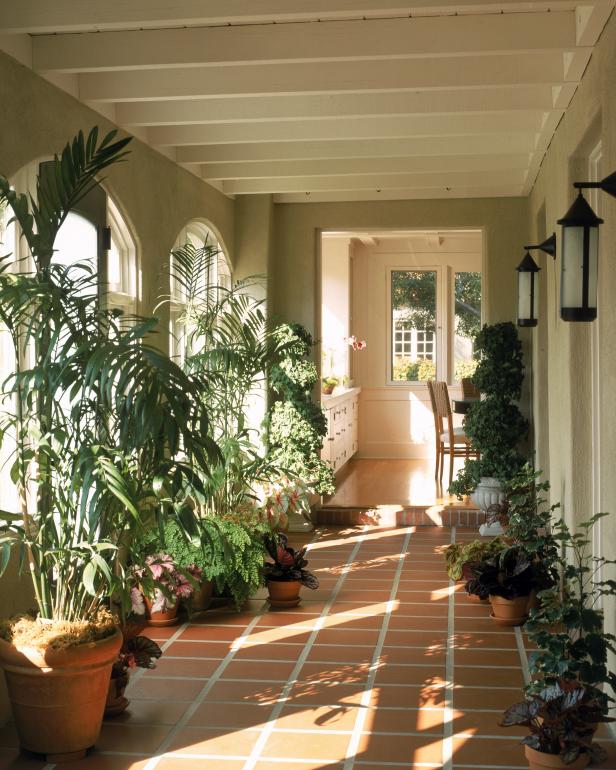 Southwestern-Inspired Breezeway With Lush Plants
Terracotta tile is used to create the floor for this outdoor breezeway that connects the pool area to kitchen. Potted plants add life to the walkway.
Hewitt/Garrison Photographers
Terra-cotta flooring isn't just easy on the eyes. It allows for easy, stylish transitions from the interior to the exterior of a home. Designer Bill Bocken uses earthy, terra-cotta tile to pave the way from the kitchen to the outdoor living space in this bright, white breezeway.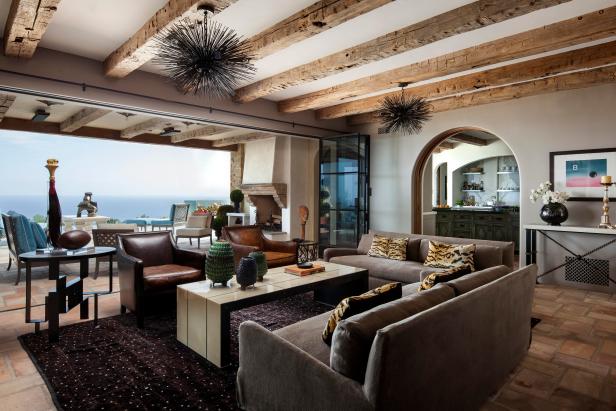 Beach House Family Room with Large Doors that Open Fully to the Outdoor Porch
This beach house living room brings the outdoors in -- and the indoors out! Special features include the massive folding glass doors and beamed ceilings. A multitude of seating options create a perfect spot for a party.
Designer Paul Brant Williger shows the glamorous side of terra cotta in this posh Malibu home. Paul drapes a moody, purple rug over the terra-cotta tiles for a sophisticated touch and added dimension. Get the same luxe look in by layering a vibrant runner or jewel-toned area rug over a tiled floor.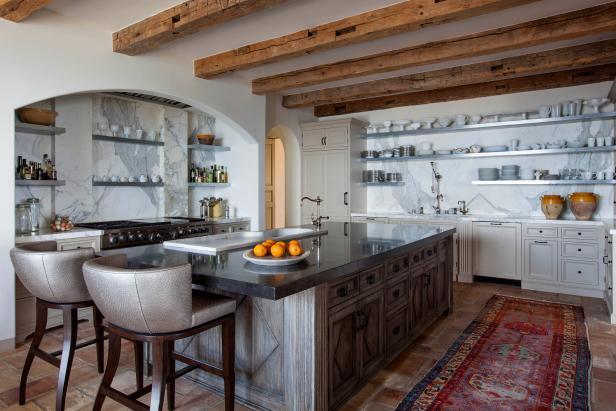 Large Chef Kitchen with Marble Backsplash, Exposed Ceiling Beams and Large Custom Island
This chef kitchen has elements of rustic, cottage and Mediterranean styles, which come together to create an amazing and eclectic space. Shelves replace cabinets to showcase special white serving pieces and dishes. The recessed backsplashes, crafted of single slabs of marble, are striking in their natural simplicity. A red-and-blue Oriental style rug brings a punch of color to the space
White-on-white kitchens feel a bit sterile, no? I say time to spice things up. Take inspiration from these cinnamon-colored, terra-cotta tiles that bring effortless warmth into this airy, Mediterranean kitchen. Not to mention, the tiles complement the natural beauty of the exposed beams and bright, white marble backsplash.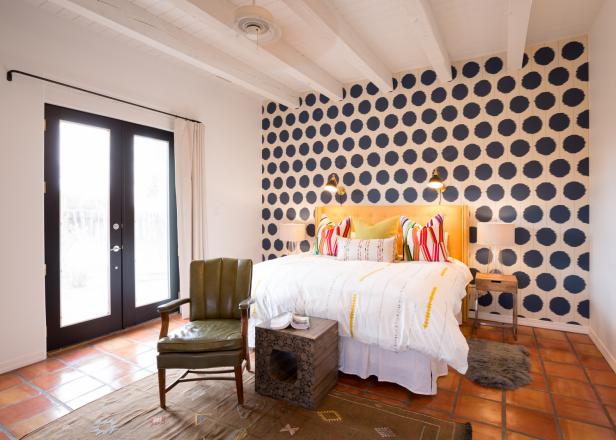 Eclectic Bedroom with Bold, Black-and-White Focal Wall
Bold black and white wallpaper creates a dynamic focal point in this light-filled bedroom. Hung on just one wall, the wallpaper draws attention to the bed without overpowering the otherwise white-walled space. A vivid yellow headboard holds its own against the paper's strong pattern.
Modern-meets-Mediterranean in this whimsical bedroom in Sante Fe, Calif. The design team at French and French Interiors freshen up the Old World tiles with a graphic polka-dot wallpaper and a sunny headboard. (Remind me again — why does everyone insist on carpet or hardwood in the bedroom?)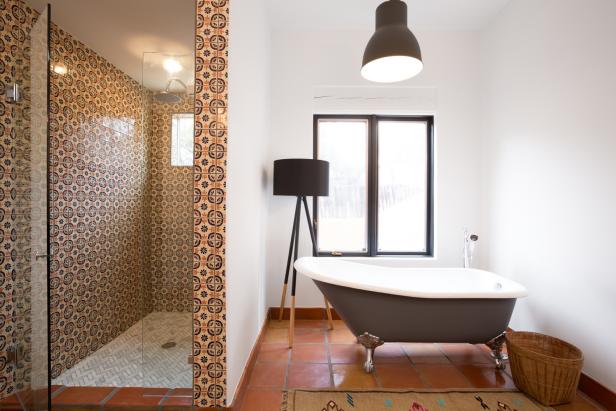 Black and White Master Bath with Spanish Tile
Terra cotta floors and a vibrant Spanish tile shower create a stark contrast to the sleek black and white design of this eclectic master bath. Black trim pops against the stark white walls and complements the lighting and the black clawfoot tub.
Excuse me as I drool over this eclectic bathroom, courtesy of French and French Interiors. This space is everything. Terra-cotta tile is a seamless complement to the pretty, painted Spanish-tiled shower and creates a stunning contrast against the moody, black clawfoot tub.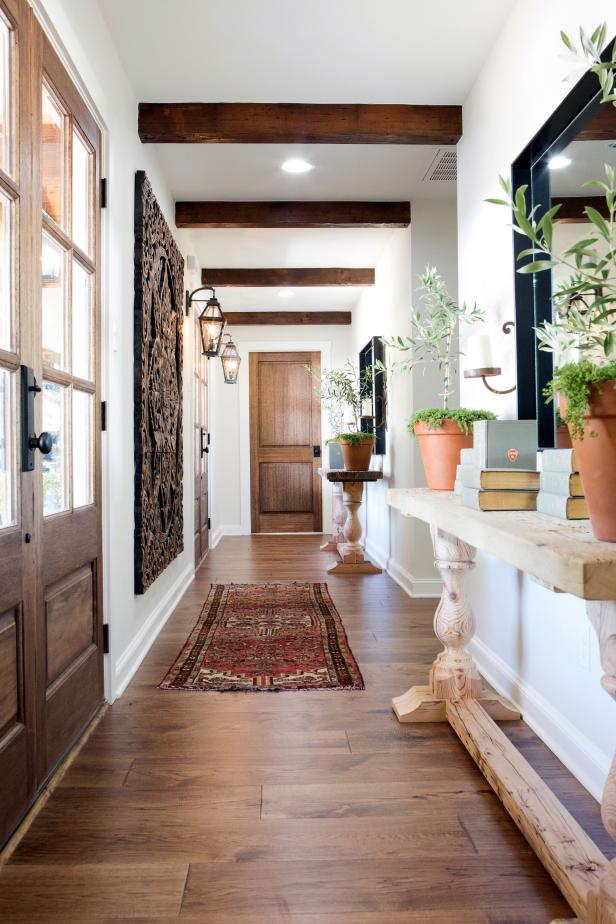 Light and Bright Foyer With Custom Console Tables and Exposed Beam Ceiling
The elongated foyer runs the length of this portion of the home and is furnished with rustic console tables custom made by furniture artisan Clint Harp. Potted plants and an exposed beam ceiling made from reclaimed lumber add eye-catching finishing touches. Natural light illuminates the space.
Jennifer Boomer/Getty Images
If tiling seems a bit too involved for your taste, I hear you. Achieve the same warmth and dimension in your design by incorporating terra cotta's rich and distinct shade into your space. A little goes a long way. Add small, decorative pieces to your bookshelves, or copy designer Joanna Gaines with some classic, terra-cotta planters in your foyer.
Learn all about the different types of tile and slabs that can be used on floors, walls and countertops including ceramic, porcelain, cement, marble and more. Plus, we'll explain PEI rating, glazing and which tiles are easiest to install.
We break down the two most controversial countertop materials.