Add a shower to your finished basement, and you've got the perfect guest space.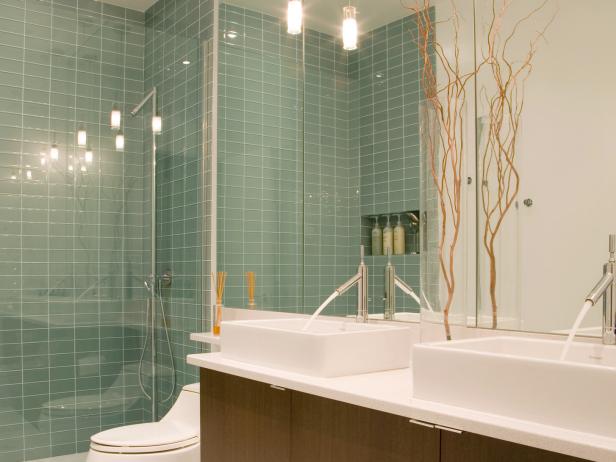 Contemporary Bath with Glass Tile Walls
Spa blue tile laid in crisp, straight lines forms a focal point in this clean and contemporary bathroom. A wood-tone vanity topped by a clear vase filled with twigs provides an organic, earthy element that grounds the space. Modern vessel sinks pair well with polished chrome fixtures.
By:
Caroline Shannon-Karasik
A finished basement space can be the ideal area for entertaining guests, spending time with family or creating an at-home work space. But a basement can also work doubly hard with the addition of a shower.
Before and After: 30 Incredible Small Bathroom Makeovers
See All Photos
Installing a basement shower often comes with the same strings attached as the installation of any basement plumbing, meaning that it often requires the uprooting of concrete. However, if a home was built with the main drain above the basement level, then the installation of a shower will require different steps.
In the event that a homeowner planned to add a bathroom in the future, then a contractor will have installed plumbing stubs. In this case, all that is required is choosing a shower and placing it over the plumbing stubs.
On the other hand, a shower can also be installed in conjunction with an up-flush system which would allow for the concrete to remain in place. An up-flush system works to pump sewage from a holding tank and into the main sewer line.
If a homeowner does plan to break concrete in order to install a basement shower, then it may be necessary to consult an experienced contractor. Digging into concrete requires knowledge about how to provide venting for a drain and avoiding other water systems which could cause future leaks.
Other Things You Need to Know About Basement Plumbing