Yard Sale Furniture Repurposed: Dresser
HGTV Magazine gives tips for jazzing up an old, worn-out dresser.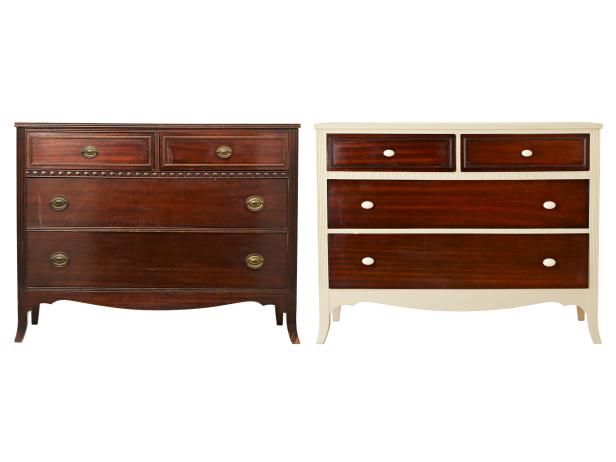 Dress Your Dresser With a Silhouette of Color
Any dresser looks modern with a silhouette of bright white. Here, HGTV Magazine editors painted a dresser frame white, re-stained the drawers and added white hardware to pull the look together.
fine, medium and coarse sandpaper
water-based primer
paintbrush
satin latex paint
screwdriver
dresser knobs or pulls
Remove the drawers from the dresser and set them aside. Starting with the coarsest sandpaper and working to the finest, sand the frame until it's smooth and the shine from the varnish is dull.
Prime and let dry, then lightly go over the dresser with the fine sandpaper to smooth out any visible brushstrokes. Paint the frame; you may need two or three coats. We used Blond Wood by Benjamin Moore.
Unscrew the existing hardware from the drawers. If the drawer fronts are scratched or scuffed, buff them with extra-fine-grade steel wool and use a rag to apply a stain (try Minwax Wood Finish). Fill in any remaining marks or dings with a wood-stain marker, like Miller's Scratch Fix. Screw in the new hardware. We used ceramic knobs in ivory, $11 each, restorationhardware.com.