Yard Sale Furniture Repurposed: Candlesticks
HGTV Magazine gives the simple how-tos of transforming old brass candlesticks into a snazzy centerpiece.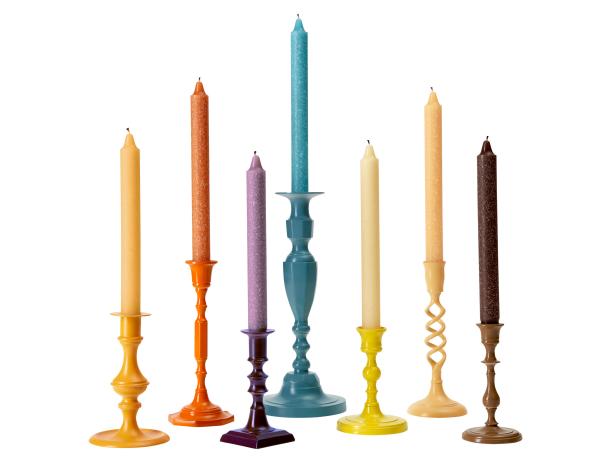 Multicolored Candles and Candlesticks
Create a unique centerpiece by up-cycling old candlesticks. Simply spray paint them bright colors to create a unique accent piece or set them together for a bright centerpiece. Try matching candlesticks for a cool, cohesive look.
Photography by Philip Friedman/Studio D
ammonia
medium-grade steel wool
spray primer for metal
gloss-finish spray paint in assorted colors
In a well-ventilated area, wipe down the candlesticks with a 50/50 mixture of ammonia and water to remove any dirt. Rub the candlesticks lightly with the steel wool to rough up the metal.
Coat each candlestick with primer, then let dry. Spray-paint each candlestick, one color at a time. We used Krylon indoor/outdoor paint in Bauhaus Gold, Purple, Bahama Sea and Sweet Cream, and Rust-Oleum in Real Orange and Sun Yellow.
Stand the candlestick upright for the first coat, then flip it over and set it upside down for the second so you cover every nook and cranny. To avoid globs, spray quickly with a light hand from about a foot away.
produced by Anthony Santelli