Update a Discarded Painting
This painting got kicked to the curb, but that doesn't mean it's hopeless! A few creative moves from the crafty expects at HGTV Magazine turned this sad painting around.
8 ½" x 11" sheets of label paper
scissors
painter's tape
3"- wide paint roller
white acrylic crafts paint
New Attitude for the Entryway
Popped out of its frame, turned horizontally, and painted white—except for reverse stenciled letters that spell smile—the upcycled artwork anchors this space. A lean teak console pairs well with the scale of the painting—it's 24 inches by 36 inches—and the Adriatic blue on the walls picks up the landscape's water and sky hues. Adding a little glam: a brass-finished lamp with a linen drum shade.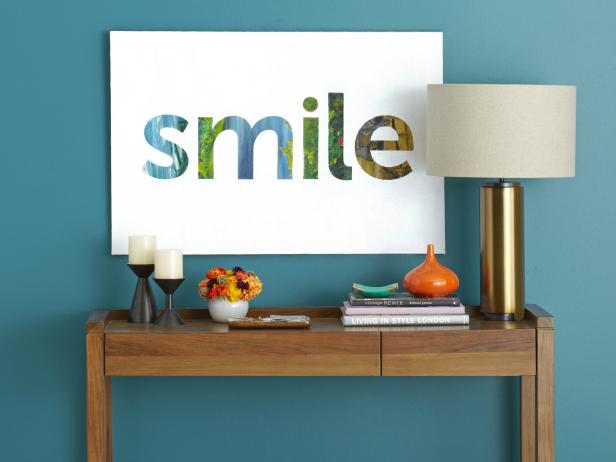 Upcyled old Painting
Learn how to customize a discarded painting from HGTV Magazine
Go to hgtv.com/sticker-letters to download the letter templates. (The entire alphabet is available, so you can spell out any word you want.) Reduce or enlarge the letters to fit the size of your artwork. Print the letters onto 8 1/2" x 11" sheets of label paper and cut them out.
Remove the frame, then wipe any dirt off the painting with a cloth. Decide where you'd like to put the letters, then stick a strip of painter's tape below as a guide to keep them straight. Stick on the letters, pressing down the edges so the paint doesn't bleed underneath. Remove the tape.
Using the roller, cover the entire painting, including the sides, in a single thick coat (we used Martha Stewart Crafts acrylic paint).
Carefully peel off the stickers while the paint is still slightly wet, using tweezers if necessary. Let it dry completely, then hang.