5 Paper Towel Roll Crafts for Kids
Recycling has never been so creative and simple. New worlds can be explored, creatures created and races won simply with the help of a paper towel roll.
We're sorry, there seems to be an issue playing this video. Please refresh the page or try again in a moment. If you continue to have issues, please contact us here.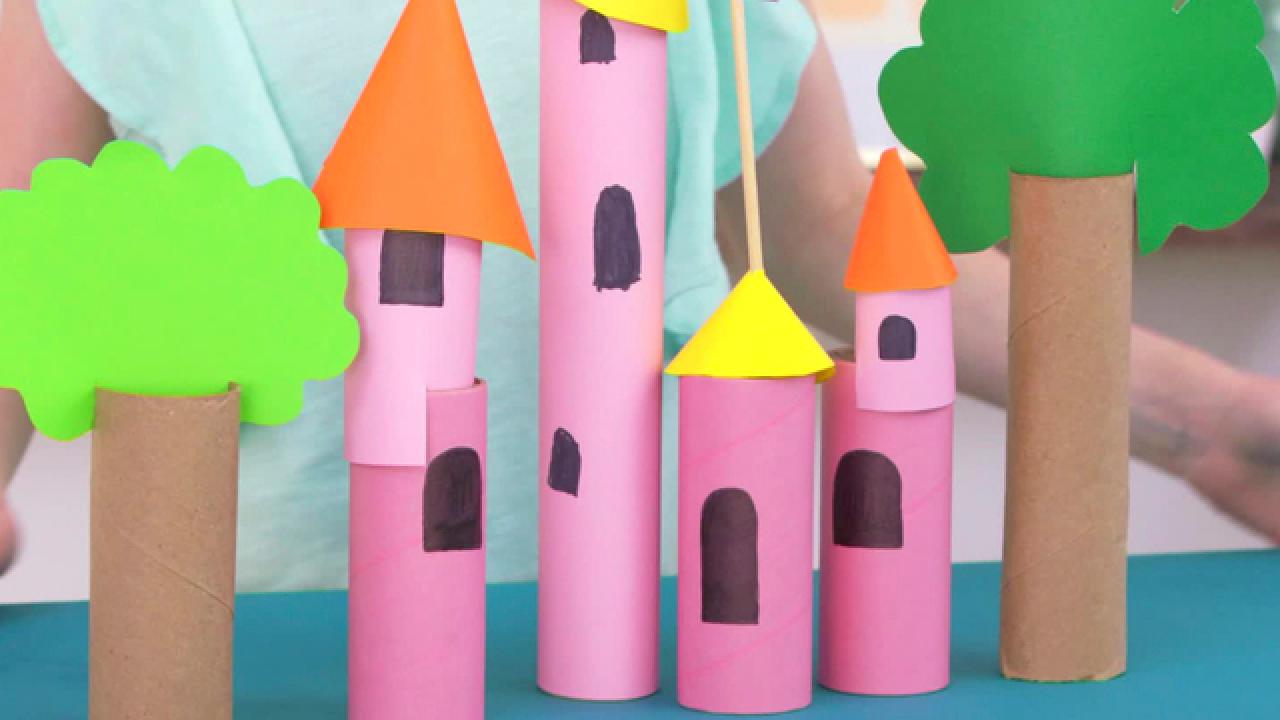 It's a fish; it's a castle; it's a racecar; it's a paper towel roll! Turn trash into treasures for hours on end using an item as simple as a paper towel roll. There are always a few lying around the house, so why not recycle while creating with this unimaginably fun DIY.
To create your first finned friend, start by cutting a towel roll in half, rounding one end and cutting two notches in the other end. Form the tail fin by tucking the cut ends into the body of the roll. Paint and add googly eyes to bring your creature to life. Place a small dot of hot glue under one of the lips and secure a small magnet. Attach a paper clip to a string for some fishing fun.
Wrap the paper towel roll in construction paper, securing it with hot glue. Draw regal-looking windows and doors on the roll to construct the base of your soon-to-be castle tower. Wrap washi tape around a skewer and cut small triangles in the tape to create flags. Trace the base of a small bowl on paper to create a circle. Cut the shape out. Cut a triangle into the circle and form the paper into a cone shape. Slide the cone onto the top of the roll to give your tower a roof. Now it's time to move the King and Queen into their new abode.
Beginning with two halves of a towel roll, wrap each piece separately in construction paper. This will be the base of the binoculars. Decorate with washi tape to create the desired look. Attach both halves together with a strip of hot glue. To create a neck strap, begin by poking two small holes into the outer sides of the roll. Insert string into the holes and fasten with a knot. Play look out for your new kingdom or imagine you are on a safari — what will you see next?
After halving a paper towel roll, wrap one half in construction paper to create a base coat of "paint" for your racecar. Next, using a sharp blade, cut a square into the top of the car. Make two small cuts on each end of the paper towel roll. These should correspond to where the tires will be placed. Using the end of the roll as a stencil, trace and cut out two small circles to cap off the ends of the car. Secure these pieces to the paper towel roll with a small amount of hot glue. Decorate as desired. To create wheels for your racecar, cut out small black paper circles and attach to the car body with metal brads.
Separate the paper towel roll into 2- and 3-inch segments. Once the pieces have been cut from the roll, shape the individual pieces into hearts, flower petals, etc. Dip the DIY stamps into paint and stamp away. Create your own wrapping paper, greeting cards or simply a unique work of art. The possibilities are endless!