How to Use Leather Belts As Curtain Tiebacks
Bring a fashionable touch to your window treatments by keeping them held back with repurposed leather belts.
leather belt
measuring tape or tailor's tape
marker
hammer
nail
drill or screwdriver
drywall screw
utility knife
Measure Thickness of Drapery
Use measuring tape to determine thickness of each drapery panel once properly gathered.
Gently pull drapery panels away from window and wall, then wrap belt around circumference.
With belt securely wrapped around drapery panel, tighten until drapery is properly pinched, creating an hourglass shape. Use marker to mark placement for additional hole which will keep the belt properly fit to the drapery panel.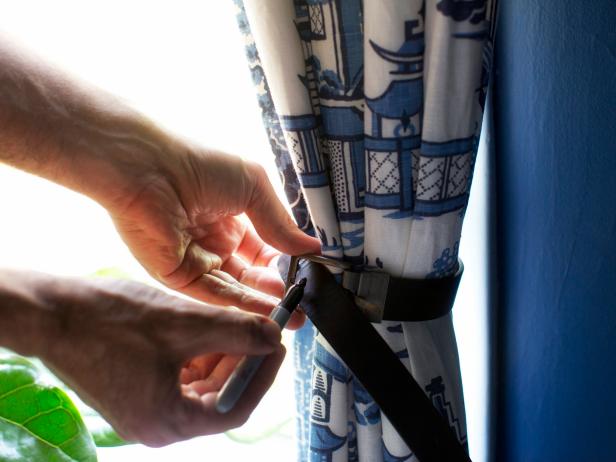 DIY Leather Belt Curtain Tiebacks
They're not just a stylish accessory; upcycle an old leather belt to create a fun and functional drapery tieback.
Referring to mark made with marker, add a hole through the belt using nail and hammer along a flat, level surface.
Use measuring tape and pencil to mark the wall at approximately 4 feet up from the floor. This is a great range for drapery panels approximately 8 feet in height. Wrap belt around drapery panel, then use drill or screwdriver to secure the belt directly to the wall approximately 10 inches in from the front edge of the buckle.
Tighten belt around drapery panel, securing in place with additional hole.