How to Make a Seashell Mirror
Give a plain mirror coastal charm by covering the frame in shells gathered on the shore.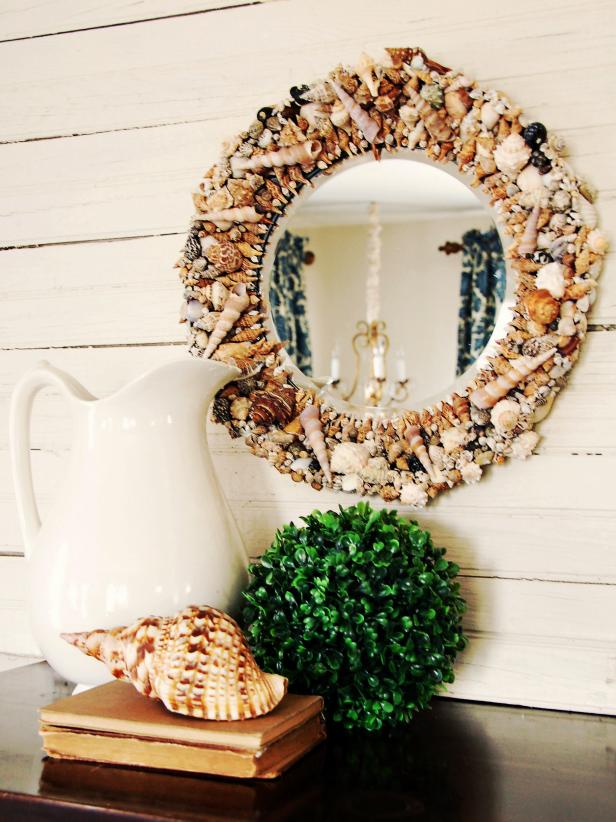 Seashell Mirror With Coordinating Accessories
A seashell framed mirror hangs above a small wood table, which holds a cream milk pitcher, green plant, a pair of old books, and a large conch shell.
framed mirror
hot glue gun and glue sticks
seashells
stiff paintbrush
straight razor
window cleaner
cloth or paper towel
Collect and Clean Seashells
If shells were collected from the beach, rinse thoroughly and allow to dry. If you aren't planning a trip to the coast, shells can be purchased at craft stores. Make sure to have enough small and medium sized shells to cover the entire mirror frame.
Preheat hot glue gun. Working from inside of mirror frame, apply glue in small sections and press shells into hot glue (Image 1). Hold in place until glue cools (Image 2). Shells can be placed at random or in a pattern (Image 3).
Continue to apply glue in small sections, pressing various sized shells into glue. Use small shells to fill in gaps between larger ones. Save large, decorative shells to apply last, so they will be most visible. Tip: A flat frame provides a smoother gluing surface for shells, but a decorative frame will give a fuller look.
Glue guns tend to leave strings of glue behind. To remove these, gently sweep them off using a stiff paint brush (Image 1). Use a straight razor to remove glue from mirror surface (Image 2). Wipe down mirror with window cleaner and hang.