How to Make a Hanging Seashell Planter
Add budget-friendly, coastal charm to your outdoor space with this easy DIY planter.
We're sorry, there seems to be an issue playing this video. Please refresh the page or try again in a moment. If you continue to have issues, please contact us here.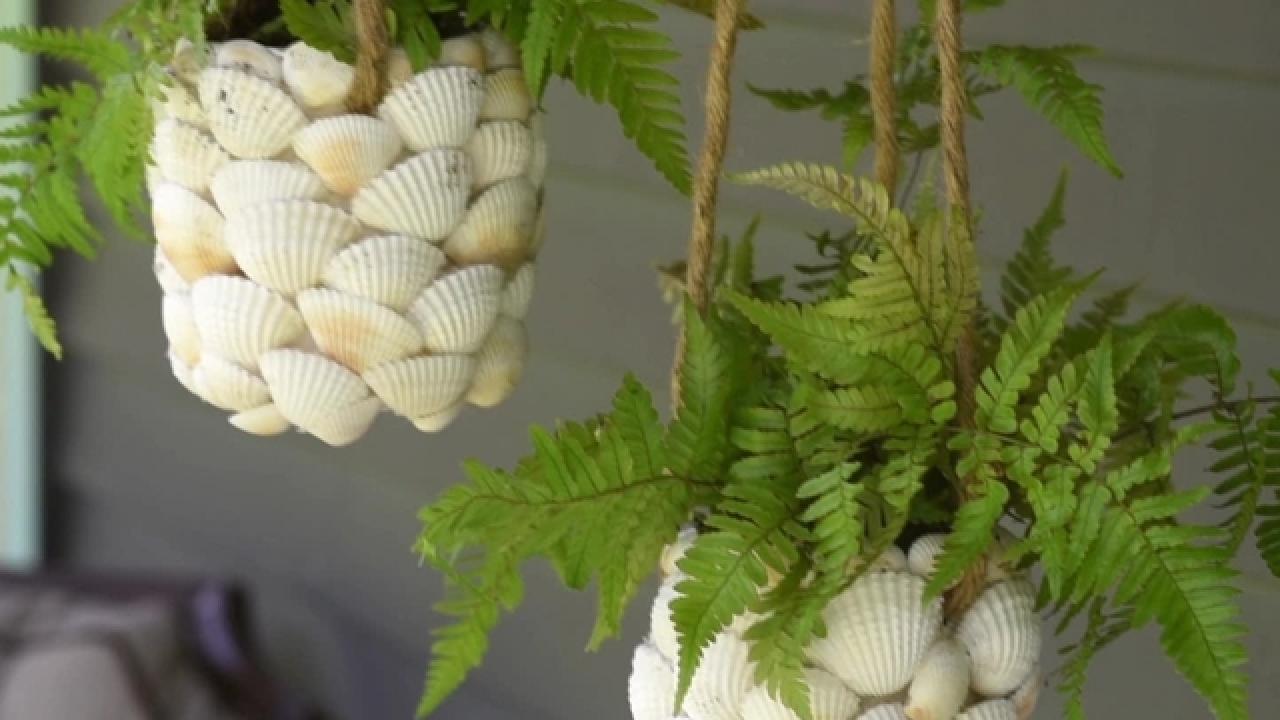 Save your cash, and make your own hanging planter with a little help from your seashell collection. This fun, beachy project is simple enough for even first-time DIYers.
1 plastic container (the plastic pot your plant came in will work great!)
1 can of white spray paint
drill
seashells
hot glue gun and glue
painter's tape
sturdy rope
Prepare & Spray Paint Container
If you're using the plastic pot your plant came in, be sure to first remove the plant and wipe off the exterior of the container. Spray paint the exterior of your container white.
Drill three equally spaced holes just under the top rim of your container. This is how you'll later hang your planter with rope. If your container doesn't have drain holes in the bottom, add those now, too.
Start by applying a small line of hot glue around the top rim of the container, and attach small seashells one at a time until the entire rim is lined with shells. Work your way down the container one row at a time. Make sure to leave your drilled holes completely open. As you go, fill in any gaps with small shells, leaving no plastic visible.
Determine how high you'd like your planter to hang, and measure a piece of rope accordingly. Add in some extra rope length for the two knots you'll tie. Measure out two more pieces of rope at the same length, and cut all three. Prepare one end of each piece of rope by wrapping it tightly with painter's tape and pinching the tip into a point. This will prevent fraying and help the rope slide easily though your drilled holes — think of the end of a shoestring.
Now, simply thread each piece of rope through each hole, and tie knots on the interior of the planter to secure them. Cut off any excess rope inside the planter. Join the three ropes together at the top with your favorite kind of loop knot.
Fill your planter with plant of your choice, and hang it on a sturdy hook.