How to Build a Headboard From an Old Picket Fence
Learn how to make a headboard from some scrap wood and a salvaged picket fence.
Cost: ⚫⚪⚪⚪

Skill Level: ⚫⚫⚪⚪

Time to Finish: One day
miter saw
scrub brush and a bucket of water/bleach solution
level
tape measure
stud finder
drill gun
salvaged picket fence pieces
beadboard
salvage lumber for the frame
wood screws (size depends on thickness of your fence piece)
paint
sealer — varnish
wood glue
sandpaper
This rustic, chic headboard was made from a section of an old picket fence. The pickets were cut up into small pieces, cleaned and then refinished in a few different ways. Then the pieces were fitted into a frame made from more weathered lumber.
Cut and Clean Fence Pieces
Determine the size of your headboard. We made ours 72" x 36".
Separate each picket fence slat and cut them into random sizes using a miter saw. We used a solution of bleach and water to scrub each piece clean. Let them dry.
Build a frame for the headboard. We used scrap wood for the header, sides and bottom of the headboard, and a piece of beadboard for the back. Fasten the frame pieces to the beadboard from the back so the screws don't come through the front of the wood.
Before fastening the bottom piece onto the frame, do a dry-fit layout of the of picket fence pieces to make sure they fit horizontally so you won't have to make any lengthwise cuts. Remove the picket fence pieces and then screw the bottom board in place.
Create a Headboard Pattern
Create a pattern of your pieces. We left some picket fence pieces in their natural state, and we painted some and whitewashed a few others. Do not glue down any of the pieces until you are comfortable with your pattern and colors.
There will be some spaces that you will need to fill with smaller fence pieces. Place those pieces in random locations on the headboard and cut them out last after the rest has been glued down. This way you can measure the exact size and cut them to fit.
Glue all the pieces down and place a tarp over the top and weigh it down to help the glue adhere. Let dry. Varnish the whole piece. Let dry. Apply second coat. Let dry for a few days.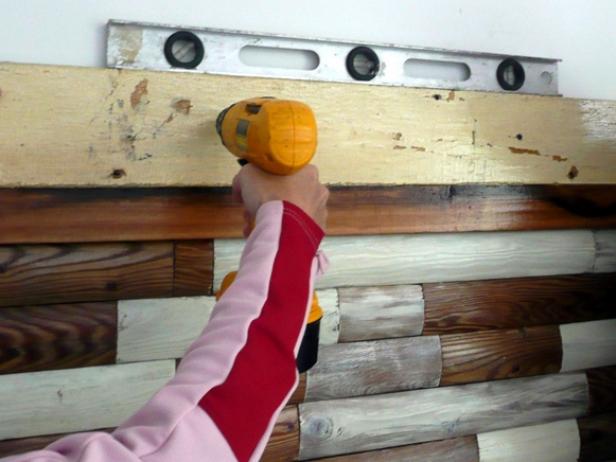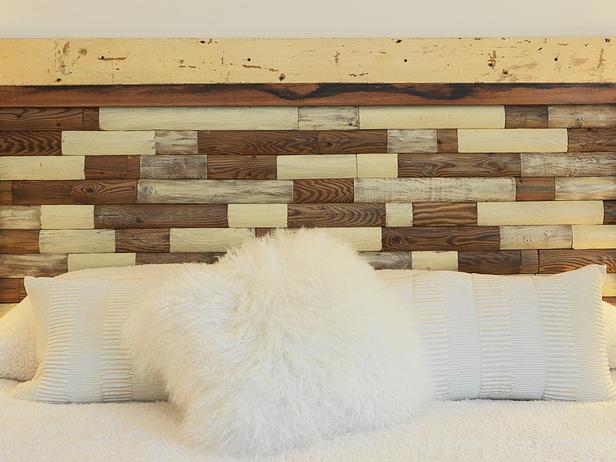 Susan Teare, Joanne Palmisano
Find the studs in the wall and screw into place behind the bed.