Easily Craft a Designer-Worthy Breakfast-in-Bed Tray
Give a basic tray a colorful makeover (on the cheap!) to create a beautiful, spill-proof surface that's perfect for enjoying a light snack while you snuggle under the covers bingeing your favorite show or curled up with a good book.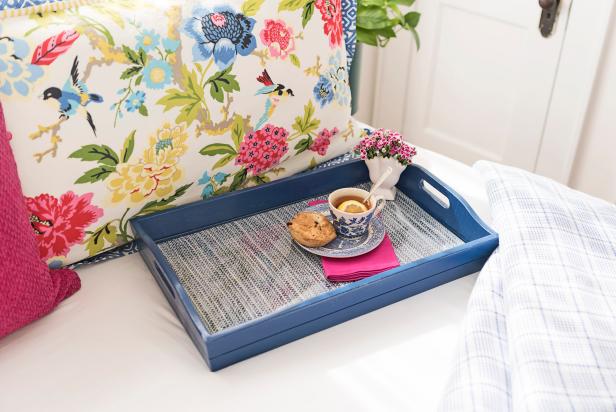 Colorful Guest Bedroom With Breakfast in Bed
Inexpensively upcycle a bland tray and a bit of leftover fabric into a designer-worthy tray ready for breakfast-in-bed any day.
Sarah Busby; Styling by H. Camille Smith
large wooden tray (check yard sales and thrift stores for an inexpensive option)
latex or craft paint in a color that coordinates with your chosen fabric
leftover fabric that's just a bit bigger than the tray's bottom
plexiglass, cut to size at your local hardware store to fit the tray
foam board (check local dollar stores)
glue stick
scissors
paint brush
X-Acto knife
Using a chip brush and acrylic or latex paint, cover all sides of the tray, including the back and inside the handles. Allow to thoroughly dry.
Cover the tray's sides and base with a coat of water-based polyurethane to seal the surface and protect it from any spills or stains. Allow to thoroughly dry.
Using the pre-cut plexiglass as a template, trace around the foam board with an X-Acto knife to cut it to size. Tip: The foam board should be just a bit smaller than the plexiglass so, before cutting, just shift the plexi about 1/2" in on two sides.
Using scissors, cut a section of fabric that's about an inch wider than the foam board on all sides. Working in sections, liberally coat the foam board's surface with the glue stick, center the fabric piece on top, then press the fabric into the glue, smoothing out any wrinkles as you go (Images 1 and 2).
Flip the board over and use scissors to notch both fabric corners at a roughly 45-degree angle (Image 1). Starting on one side, apply glue stick to the area that will be covered with the fabric's end (Image 2), pull the fabric tight, then press the end into the glue (Image 3). Add more glue and tack the remaining sides down.
Place covered foam board in tray. Remove the film covering both sides of the plexiglass and place in tray.
Equally great for serving cocktails, this pretty food- and beverage-safe tray just may make breakfast-in-bed an everyday occurence.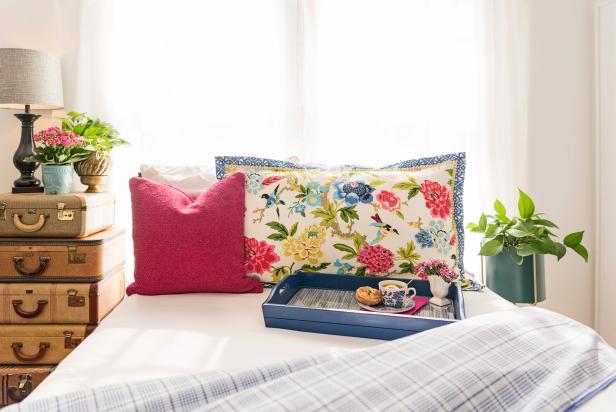 Sarah Busby; Styling by H. Camille Smith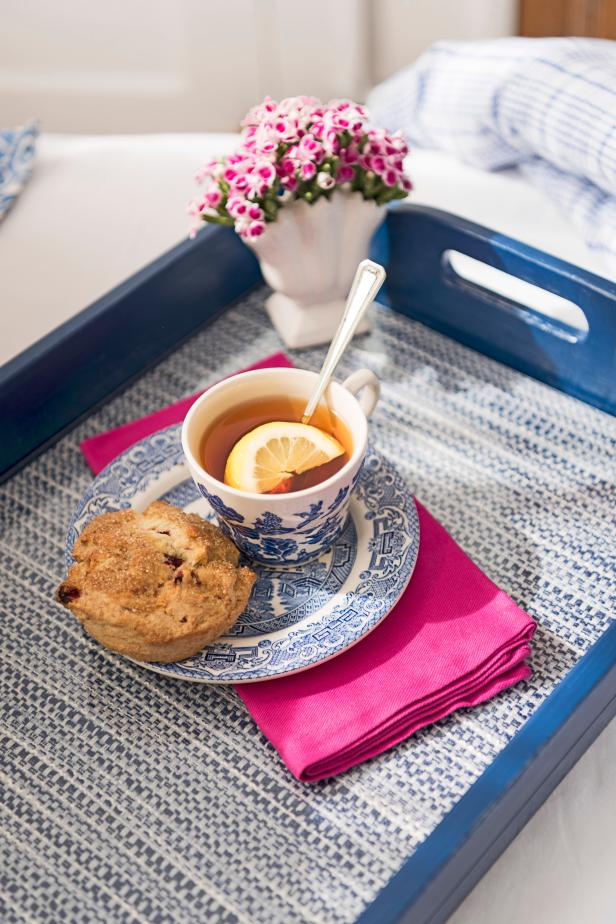 Sarah Busby; Styling by H. Camille Smith