Save Water (and Money!) With a DIY Rain Barrel System
Don't let an abundant natural resource go to waste. Build a rain collection system right in your own backyard with our easy-to-follow instructions.
Note: The Federal Government does not have any laws or restrictions regarding rainwater harvesting, but individual states may. Please check your local laws before starting this project.
(3) 55-gallon closed-top plastic drums
2" flex-elbow
8 oz can of PVC cleaner
8 oz can of PVC cement
rain barrel stand (or make your own)
jigsaw
drill
2-½" hole saw
(4) 2-1/2" threaded male plumbing connector
(4) 2-1/2" PVC elbow
(2) 2-½" PVC tees
(2) 2-½" x 5' PVC pipe
3/4" insert x spigot PVC adapter sched 40
2-1/2" socket x FNPT PVC female adapter sched 40
3/4" brass hose bib
2-1/2 oz tube of clear silicone
plumber's tape
Start by thoroughly rinsing the barrels inside and out (Image 1). Turn the barrels upside down to drain and dry. On the bottom of one barrel, trace an opening for the downspout flex-elbow connector with chalk then cut out with a jigsaw (Images 2 & 3). This is where the rain will flow in from the roof. Next, use a hole saw to cut out a hole for overflow at the top of the barrel on the left side (Image 4). This allows excess rainwater to flow out of the barrel if it gets full.
Measure and cut the two PVC pipe pieces to create the "w" shape pipe system we made here. You'll cut these lengths: three 3-1/2-inch pieces, two 8-inch pieces, one 20-inch piece and one 10-inch piece. Lay the barrels on their sides and create a rough skeleton of how the PVC parts will be connected below the barrels (Image 1). This piping system will allow the water to flow from the first barrel up into the subsequent barrels. Secure plumbers tape to the threads of the plumbing connectors, then screw them into the threaded openings on all three barrels (Image 2). Prep all PVC parts with PVC cleaner (Image 3). Finally, glue together the pieces as shown with PVC cement (Images 4 & 5).
Step 3: Create Barrel Stand
Construct a sturdy barrel stand out of an outdoor-friendly wood such as cedar. We created our stand from 2x4s for the frame and top, 4x4 posts as legs and 1x6s as a border to give it a clean edge. Attach it all together with 3-inch outdoor wood screws (Image 1). Cut holes in the stand where PVC will go through (Image 2). No time to build? There are a variety of ready-made stand options you can buy online.
Step 4: Attach Plumbing to Barrels
Turn the barrels upside down and align the PVC connectors with the holes you created on the stand (Image 1). Use PVC cement to glue the piping into place at connectors under the stand (Images 2 & 3).
Step 5: Secure Overflow & Gutter Pipes
Glue the overflow valve (made from two elbows and a length of PVC pipe) to the hole created on the left side of the first barrel (Image 1). Then, attach a flex-elbow from the gutter downspout to the hole in the top of the first barrel (Image 2). Lock in place with silicone to keep the system watertight (Image 3).
Step 6: Attach Water Hose & Enjoy
When it's time to water, simply attach a hose to the spigot (Images 1 & 2). To conceal the rain barrels and create a more pleasing view, place large potted trees in front, leaving a space for the spigot to peak through (Image 3).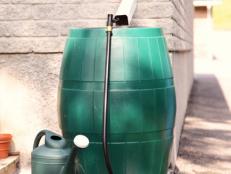 These easy-to-install barrels can save rainwater for your home and garden.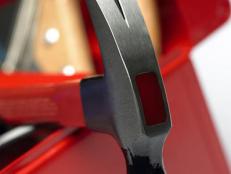 Grab a hammer and a crow bar and rip out that old kitchen. Your budget will thank you.