How to Organize Books on a Bookshelf
'Tis the season to declutter and organize. Discover easy and clever ways to arrange, style and find the perfect new home for your book collection.
There's something about the experience of flipping through a well-read book that just can't compare to an e-reader. But from time to time, those books have a tendency to pile up and get shoved in every nook and cranny. One of the easiest ways to store your prized publications is a handy, dandy bookshelf. Organizing said bookshelf can be a little tricky, though. Until now! We've got tips and tricks for arranging books on shelves, plus ideas for styling your bookshelf.
Home Library Hits the Right Note
In need of a home for their beautiful bass and extensive collection of books and records, the homeowners turned to designer Harmony Weihs to transform an unused corner into functional storage space.
Organize Your Books Into Categories
The first step in getting organized is to figure out a system that works best for you. Simply put, there's no right or wrong way to categorize your book collection. There are, of course, pros and cons to each method, but the outcome will be an organization lover's dream any way you choose.
Alphabetically: There are a couple of different options on this one. You can either alphabetize your reads by author or by title. If you have a fairly large collection, arranging by the author's last name will help make finding what you're looking for a little easier. It'll be like having a mini library for you (and your pals!) to choose from right in your own home.
By Genre: If you're a reader of many different genres across the board then this category is for you. Arrange the novels into their respective genres and easily find the ideal read for your mood whether it's a page-turning mystery or a how-to on your favorite hobby.
Fiction vs. Nonfiction: This method is extremely easy for a smaller collection. Start by grouping your fiction books together, and then all the others can simply live in a different section for easy finding.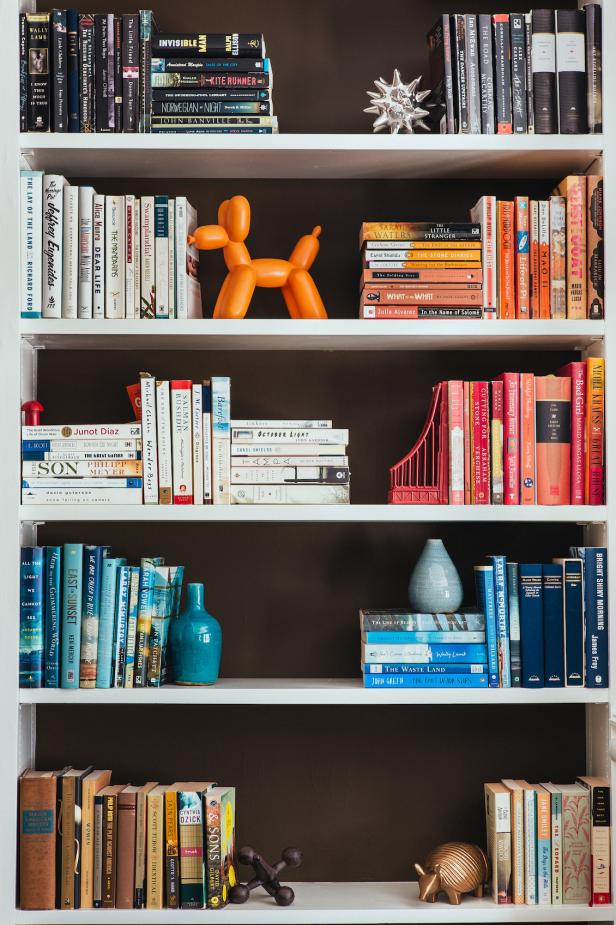 Color Coordinated Bookshelf With Contemporary, Decorative Bookends
Each shelf on this bookshelf is organized with collections of books in matching color. Contemporary trinkets act as stylish bookends. The decorations bring additional color and personality to the beautiful display.
By Color: For a Pinterest-worthy bookshelf, arranging the reads by color is the way to go. This trend is a popular way to make a statement with your books as well as doubling as decor. Try organizing in a rainbow pattern for a colorful display or group warm and cool tones together for an eye-catching effect. The only downside to this category is, unless you happen to know each book's spine color, picking your next selection or homing in on a particular title might be a little tricky.
Read vs. Unread: Instead of tossing new titles to the side until you get a chance to read them, make a shelf or two just for this purpose. When you get the urge to start a fresh new read, you'll know exactly where to go.
SHOP OUR PICKS
Straighten up your home with these beautiful bookcases that you can buy online.
Ways to Style a Bookshelf
After you've categorized your novels into the sorting of your choice, it's now time to style and add a little personality to the bookshelf.
Orientation of Books: Don't be afraid to stack your books and even use them as makeshift risers. To add a little flair and break up the vertical lines, stack books horizontally in between. Alternate orientations throughout the bookshelf for a stylish display.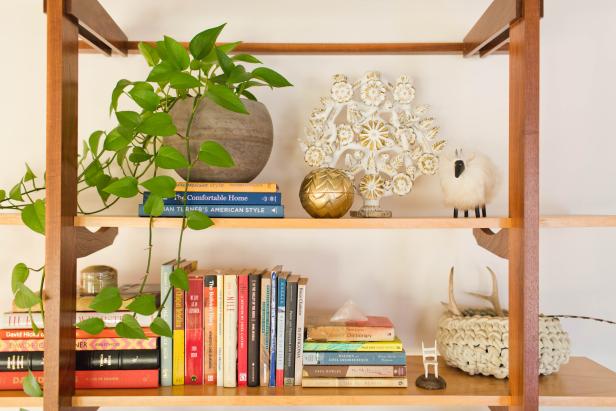 Wooden Bookshelf in Living Room
The living room's bountiful bookshelf injects personality into the space with books selected by the home owner.
Sarah Sweeney Photography
Pair With Accessories: Put those makeshift risers you just created to good use. Atop the stacks of books is an ideal place to display thrift store finds, travel souvenirs and other favorite items. Style gaps in between with lush plants, memorable photos or fun figurines.
Make Visually Appealing: To give your collection an uncluttered and polished feel, group books with similar heights and widths together. This will create a streamlined look while still remaining functional throughout. Freshen up worn or tattered books by wrapping them in coordinating paper for an updated facelift.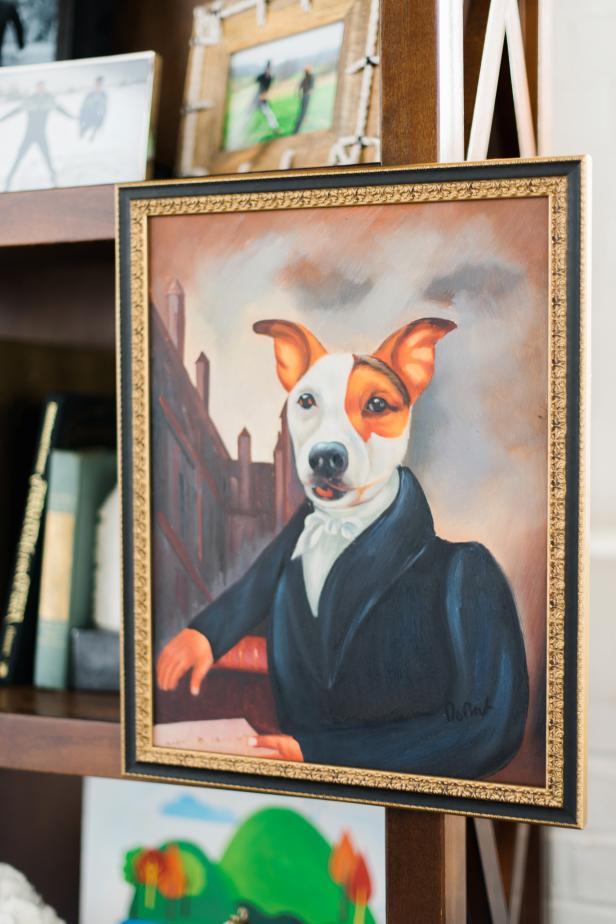 Bookshelf Styling With Hanging Artwork
Interior designers often look at shelf facades as extra surface space for hanging art.
Rustic White Photography, LLC
Add Artwork: Add a creative twist to your shelf by hanging a focal-worthy piece front and center for display. Fasten the artwork to the shelf's facade using picture-hanging strips for an easy decor addition.
MORE IDEAS
Brush up on our shelf-styling tips to master the #shelfie and ban boring built-ins with these creative bookshelf decorating ideas.