10 Amazing Backyard Fire Pits for Every Budget
Built-in, in-ground, portable — there's a fire pit for every backyard.
As a brand-new owner of my very own outdoor fire pit, I'm happy to report: THEY ARE TRULY MAGICAL!
Whether you have loads of outdoor space and want to create a built-in fire pit, or you have a small patio that you'd like to add a portable fire pit to, we've got lots of ideas you can try. Grab a bag of marshmallows and get ready for some fun! I've rounded up 10 of my favorite outdoor fire pit setups for every budget.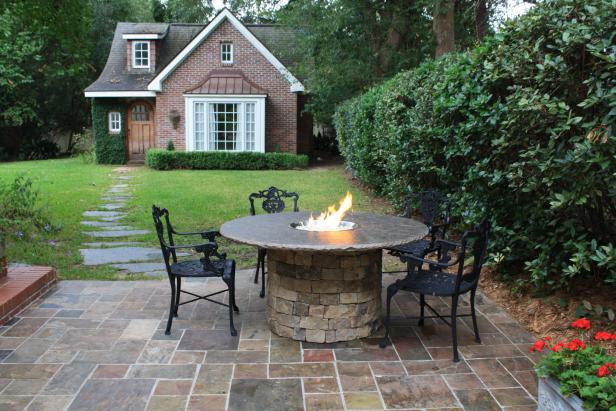 Round Fire Pit Table
Fire pit tables come in round and square designs. This fire pit by My Outdoor Rooms, based in Dothan, Ala., features an oversized top for a romantic meal or intimate gathering with friends and family. The pre-built fire pit is 5 feet in diameter and 30 inches high with a 19-inch firebowl on the inside.
If space is at a premium for you, one of my favorite fire pit setups is a fire pit/table combo. This two-for-one arrangement allows you to use your table for eating or playing games. Then, you can cover up the fire pit when it's not in use. However, as soon as you're ready for some fire-pit action, you automatically have a designated area.
This setup is especially handy if you're having a s'mores party, as you can use the table section to hold all of the necessary ingredients.
YardApes, Inc., a member of The National Association of Landscape Professionals
Use some Adirondack chairs and a portable fire pit to create a fun, casual area in your backyard. Space the chairs around your fire pit in a circle to create a nice conversation space. This type of setup works well for smaller yards or even for larger yards that have a variety of separate designated hang-out areas.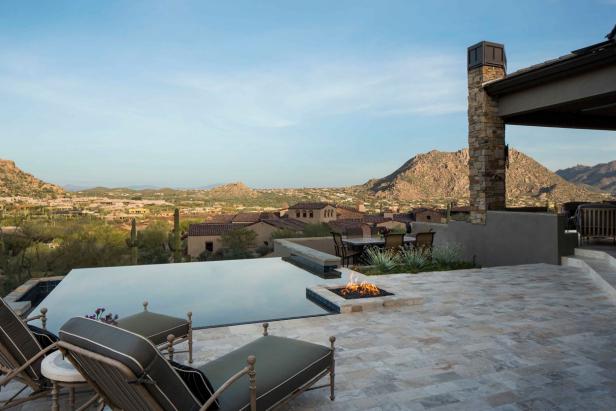 Patio With Infinity Pool and Fire Pit
Taking full advantage of its gorgeous desert setting, this home's porch and patio feature wide open expanses, an infinity pool and a fire pit. The stonework echoes the neutral colors of the landscape.
If you're thinking of tackling a large-scale backyard renovation, and you're lucky enough to have a pool, consider adding a fire pit. This type of setup allows you to seamlessly incorporate the fire pit into your backyard landscape. Additionally, if you're already undertaking a reno, you can easily add elements such as gas to your fire pit. This solution works really well in warmer climates where hanging out by the pool is a year-round option.
If you'd like to create a true campfire feel, consider creating a rustic fire pit. You can use logs for seating, and outline the fire pit with stones. For safety reasons, you'll want to make sure you have a large, wide-open area for this type of a setup. Make sure to keep long branches or skewers on hand for roasting marshmallows and hot dogs with the whole family.
Another more permanent solution is the in-ground fire pit. While this might require a bit of renovation, it's mostly a matter of choosing a spot, digging it out and replacing the stones or patio tiles once the fire pit is in. Like the table, the pit itself can be easily covered up when not in use.
Falling Waters Landscape Inc., www.fallingwaterslandscape.com
If you have a more modern home, a concrete fire pit and bench is a perfect way to go. These can be easily customized to work in smaller spaces and can be hooked into already existing gas lines. If you use gravel in your yard already, you can incorporate the same gravel in your fire pit to pull the look together.
Built-In Fire Pit Seating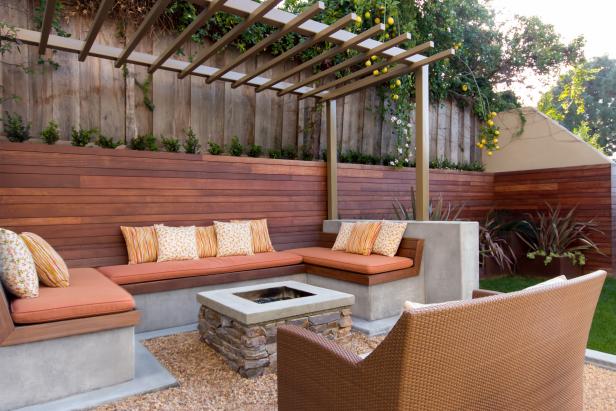 Contemporary Built-In Seating with Fire Pit, Pergola.
Built-in seating surrounds three sides of a modern fire pit, creating a cozy spot for relaxing and talking with friends. A pergola overhead defines the seating area and adds to its friendly, welcoming feel.
If you already have a spot in your yard with built-in seating or benches, consider adding a fire pit as the perfect outdoor centerpiece. You can add pillows and blankets to make your space extra cozy. If you're looking to build an area like the one pictured, consider creating seating with built-in storage below the benches.
Fire Pit Built Into the Landscape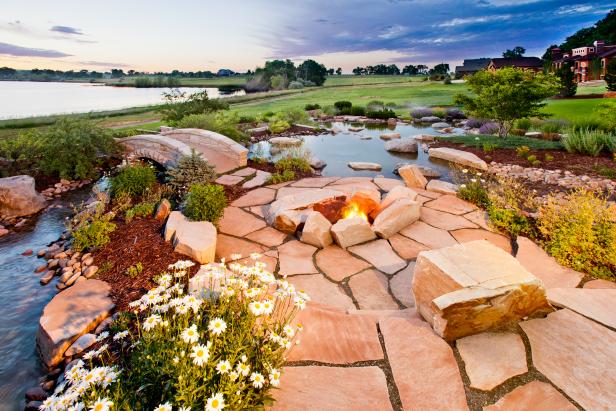 A Circular Stone Fire Pit With a Lake View
Architectural stone bridges connect to a circular patio with a wood-burning fire pit. The rough-hewn flagstone boulders are placed in an informal arrangement, complementing the natural feel of the native garden and vistas.
If you have a heavily landscaped backyard, try an approach like the one pictured and create a fire pit that is seamlessly incorporated into your surroundings. This fire pit looks as if it's part of the natural landscape.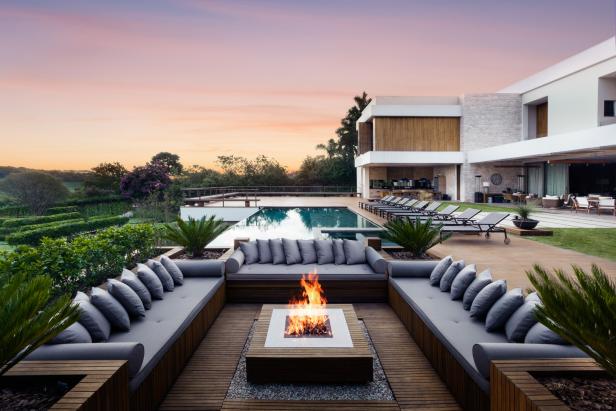 Square Fire Pit in a Contemporary Outdoor Lounge
In this contemporary exterior lounge at condo residence in Brazil, the designer used an ecological fire pit by Construflama. The negative edge pool blends with the landscape, and plants such as bamboo and trees offer privacy and maximize the view. The project by designer Alex Hanazaki won a 2014 American Society of Landscape Architects award.
Beto Riginik and Yuri Seródio, ASLA
A truly luxe and comfy option is to create a fire pit as the centerpiece of your outdoor living room. In this type of set up, the fire pit is combined with an outdoor coffee table and surrounded by large outdoor couches. This is an amazing option for a larger space, like a vacation or lake home, where the whole family can enjoy it together.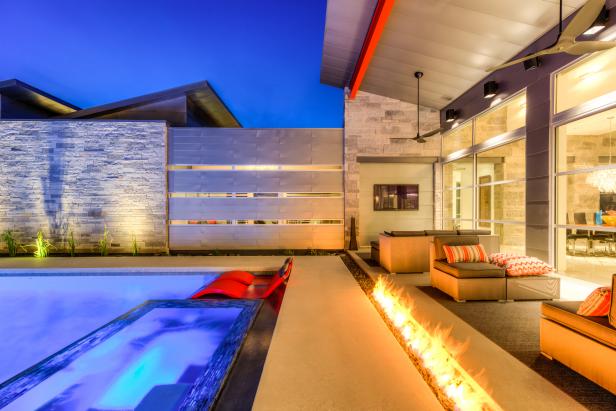 Linear Fire Pit Parallel to Poolside Seating Area
This unique fire pit matches the home's modern style. The poolside fire pit has a dual purpose of providing warmth and an architectural element to the outdoor space.
Another approach is to create a fire pit along the perimeter of your outdoor space. This is a great way to visually separate one space from another.