Design Starter Kit: 5 Must-Haves for a Boho-Chic Look
Do you covet that collected, festival-inspired vibe? Consider this your boho design cheat sheet.
It's almost impossible to open up a magazine these days without seeing eclectic and layered bohemian-inspired decor splashed all over the pages. Influenced heavily by 1970's design, the boho look typically includes natural elements, colorful, layered textiles and a more casual, collected feel within a room.
If you want to bring the boho look into your home, there are a few key pieces you can add that will immediately help you capture those vibes. Here is our go-to list for the perfect boho design.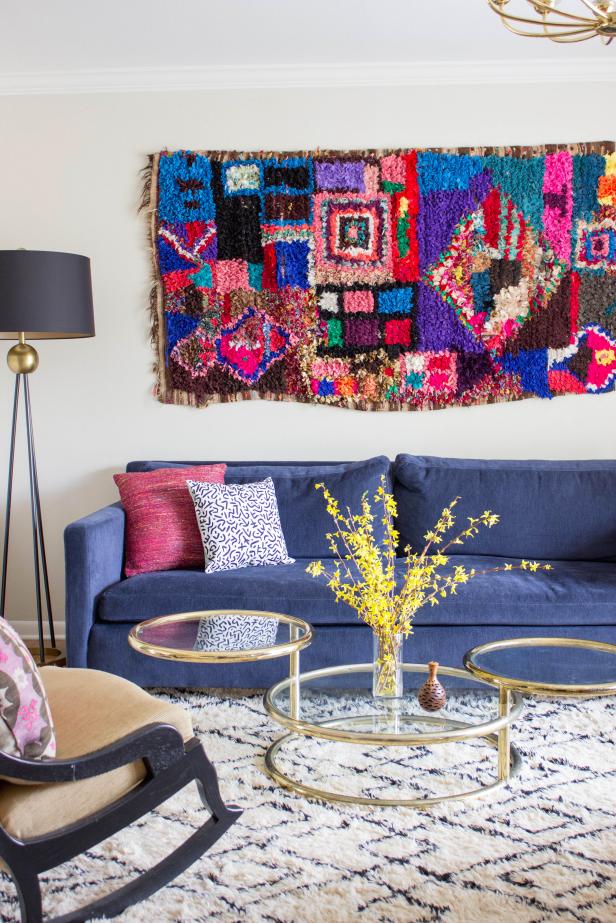 Contemporary Living Room with Bohemian Art
Designer Sarah Stacey adds an unexpected touch to this contemporary, bohemian living room by hanging a multicolored rug on the wall. The piece makes an easy focal point to the room and accents the simple blue sofa.
Macrame and weaving are having a big moment right now, and these pieces fit in perfectly with the boho decor scheme. You can find amazing vintage pieces on Craigslist or eBay by searching phrases like "vintage macrame" or "70's wall hanging."
Our Product Pick: If you're looking for something a bit more modern, Etsy has some great artists who are making jaw-dropping pieces like this colorful fiber wall tapestry.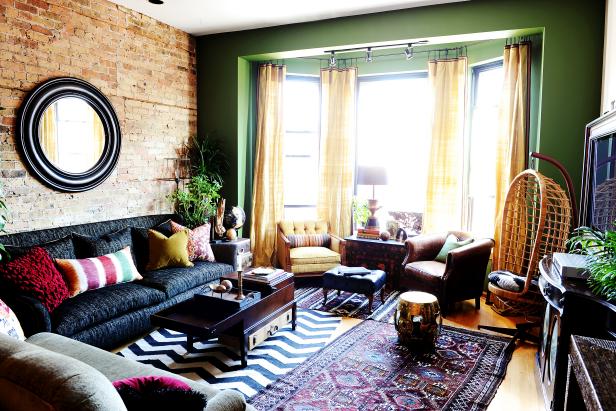 Eclectic Living Room with Green Accent Wall
Several patterns and a rich color scheme were the focus of designer SuzAnn Kletzien's plan for this eclectic living room. A vibrant green accent wall frames the bay window area, while a brick wall provides a rustic edge behind a soft black chenille sofa. Kletzien paired together a black vintage Persian rug with two other rugs, including one with a modern blue and white chevron design, to create a layered look.
Bohemian style is all about mixing colors, patterns and textures, and a bold Turkish or Moroccan overdyed rug is the perfect embodiment of this. Again, you can choose to go vintage or go with a more updated interpretation of this style, but choose a rug that will help anchor your space and bring all the elements of this style together.
Our Product Pick: This overdyed abstract rug from RugsUSA would work great with a blue, brown or warm neutral color scheme.
Vintage or vintage-inspired throws, blankets, bedspreads and even larger pieces of fabric are all great options for bringing some additional texture and warmth to your space. Having a variety of linens will also give you the option to switch things up and change the look of your space. Try to find pieces, like Kantha quilts, with varying textures and materials to help create a more collected look, and use them as throws at the end of your bed or over the back of a chair.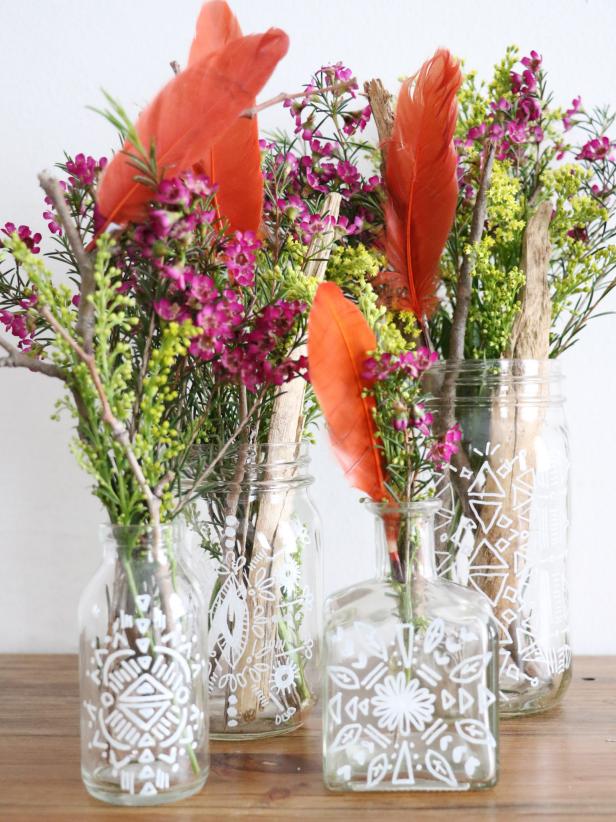 Bohemian-Inspired Vases and Jars
With a few simple drawing techniques, make these bohemian-inspired jars to decorate your home.
Plants are a great way to bring a bit more bohemian style into any space, particularly some of the more 1970s reminiscent ones such as ferns or succulents. Speaking of succulents, terrariums are also a fun option. They work in almost any glass container, and you can easily make one yourself.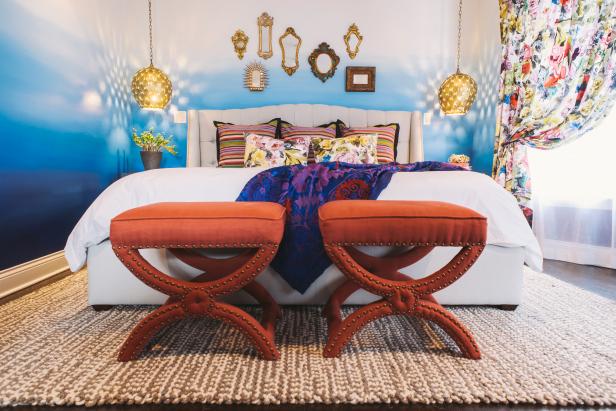 Bright Master Bedroom With Bohemian Design Features
This master bedroom benefits from hand-painted blue and white ombré walls features an ethereal design scheme, including chic, Bohemian features like the floral curtains and brass pendant lights. Vintage mirrors hang above the neutral tufted headboard, while two plush orange upholstered ottomans sit at the foot of the bed.
A uniquely shaped mirror, or one that incorporates interesting etchings or carvings, is another boho must-have. Try grouping several vintage mirrors together for even more impact. Bonus points if you find a mirror with shelves that you can use to showcase other decorative items.
Our Product Pick: These woven wall mirrors from Urban Outfitters would work perfectly by themselves or as a grouping.
Stay tuned for more "starter kits" for all of your favorite design styles.