Clean Your Bathroom Once and Never Clean It Again
Three minutes a day is all you need to keep your bathroom in tip-top shape...forever.
Let's be honest: When was the last time you cleaned your bathroom? I mean really cleaned it. If you're like me, you put it off and put it off because you know you're going to have to spend an ENTIRE day cleaning that puppy. Hey, no judgement here! Unless you're one of those super energetic people OR someone who actually enjoys cleaning the bathroom (lucky), odds are a startling amount of time lapses between scrub downs.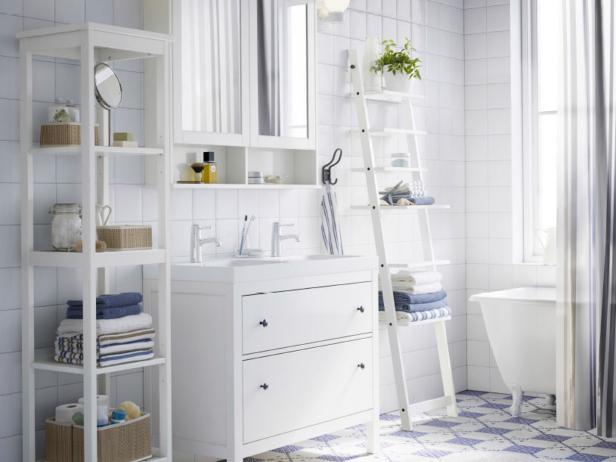 Open Shelving in Airy, White Bathroom
The bathroom is a private place, but open shelving can create the illusion of space in smaller square footage, and with a less weighty wallet hit than cabinets. A few drawers or covered baskets on high shelves can house your private items, and your colorful towels, pretty soaps and washes, and other bathroom decor don't have to hide in a dark closet any longer!
But what if I told you there's a way to clean your bathroom once and never clean it again? Would you believe me? Probably not. But hear me out.
Now, this isn't a magical secret. It's simply a mixture of common sense and diligence. But I swear it will make your life SO. MUCH. EASIER.
Step 1: Give Your Bathroom the Cleaning of All Cleanings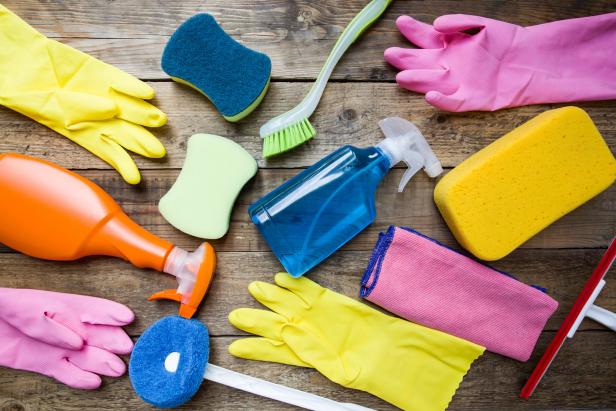 Cleaning Supplies
You don't need the most expensive cleaning products or tools to successfully clean your home. Common household items used in creative ways can often save money and get the job done. But a word of caution: even "natural" products can sometimes cause a reaction on different finishes and furniture, or pose problems for those who suffer from airborne or skin allergies. Test new products in a small, inconspicuous area to make sure they work for you and your home.
Scrub it from top to bottom. Clean in places you haven't cleaned maybe...ever. Scrub the tub until it sparkles, wipe down the sinks, the cabinet doors and handles, the baseboards, floors, toilet, mirror, etc. This might take all day, but it will be the last time you'll ever do it. So just take a deep breath, set aside a day (or two) and just get it done.
Step 2: Keep It Clean...For Good
What's the secret to a perpetually clean bathroom? Maintenance. I told you it wasn't magical. But spending around 3 minutes each day maintaining an already-clean bathroom is loads easier and much more pleasant than spending an entire day or weekend scrubbing a nasty one. Plus, the bathroom is always in top shape if a surprise guest comes to visit!
I started this super-easy maintenance routine a few months ago and haven't cleaned my bathroom since. And the surprising thing? My bathroom is always sparkling clean. No joke. Here are the hard and fast rules I live by:
To start, set up your bathroom so that your maintenance tools are easily accessible. Invest in cheap washcloths (for wiping small spots and spills) that match your bathroom decor, and leave them rolled up on the sink in a small basket or in an easy-to-reach drawer or cabinet. You'll also need disinfecting cleaning wipes (store-bought or homemade), shower cleaner, used dryer sheets, a toilet brush, an orphan sock and a handheld squeegee. Keep all of these tools tucked away, but easily accessible in your bathroom.
Like my mama always says: Put it back where you found it. Set up your bathroom so that everything has a home and make a point to return items back to their proper places right after you use them. A messy bathroom is impossible to keep clean.
The key to a perpetually sparkling shower? Keep it dry. I stow a handheld squeegee in my shower caddy and wipe down the shower walls, floor and curtain liner before I hop out. It seriously takes 30 seconds, but keeps mold and grime at bay by removing any gross standing soapy water. If you have more than one person using the shower in succession, however, make a rule that the last one in gets squeegee duty.
Every week or so (depending on how often your shower is used), take one of the previously mentioned washcloths into the shower with you, along with a little shower cleaner and wipe the dust from the ledges, faucet, handles, shower head and any other dust-prone surface, then hang the cloth to dry. It takes an extra 3 minutes in the shower, but is loads easier than scrubbing pink mold off your tub every 2 weeks.
Tip: If remembering to bring a cloth into the shower with you sounds cumbersome, keep a dish wand filled with half white distilled vinegar, half dish soap in your shower caddy. Wipe surfaces with the wand, rinse with water, then squeegee as normal after your shower.
Wipe Spots as They Happen
After brushing your teeth or washing your face, grab a washcloth and wipe the wet spots from your sink and faucet. If you use hairspray regularly or notice a little toothpaste on the mirror, wet the edge of your cloth with warm water, wipe up the spots or sticky residue, then buff with the dry portion of the cloth.
For a toilet that always shines, scrub with a toilet brush once a week, focusing on the water line. No need for harsh toilet cleaners! As for the rest of the toilet, run a disinfecting cleaning wipe over the lid, seat and base every few days (or as needed). If you live with boys, you might want to show a little love to the floor area around the toilet as well.
Make Floor Cleanup a Breeze
Save used dryer sheets to remove dust and hair from baseboards and floors once a week. If you blow dry your hair a lot or just shed a little more than normal (like me), you may need to do this every three or four days. You'll be amazed at how clean your floor will stay!
Wipe window blinds, shelves and other dust-prone surfaces with an orphan sock about once a week. If you notice they need a little more attention, simply soak the sock in a vinegar + water solution first.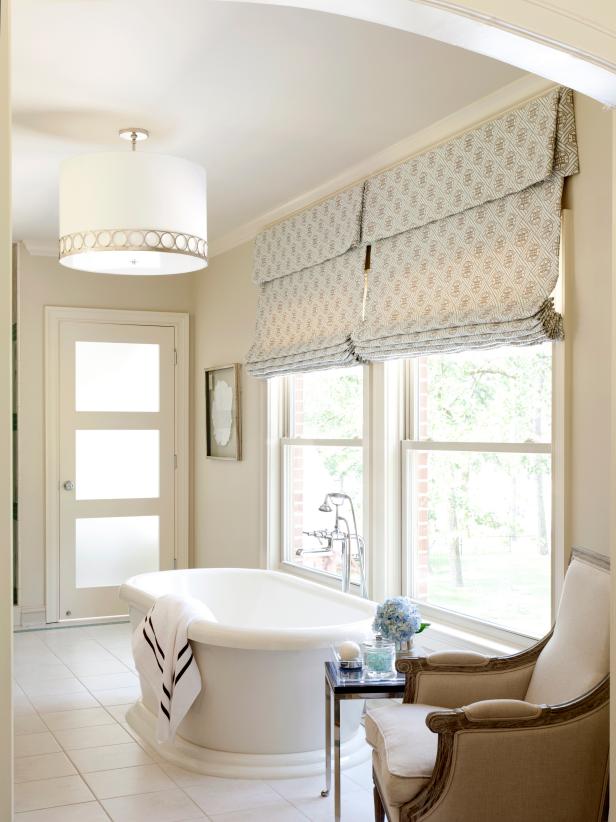 White Bathroom With Freestanding Tub
This contemporary white bathroom features a freestanding tub that is positioned near two large windows partially covered by a white and tan valance and shade window treatment. A frosted glass-paneled door lets additional light in, and an upholstered fauteuil sits next to the tub.
Break up tasks throughout the week so that you aren't doing them all at once. You'll have to rearrange your regular schedule around by about 3-5 minutes each day, but you're bathroom will stay clean and sparkling forever! #worthit
We're sorry, there seems to be an issue playing this video. Please refresh the page or try again in a moment. If you continue to have issues, please contact us here.