13 Stylish Sleeper Sofas for Every Budget
In need of extra sleeping space for guests but don't have a guest room? Rest easy with these top-rated sleeper sofas.
Keep in mind: Price and stock could change after publish date, and we may make money from these links.
Sleeper sofas are one of the most practical dual-functioning pieces of furniture you can buy whether you live in a studio loft or a house where the office, playroom or theater room needs to double as a guest space. Historically boxy and not always attractive, sleeper sofas and sofa beds have thankfully come a long way in terms of providing versatility and style. Browse some of our favorite top-rated options on the market, and check out our tips for what to consider when purchasing a sleeper sofa.
What to Consider When Shopping for a Sleeper Sofa
Size: Many sleeper sofas are heavier than a typical sofa, particularly the pullout styles with metal frames. If you anticipate needing to move it frequently, you may want to go for a smaller and lighter option like a fold-down, futon-style sofa bed. Be sure to measure your space for the dimensions of both the sofa configuration as well as the fully extended bed configuration before purchasing.

Converter Type: From sleeper sofas with pullout systems to sofa beds that simply fold down flat, consider how easy the sofa can transition from regular seating to a bed for overnight guests. If you're shopping for a small apartment or dorm, for example, where you don't have a lot of space to rearrange furniture, you may want to choose a futon-style or twin-size sleeper. Fold-down converters are the fastest to convert and usually take up less space, but they aren't usually as soft as a pullout sofa with an innerspring or memory foam mattress.
Bed vs Sofa: Consider the primary purpose of the sofa. Will it serve as your only setup for overnight guests who visit frequently? Then you might want to prioritize the comfort of the bed configuration and opt for a pullout style. But if it will primarily serve as a sofa just with the added bonus of accommodating an additional overnight guest or two a couple of times a year, then you may not need the most comfortable bed and can weigh the price, style and size more heavily.

How to Make a Sleeper Sofa More Comfortable: If you decide to purchase a lighter sofa or futon but are concerned about sacrificing a more comfortable mattress, consider the option to buy a mattress topper that can provide extra cushion.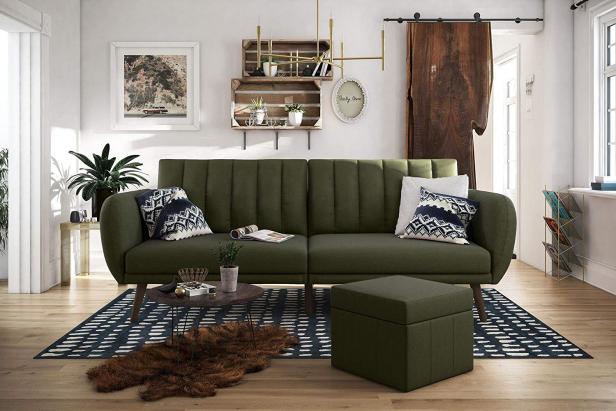 A fold-down futon is typically the most affordable (and lighter) option for sleeper sofas, but there are plenty to choose from that are way better than your college dorm futon. We're obsessed with the channel-tufted linen upholstery and affordable price point of this top-selling futon from Novogratz. It's available in classic color choices like dark gray, gray and navy, as well as bold but tasteful colors like mustard, green and light blue. A sectional futon option comes in light gray, green or navy that folds down the same way. If you're looking for a pullout couch but in a similar style, Novogratz also sells a queen sofa bed with a memory foam mattress.
Buy It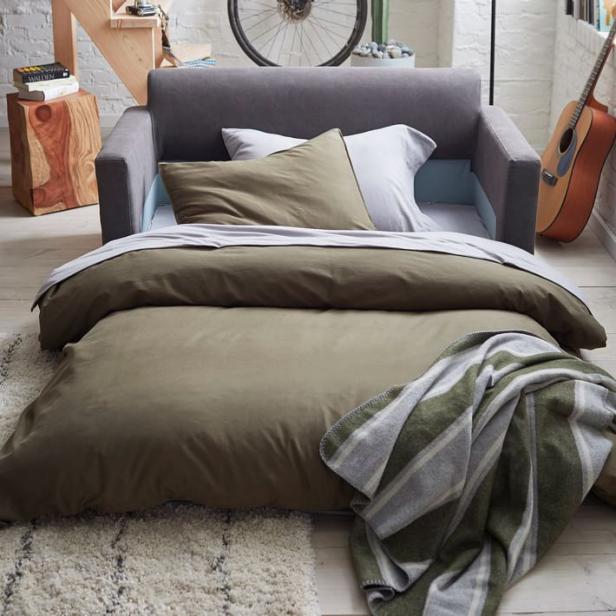 Perfect for spontaneous sleepovers or a quick nap, this streamlined, casual couch goes from a comfortable two-seater sofa to a full-sized bed in a snap. It comes in multiple colors so you can find one that coordinates with your aesthetic. We love how simple it is to unfold so that teens can set it up unassisted.
Buy It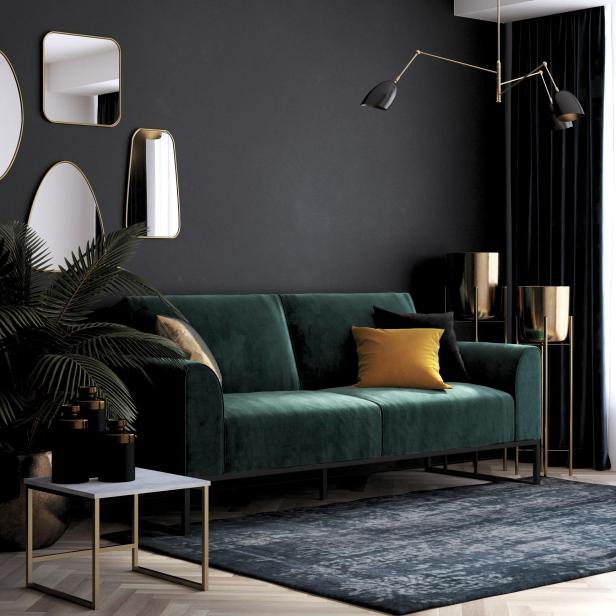 Hello, gorgeous. This upholstered velvet futon features rounded armrests and metal legs for a truly glam statement. A multi-functional split-back design allows you to independently convert the backrest between three positions: sitting, lounging and sleeping. Now, our only question is, how is this less than $600?! For something that has way more style and glam than you'd expect at that price, this is a solid budget buy.
Buy It
Sleeper Sofas Under $2,000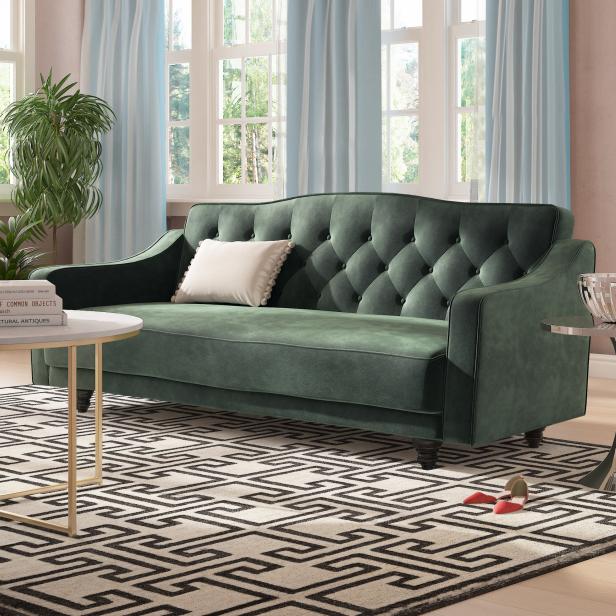 Glamorous by day and a comfortable place to sleep by night. This tufted sofa gives off a classic, feminine vibe and fits into any sophisticated home. It seats three people comfortably and pulls out into a queen-sized bed for overnight guests.
Buy It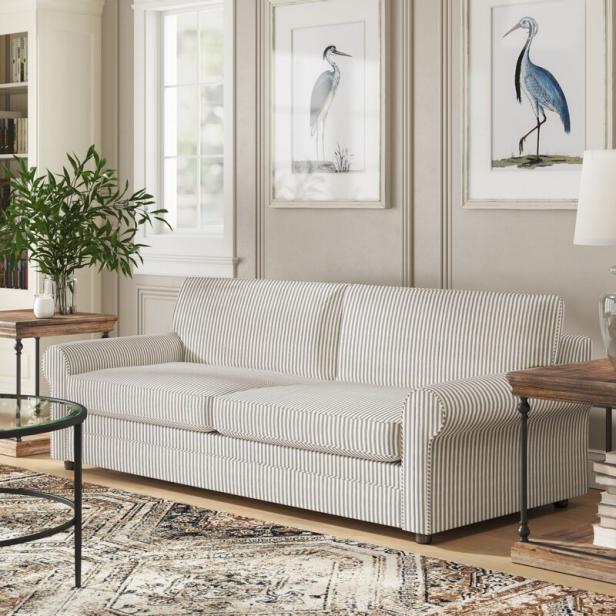 Capable of seating family for movie night to accommodating unexpected guests in a snap, this 89-inch sleeper sofa is a multipurpose addition to any living room. It's manufactured wood frame is wrapped in solid-hued upholstery and features rolled arms and a casual skirt for a clean, crisp look. With more than 50 fabric options to choose from and the classic silhouette, this pick is sure to fit in with almost any design style, and you can't beat the price for a pullout-style converter couch. Free swatch samples are available to help you choose, too. To transform this couch into a bed, simply remove the cushions and pull out the frame to reveal a mattress.
Buy It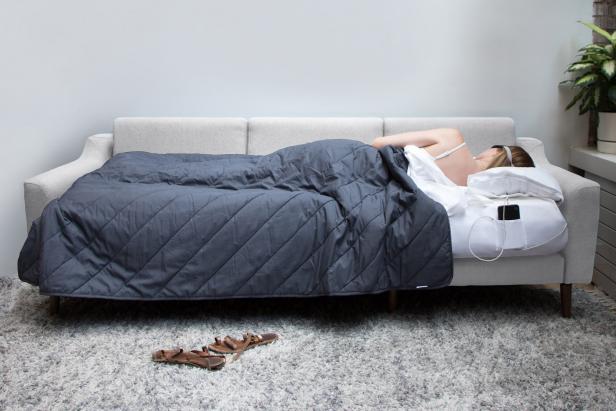 If you're primarily shopping for a sofa but a comfortable twin-sized sleeping setup for an occasional guest would be an added bonus, consider Burrow's Nomad Sleeper. Perfect for people who don't have space to extend a queen-sized mattress or don't want to rearrange furniture, the Nomad Sleeper pairs their top-rated modular Nomad Sofa with their Sleep Kit, which includes a memory foam topper, custom sheet set, quilted blanket, a pillow, pillowcase and even an eye mask. Every Burrow sofa, including this one, comes with free, one-week shipping and arrives in lightweight, easy-to-move boxes. Plus, Burrow offers a 30-day return policy.
Buy It
Small Space-Friendly
Got a small space and a small budget? You don't have to break the bank to buy your dream couch.
Sleeper Sofas Under $3,000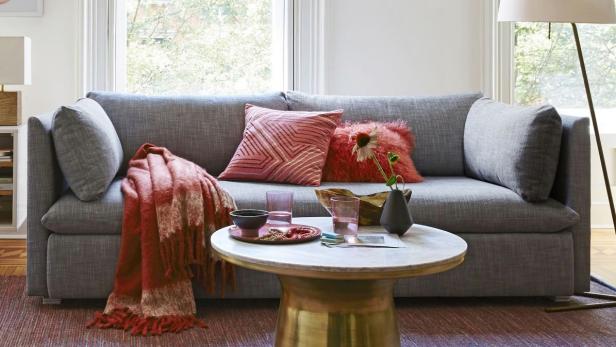 This sleek sofa is padded with cushions that are the same height as the back, creating a cozy cocoon with back support no matter which way you lounge. The simple lines mean this will fit in almost any room you need it to. Customize this couch and choose from several colors and six different fabrics (free swatches available!), including performance linens and velvets. This queen sleeper sofa is assembled in the USA with hand-built frames and hand-finished upholstery.
Buy It
Upright yet comfortable, this versatile sleeper sofa is designed to keep its look casual and clean, even in high-traffic family rooms. Designed to look like a sectional, the lounger has all the comfort with a smaller footprint that's ideal for smaller spaces, plus the chaise-like cushion and storage ottoman switch from left to right for maximum flexibility. This Barrett fills in when an extra bed is needed, unfolding a comfortable bi-fold innerspring mattress and a locking tilt-up headrest for reading and media viewing.
Buy It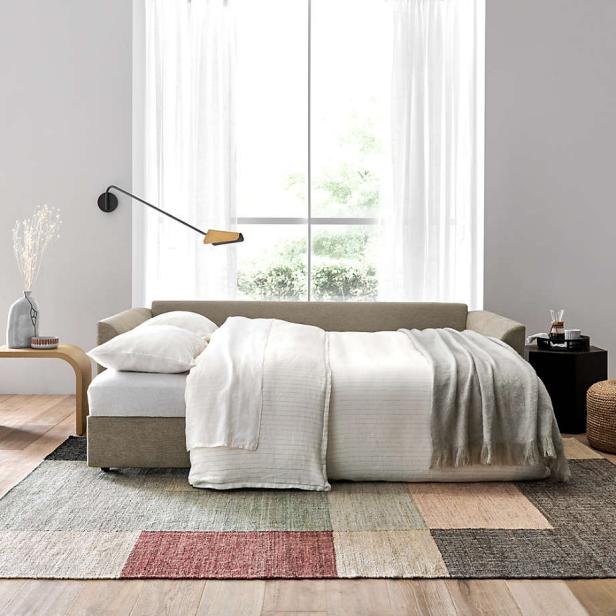 This Bedford sofa from Crate & Barrel offers a clean look and effortless style with an ingenious trundle mattress disguised as a front rail. To accommodate overnight guests, simply pull out the rail for a lower trundle bed or pull it out further until it pops into place as a queen-size bed. Made of high-density and -resiliency foam, the mattress ensures a comfy rest. Bonus for dwellers of apartments or older homes: The trundle portion can be disassembled to ensure the sofa can fit through narrower door frames when moving.
Buy It
Sleeper Sofas Under $5,000
Check out these stylish, comfortable sofas perfect for hours of TV binging or reading.
Elevat your space and treat yourself to the trend that's here to stay.
More Furniture Buys You'll Love