A Scandi-Design Expert Shares Her Tips for Getting Scandinavian Style at Home
Niki Brantmark, blogger and author of The Scandinavian Home, shares tips on creating your own Scandinavian oasis.
If you love all things Scandinavian design, then I'm sure you've heard of author and blogger Niki Brantmark. Her blog My Scandinavian Home has been inspiring design lovers for the last seven years. Her books The Scandinavian Home, Modern Pastoral and, most recently, Lagom, focus on turning your house into a light-filled, cozy nest and emphasize the importance of finding beauty and balance in everyday living. We recently had the chance to sit down with Niki and chat about Scandinavian living and ways to incorporate it into your home.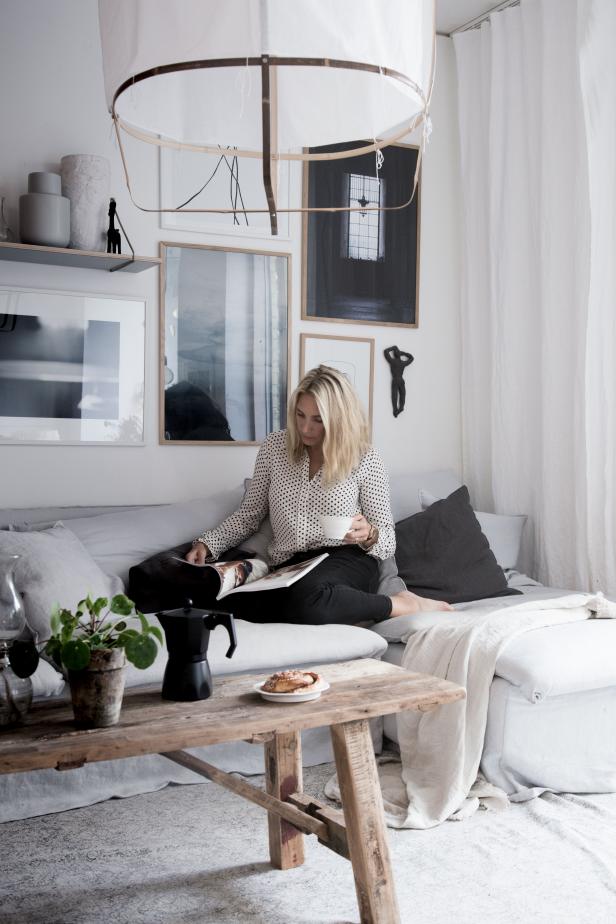 Author of The Scandinavian Home
Niki Brantmark, the author of The Scandinavian Home, says The Scandinavians are really good at working with raw materials like wood, linen, cotton, stone and anything that has texture - it brings an extra layer of warmth and comfort into their homes. Here a gray couch, a wooden coffee table, a simple gallery wall and ceramic pieces create a relaxing living space.
HGTV: I've been obsessed with your blog My Scandinavian Home for some time now! What inspired you to start it?
Niki Brantmark: When I first moved here from London, my husband, who is Swedish, took me to his friend's house, and I couldn't believe how amazing it was. Then he took me to another friend's home where I found their place was just as amazing. As we started visiting more places, I started realizing that all of these places and homes in Sweden were gorgeous. I've always been into interiors and knew I needed to start sharing the homes I was constantly coming across, and that's how I started My Scandinavian Home in 2011.
HGTV: Since reading your book The Scandinavian Home, one thing that stuck with me was how gorgeous, yet eclectic some of the homes were. The houses featured were full of beautiful pieces, but not once did they appear cluttered. In a day and age where people often hoard things they don't need, how do you decide what pieces to bring into your home
NB: The key is finding balance. I think that Scandinavians—and now, me—tend to have less in our homes because we'll get rid of anything that we don't need, anything that we don't love and anything that isn't practical. Scandinavian design is all about combining beauty, form and function. Multi-functionality is very important here. Finding pieces that do more than one thing are imperative. For example, tables that tuck into each other and sofa beds are very common here.
HGTV: For those who are interested in incorporating Scandinavian design into their home, where is the best place to start?
NB: I think that it's really important to remember that the less you have, the more you can appreciate the items you do treasure. It's important to give an item you love breathing space. When you do, you'll see the curves, you'll see the materials, making every piece in its own right something more special.
HGTV: Your first two books The Scandinavian Home and Modern Pastoral focus on the concepts of using light and nature to make your home more welcoming and peaceful. Can you share with us a few tips on how to do that?
NB: The Scandinavians are really good at working with raw materials like wood, linen, cotton, stone and anything that has texture - it brings an extra layer of warmth and comfort into their homes. They often bring nature indoors in terms of plants or even bring in pebbles and stones and rocks. It doesn't have to be anything lavish - it can be as simple as grabbing wildflowers picked from a walk in the park and bringing them into your home. Getting creative with the nature you bring in is a great idea too. For example, instead of using a soap dish, why not use a large rock from a recent trip you took?
The use of natural light is also quite important. Placing your furniture to get the most natural light and using curtains that allow the light to filter through will leave your home feeling more cozy and comfortable. Using ambient light and candlelight at night will make your place feel more relaxed.
HGTV: What are three things worth splurging on when it comes to your home?
NB: 1: Beautifully-crafted and well-made classics that withstand the test of time. It can be a wishbone chair, a dining table - it's not necessarily a trend piece but something that you can pass down to the next generation. Something that can become a family heirloom.
2: Art because typically when you purchase it, it's very personal and each particular piece means something to you.
3: I really love antiques and flea markets. I think if you come across a vintage piece that you see and love, you should just get it immediately because it's going to disappear and you won't be able to find it again. Pieces like that always make for great stories.
HGTV: What would you say is the most important thing for us to understand when it comes to Scandinavian design and living?
NB: I think one of the key things about Scandinavians is that they're real homebodies. In this day and age, in a world where we're really busy and have a lot of demands on us, the home is the one place that we can control. Scandinavian design is about turning your home into a real oasis, that's personal to you, filled with warmth and happiness.