Make This Modern-Meets-Crafty Yarn Art to Liven Up Your Walls
Giving your home a visual boost doesn't require spending money on expensive decor. You just need some yarn, craft supplies and a vision.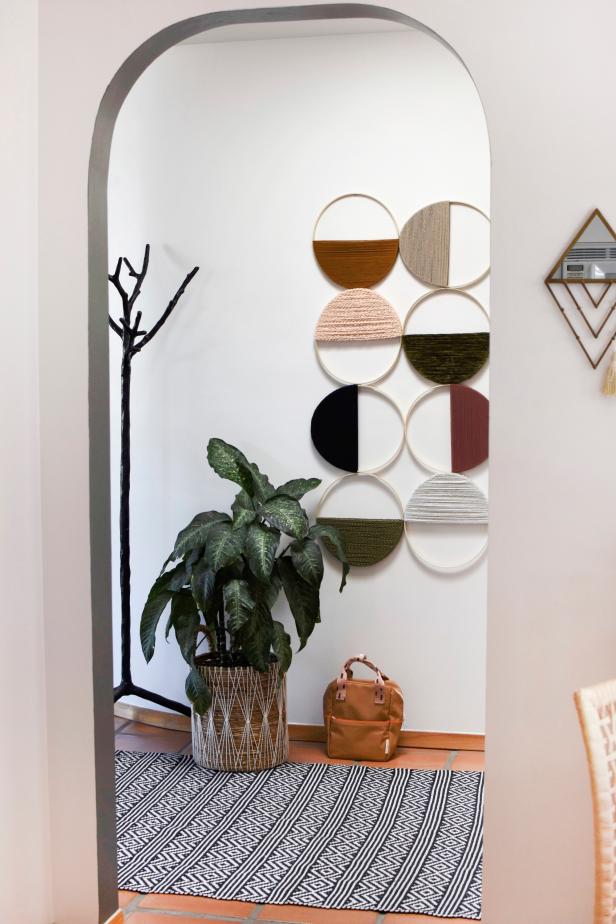 Yarn Art Project Hanging From White Walls in Modern-Bohemian Space
The yarn art ring project hanging from these white walls is made using embroidery hoops and yarn. The yarn is wrapped tightly around the embroidery hoops and secured with hot glue. Complementary colors of yarn give the larger piece a cohesive look that enhances the beauty.
Yarn art rings are a simple, fun way to give your home a handmade touch while ushering in colorful texture and modern design. They're quick, easy and inexpensive to make, and can even be altered to fit certain holiday color schemes for a more seasonal approach. Follow along to see exactly how to make your own.
8" to 12" embroidery hoops
hot glue gun + sticks
pencil
neutral-colored sewing thread
ruler or straight edge
yarn in several complementary colors
scissors
picture hanging kit
hammer
Before buying your supplies, establish your color scheme and choose several different complementary yarns. A cohesive theme will enhance the beauty of the final product. The colors could be reflective of your home's interior, a holiday, a season or just a combination of your favorites.
Pro Tip: Wooden embroidery hoops can be stained or painted for an even more curated look.
This project will only use the interiors of the embroidery hoops, so begin by separating the interiors and setting the exteriors aside for use in a future project. Next, mark the halfway point on each side of your hoops with a straight edge and pencil. This doesn't have to be exact, so just eyeball it the best you can.
Before you start wrapping, apply approximately one inch of hot glue on the inside of the hoop just below the halfway mark and on the side that you plan to wrap toward. Being careful not to burn yourself, press the end of the yarn into the glue and hold it in place until it hardens. Once secure, repeat the hot gluing process on the other pencil mark and wrap the string across the hoop and into the hot glue.
Continue to tightly wrap the yarn around, working your way to the edge of the circle (Image 1). As you get toward the end, the yarn will have a tendency to slip. To prevent this, apply hot glue as needed. Repeat this process, swapping out complementary yarns until your desired number of rings is completed (Image 2).
Pro Tip: Wrapping the yarn slowly and steadily will yield a clean, consistent look.
Before attaching the rings to one another, arrange your pattern on the floor. Rotate the rings and swap the colors around until you've found your perfect layout. Once complete, use a hot glue gun to fasten the rings together at their sides and tightly tie the joints using neutral-colored sewing thread. This is best done in sections, so as to not stress the joints. Once one section is secure, move on to joining larger sections.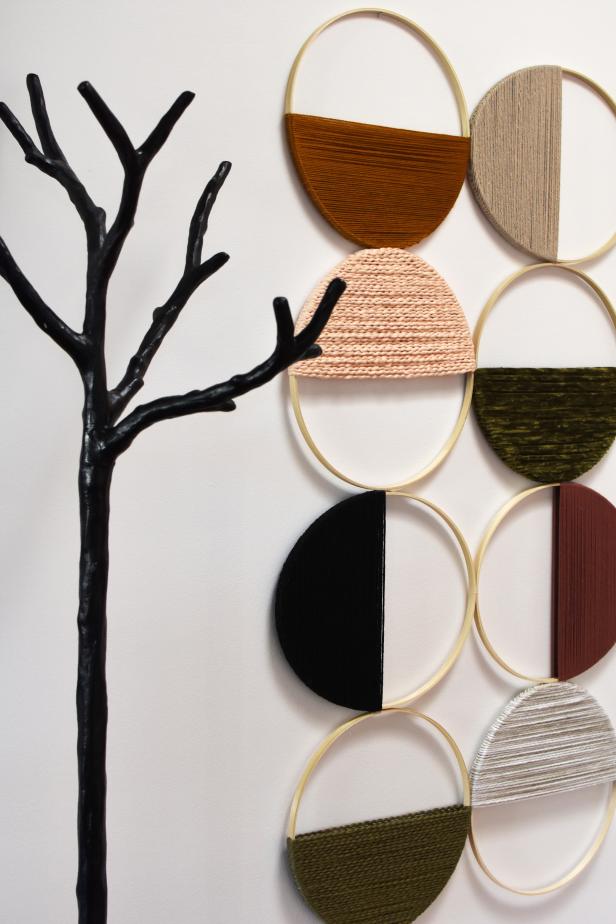 Wall Art Made From Multicolored Yarn Wrapped Around Embroidery Hoops
Embroidery hoops and yarn are used to create wall art. The wooden hoops have been wrapped with yarn that is secured with hot glue. The individual hoops are then joined together using hot glue and thread to form a larger art piece that can be suspended from a wall.
Use picture-hanging hardware to mount the piece anywhere in your home. We recommend a spot that is lacking color and texture, as this addition will take it from drab to fab.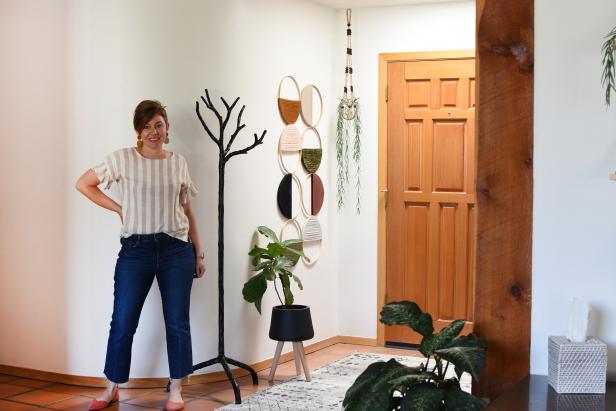 Amy Weir Standing Next to Her Yarn Art Ring Project
Amy Weir stands next to her yarn art ring project seen on the wall. The project uses yarn and embroidery hoops to create a unique art installation. To make it, wrap yarn around embroidery hoops halfway and secure with hot glue. Then hot glue the individual rings together.