Award-Winning Condo With a Coastal Vibe
This coastal home, designed by Jennifer Mehditash, is a beautiful blue and white beachy escape. This home was voted the 2018 Faces of Design Awards overall winner and it's easy to see why.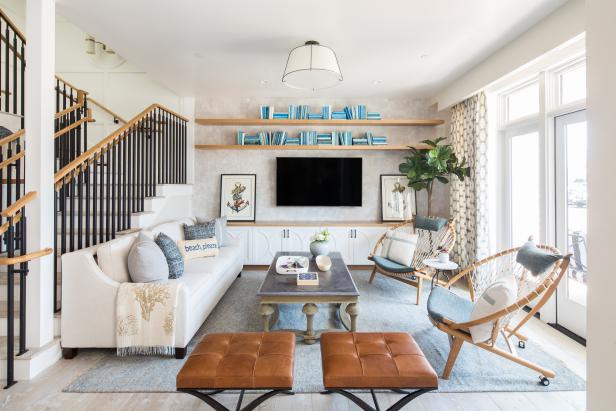 Modern White Cottage Living Room With Contemporary Neutral Furnishings
This modern white cottage living room has contemporary neutral furnishings with pops of grays, blues, and creams, white upholstered sofa, and unique rope chairs.
What were the main items on your client's wish list for the design of this home?
The brief of any project is so important to help us channel what our clients wishes are for each space, while still finding a way to add value to the project through our selections and design solutions. In the Bay Cottage at Lido House, we were given full reign to create a space that reflected the location of Newport Beach and the East Coast meets West Coast vibe that the owners wanted to convey. As a bicoastal designer that was right up our alley!
What was your biggest obstacle during the design of this home?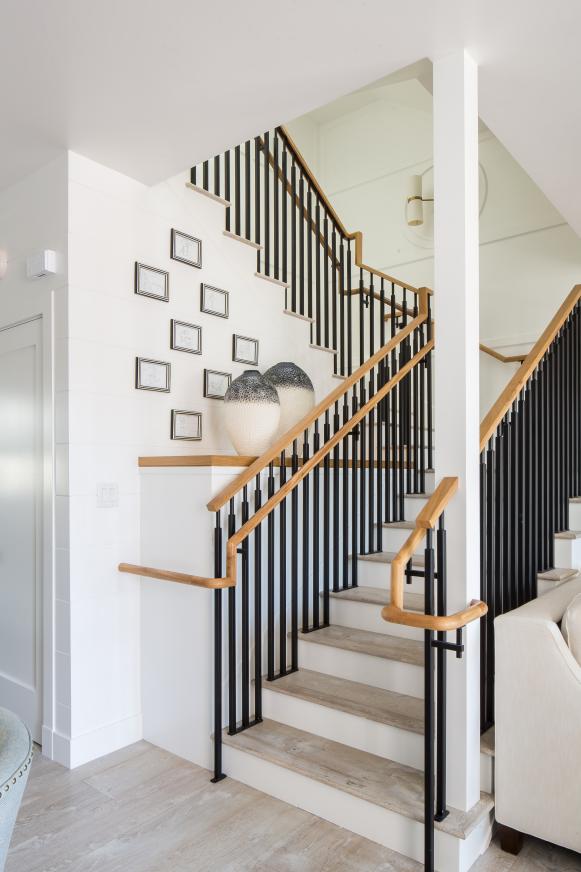 Modern White Cottage With Contemporary Black And White Stairs With Wood Trim
These striking black and white stairs with natural wood trim complement the modern white cottage setting.
This project had a very strict budget and required all interior architecture details, as well as finishes and furniture selections, to fall within it. We were also dealing with small spaces that all wrapped around the center stairwell that was seen from all 3 levels of the Cottage. That was where we decided to focus a lot of our budget to ensure that these walls felt as warm and complete as all the other areas in the Cottage. We paneled the walls from the very first floor through to the rooftop and added much needed lighting as well. This was one of the key elements that helped tie all the spaces together.
What was the inspiration for the design of this home?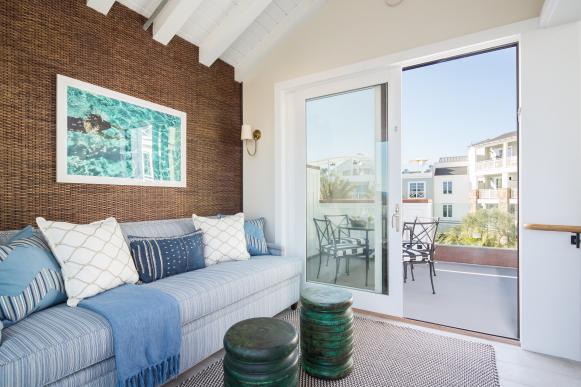 Cottage TV And Living Room With Woven Wood Accent Wall And Blue Upholstered Sofa
This cozy cottage TV and living room has a woven wood accent wall, blue upholstered sofa, white exposed rafters, and modern sliding doors.
As a designer that works regularly on both coasts, this project embodied a 'Nantucket meets Newport Beach' theme that we achieved through colors and textures. This can be seen in the varying tones of wood throughout, such as, the driftwood distressed wood floors, natural oak and painted white paneling elements. While each space has a distinct palette of its own, there are many areas that have handmade tiles or wallcoverings that help bring in that warmth of something that is slightly imperfect and unique.
It's all about creating individual spaces that feel as though they are well loved homes that have evolved over time. This is what we tried to achieve here, so that any guest would feel as though they were staying with friends in their home, and not a rental property without any personal character.
What was your favorite room/space to design in this home?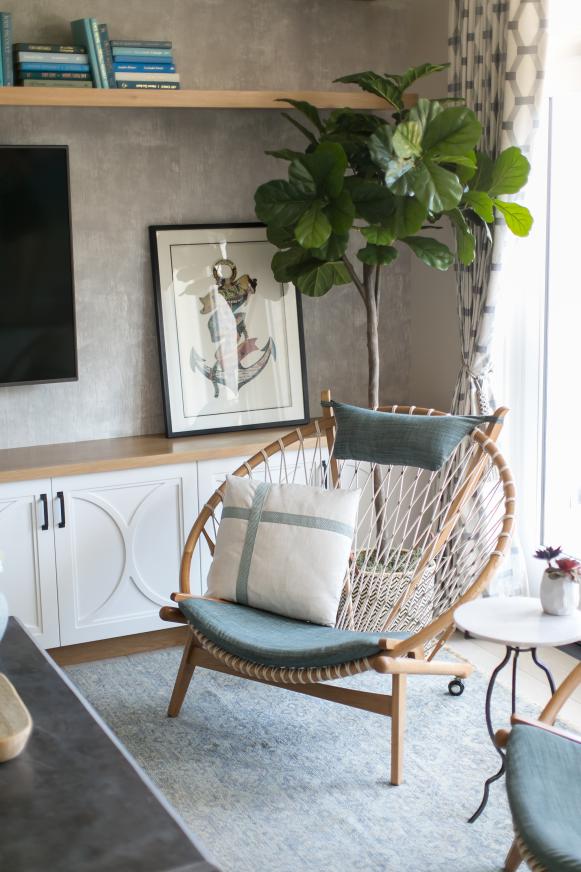 Modern Cottage Living Room Detail With Wood And Rope Chair And Built In Cabinet And Shelf
This modern cottage living room detail features a striking wood and rope chair with blue and gray pillows, and a built in custom cabinet and floating book shelf.
I really feel happy with the main living space. It was an awkwardly shaped space with the entrance, stairs and windows flanking it in every corner. Without any walls it was a challenge to create a true "focal point", which led us to create the main feature wall using this gorgeous Fromental wallpaper behind the custom millwork. A long white and natural oak combination, it helped anchor the space and provided that much needed feature wall.
The net chairs were a fabulous find as they bring in more seating, while allowing for the view and natural light to shine through them in a very nautical appropriate style.
How did you choose to add the ceiling detail in the master bedroom?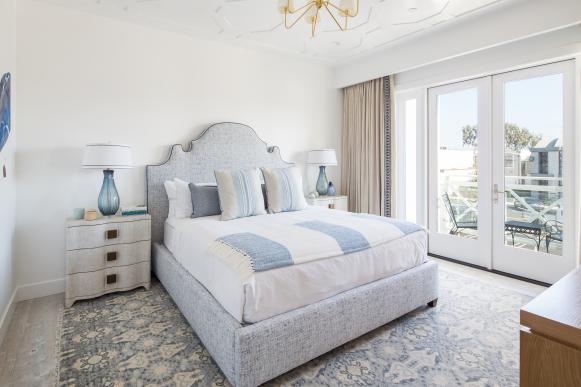 Modern White Cottage Master Bedroom With Upholstered Headboard And Blue Accessories
This bright white modern cottage master bedroom has soft blue accessories, an upholstered headboard, and modern french doors.
I love adding details on ceilings, and it's so important to include this "5th wall" in our design schemes, especially in bedrooms where much of the time we are looking up. Adding wallpaper and trim as in this space is so important and reflects the gorgeous rug below. It was a great way to introduce pattern, without color. It adds an element of surprise, especially when you are in the room and the light catches the detailing to reveal itself.
How did you decide to incorporate the striped tile wall and gold accents in the master bathroom?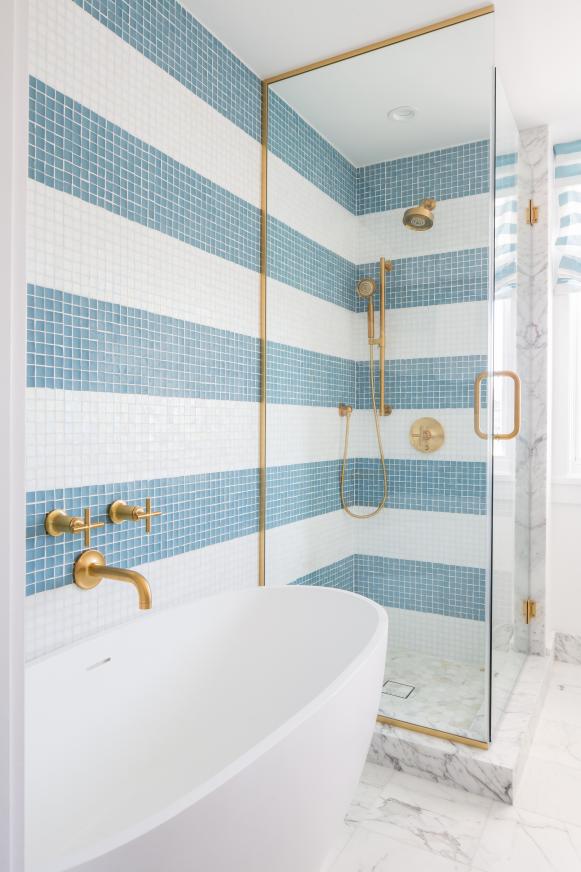 White And Blue Cottage Master Bathroom With Mosaic Glass Tile Wall And Soaking Tub
This modern cottage master bathroom features a mosaic glass tile patterned wall, soaking tub, brass fixtures, and glass shower enclosure.
Who doesn't love a bold blue and white horizontal stripe!?
It was such a small bathroom space with a whole lot packed into it. The shower and bathtub feel more integrated, instead of being broken up into two small spaces. Using the wide horizontal handmade glass tiled stripes helped unite the spaces. The combination of dark blue tones and brass accents bring in that coastal vibe.
How did you maximize space to accommodate multiple guests?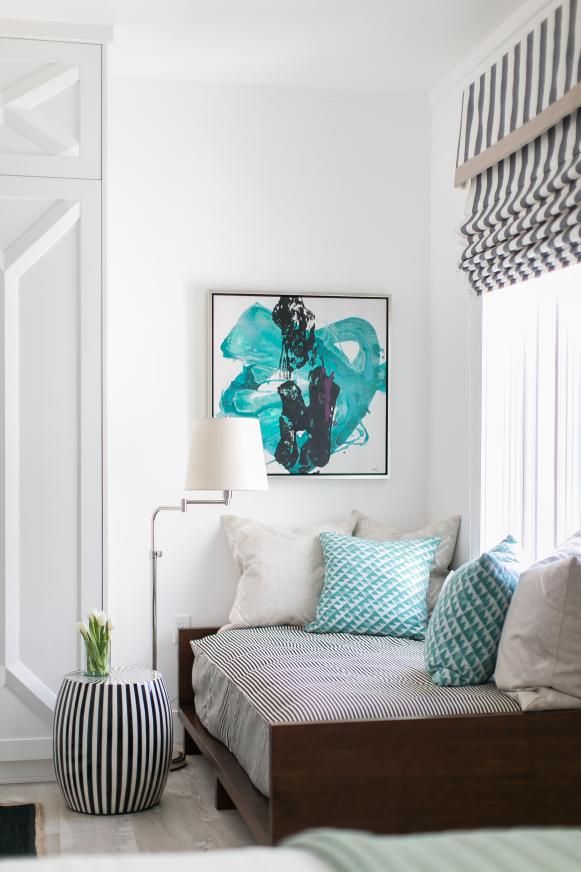 Modern White Cottage Guest Bedroom With Contemporary Wood Daybed
This modern white cottage guest bedroom has a contemporary wood daybed with striped coverlet, neutral and blue pillows and linens, reading lamp, and striped window shade.
We needed to ensure that we could sleep the maximum amount in this home, as it is used as a rental property. We added king size beds in both bedrooms, as well as a custom settee in the guest bedroom that doubles as a twin bed. The living room sofa also doubles as a king pull out sleeper.
How did you create a coastal vibe in this space?
As a Coastal Cottage in the gorgeous setting of Balboa Island in the heart of Newport Beach, it was so important to have coastal tones and a feeling of authenticity represented in the space. However, we still wanted to ensure that we were creating a space that was elegant and refined, while remaining casual and comfortable. This was achieved by adding all the layers and textures throughout – such as the wood tiled wall on the rooftop TV Room, through to the combination of white painted shiplap and natural oak and iron on the stairs.
What are some "hidden gems" in your design?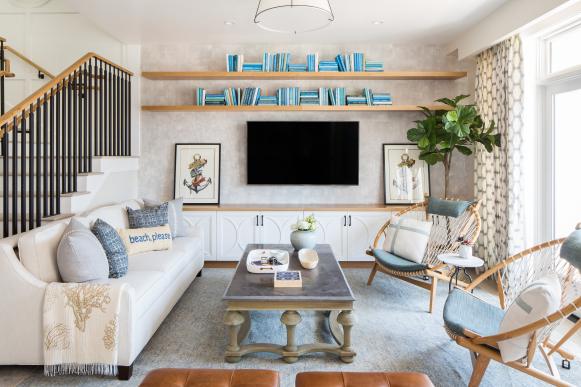 Modern Blue And White Cottage Living Room With Contemporary Furnishings
A modern cottage living room with blue and white accents, contemporary furnishings, and built in cabinet and book shelves.
In the main living room, we needed to fill those very long shelves with accessories and objects that helped create the space – but on a tight budget, that's no easy task! To achieve this, we discovered these Blue and Sea Green colored books that were purchased specifically for this space. They are all REAL BOOKS, from current authors and fictional novels, that are perfect for the guests that may want to read them while still looking great.
Also, the "cheeky lady in her swimsuit" artwork in the corner is another hidden gem. She was a find from a trip to Phoenix, AZ and was custom framed to fill that large wall. She is only visible to those sitting in the living room or those walking on the street outside – which makes it a fun, unexpected surprise.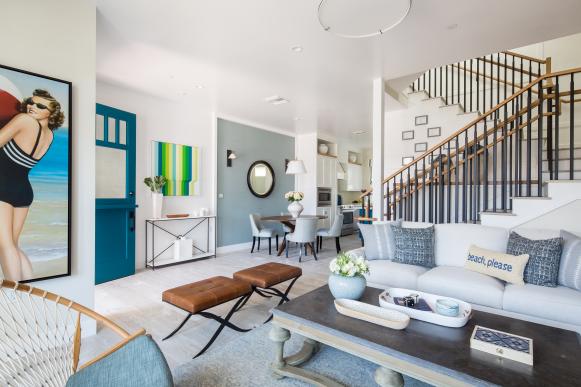 Modern White Cottage Open Concept Living Room With Pop Art And Contemporary Furnishings
This open concept modern white living room features bright pops of color and art, neutral furnishings, and a striking black and white staircase.
Another little surprise happens as you start to walk up the stairs. We commissioned 9 hand sketches of local Newport Beach activities to help remind those visiting that our fabulous weather allows for much more than just beach time.
Lastly, the rooftop was large and provides 3 distinct areas for those staying in the cottage. We wanted to make sure we created unique spaces that still felt as though they were areas that one could flow from with ease. The Southern California sun can be quite overwhelming, so having the central space that is sheltered in between the two main outdoor terraces, was very important. The outdoor space has custom tiles that spell – SURFS UP – and serve as a reminder to check out the waves at the beach.