3 Expert Tips From Emily Henderson
HGTV Magazine features the host of Secrets From a Stylist, who shares tips on shopping at flea markets, decorating shelves and arranging flowers.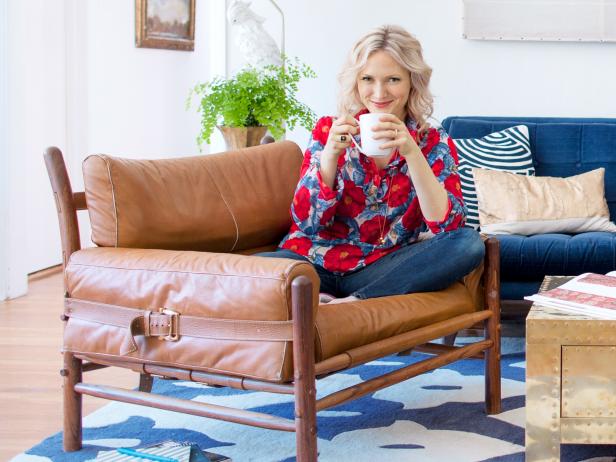 Emily Henderson Sitting on Brown Leather Chair
This '70s leather safari chair is just one of Emily Henderson's, the host of HGTV's Secrets From a Stylist, amazing finds.
Shop Like a Pro: For the Vintage Virgin

Walk around the entire thrift store twice. The first time, look for big pieces, like sofas or coffee tables. The second time, keep an eye out for small things (lighting, pottery). And always look up: Chandeliers and art on walls can be great finds.
Skip the mass-market stuff. Instead of the 1990s IKEA coffee table, go for items with integrity: wooden antiques or midcentury pieces (a Heywood-Wakefield dresser, Thonet dining chairs). Check the items for labels or stamps, which signify high quality. Look for them under tables and inside top dresser drawers.
Don't buy an item just because the price is really low. I have a rule: If it's not something I'd buy for $100, I shouldn't buy it for $10. Consider extra costs. Will you want to reupholster and paint that pricey chair? If so, add $300 to $400, then see if you can swing it.
Shelving How-Tos: The Art of the Stack

Start with a few chunky books — three or four are usually enough. Put the biggest books on the bottom, then stack the others like a pyramid, getting smaller at the top. You have two options for positioning: Lay them even, with the binds flush with each other, or place them slightly askew — but never at purposeful diagonals, which looks too forced. Top off your pile with an object that has a rounded shape, like a sculpture or a footed bowl. Make sure it fills enough space on the top book so it doesn't look dinky.
From the Garden: Secrets to Easy Flower Arrangements

You can't go wrong with just one variety: Roses, lilies or peonies are pretty no-fail varieties. Buy a bunch with some flowers open and a few closed. Trim off the leaves that are below the waterline so they don't get moldy, but keep the rest of the leaves intact to complement the flowers.
Choose a vase that's narrow at the neck. Wider-mouthed vases are harder to style and require buying lots more flowers. I don't have a hard-and-fast rule for stem length — you just want to make sure stems are long enough that there's more than just the flower bud popping up out of the vase.
Toss in the flowers and move them around. The best arrangements are natural, not dome-like. The more perfect you try to get it, the stiffer it is.