Add a Hand-Painted Design to Linen Cafe Curtains
Reusing vintage linens for sewing projects is seen all over the decorating world, but there is no need to scour flea markets and attics. A painted detail can be added to simple linen cafe curtains to give them vintage appeal.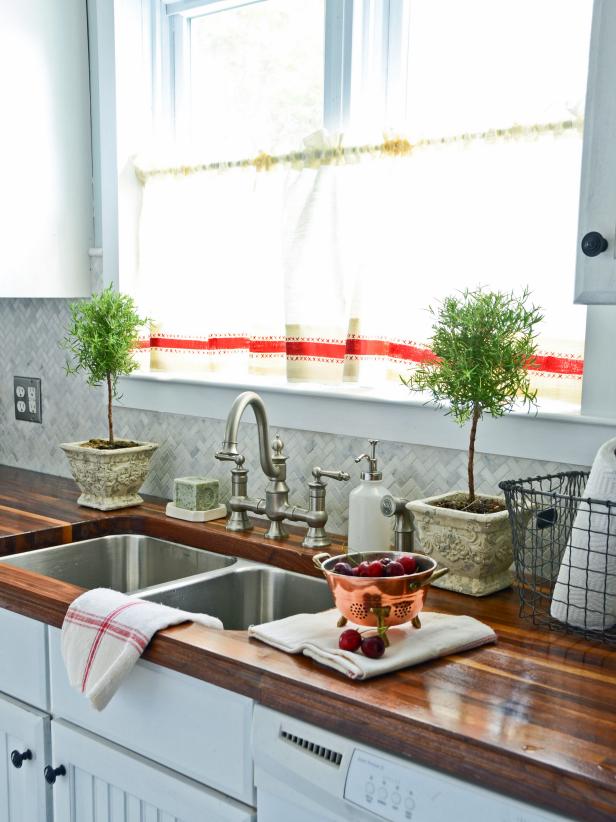 Stainless Steel Kitchen Sink WIth Butcher Block Counter
A white cafe curtain and gray tile backsplash provide a white palette for the rich wood countertop. A stainless steel kitchen sink and brushed nickel faucet break up the brown countertop for an industrial touch.
2-3 yards linen fabric
tape measure
quilting ruler
coordinating all-purpose cotton thread
sewing machine
iron and ironing board
fusible webbing
masking tape
acrylic paint
fabric medium
pins
1" artist's brush
2.0 liner brush
tension rod
Measure Window and Cut Fabric
Use a measuring tape to determine window width and desired height of tension rod. Cut a piece of linen fabric that is height of tension rod to sill plus 8 inches to allow for hem and rod pocket; width is double the window width measurement. Linen will tear in a straight line, so simply make a small cut at measured mark and tear with hands.
Start on one side of fabric panel. Fold over approximately 1/2 inch and press fold to hold in place. Insert fusible webbing. Fold over again to create a double hem and press to activate adhesive in webbing and secure hem in place. Repeat on other side. Hem top and bottom edges of fabric, but with only a single hem (one fold). Raw edges will still be visible on top and bottom.
Fold top side of fabric over 3 inches and pin in place. Raw edge should be hidden in fold. Use a quilting ruler or square to keep fold even. Press fold with iron and then sew along pin line. Remove pins.
Tuck tension rod into pocket sewn in step 3. Insert pin to mark where second stitch line should be made to create rod pocket. Use quilting ruler and masking tape to make straight line to sew along. Sew other side of pocket and remove tape. Tip: Don't make pocket so tight that it is hard to fit tension rod inside.
Test-fit curtain on tension rod and place in window at desired height. Fold bottom of curtain under so it lightly touches windowsill. Pin in place. Press fold and then sew along pin line. Remove pins and cut threads.
Measure and tape off a stripe in desired location on curtain. Mix fabric medium with acrylic paint per manufacturer's instructions. Paint stripe with 1-inch artist's brush and then remove tape. Use 2.0 liner brush to paint "cross stitches" along top and bottom of stripe. Allow paint to dry completely before hanging.