New and Improved Living Room Style
HGTV Magazine's lifestyle editor was hiding a secret: She couldn't stand her living room! Inspired by the magazine's colorful pages, she finally updated the space.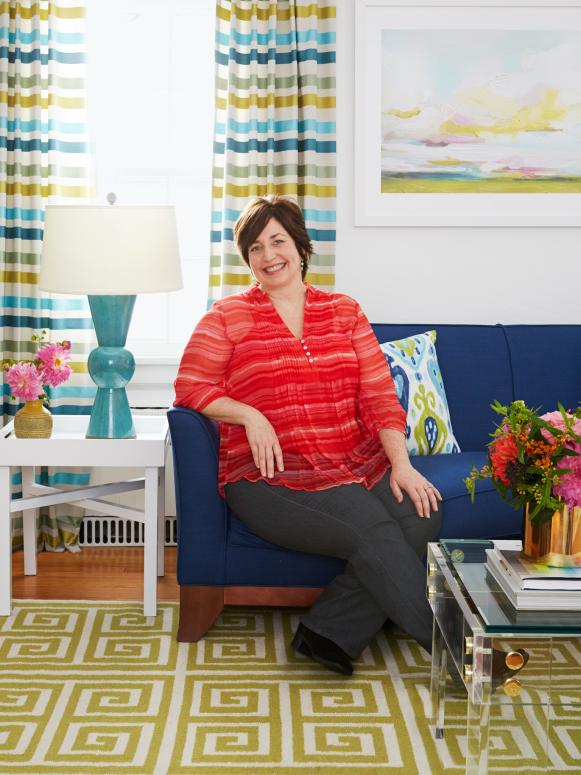 HGTV Magazine Editor Living Room Makeover
Jodi Kahn, HGTV Magazine Lifestyle Editor, in her updated living room.
She's a creative dynamo with mad crafting skills, but Jodi Kahn's confidence somehow fizzled out when it came to redecorating the living room in her Larchmont, NY, home. Even though she was tired of its prim, stuffy style, she hadn't changed a thing since 2000, the year her family moved into the 1926 Colonial.
Jodi's Living Room Before:
"I was afraid of making expensive mistakes," says Jodi. "I used to like traditional pieces, but they seem so bland to me now." Inspired by the pattern-mixing and gutsy color combos she sees in HGTV Magazine—and experiences firsthand on the job-she plunged into a revamp. With a fresh palette of indigo, teal, and lime, and some sleek new pieces, the room is finally in sync with her sparkling personality.
Jodi's Living Room After:
Bookcases
To add oomph to the built-in bookcases, Jodi lined the backs with hand-painted Amime wallpaper by Farrow & Ball. The green-and-white crosshatch print resembles the pattern of fishing nets and "is contemporary and classic at the same time."
Chairs and Stools
Swapping the stiff-backed Windsor chairs for upholstered armchairs from Safavieh instantly made the space more modern. Multitasking stools, upholstered in apple green velvet by Pindler & Pindler, double as extra seating and footrests.
Rug
Before, the Oriental-style rug's dark hues dragged down the room, but this energetic Shades of Light wool flat-weave rug lightens it up. Positioning the rug partly under the sofa balances out the room better.
Sofa
Jodi liked her old moss green sofa's generous size but not the play-it-safe neutral hue. The cost-saving solution: Give it pizzazz by recovering it in indigo blue fabric by Pindler & Pindler. The transformation was so dramatic, "my kids thought it was a new couch."
Side Tables
Spray-painted with furniture lacquer (White Perfection by Amy Howard at Home), Jodi's old matte black end tables now look crisp-and they make a pretty perch for tall teal lamps from Shades of Light.
Curtains
Floor-length curtains, made with striped fabric from Calico, pull together all the colors in the room. Hung just below the crown molding, they make the ceiling seem higher.
(styled by Nissa Botthoff)