How Color Plays With Your Emotions
Pick the perfect color scheme to enhance your mood at home. Plus, discover how to manipulate color to your — and your interior's — advantage.
Ask yourself, "'How do I want to feel?'" says Leslie Harrington, an interior designer and color consultant in Greenwich, Conn. "As a designer, that's the first question I ask. Once I know that, I can start using color to support it." What color you choose to paint your kitchen, for example, should depend on the role the kitchen plays in your life.
Watch: The Right Color for You
We're sorry, there seems to be an issue playing this video. Please refresh the page or try again in a moment. If you continue to have issues, please contact us here.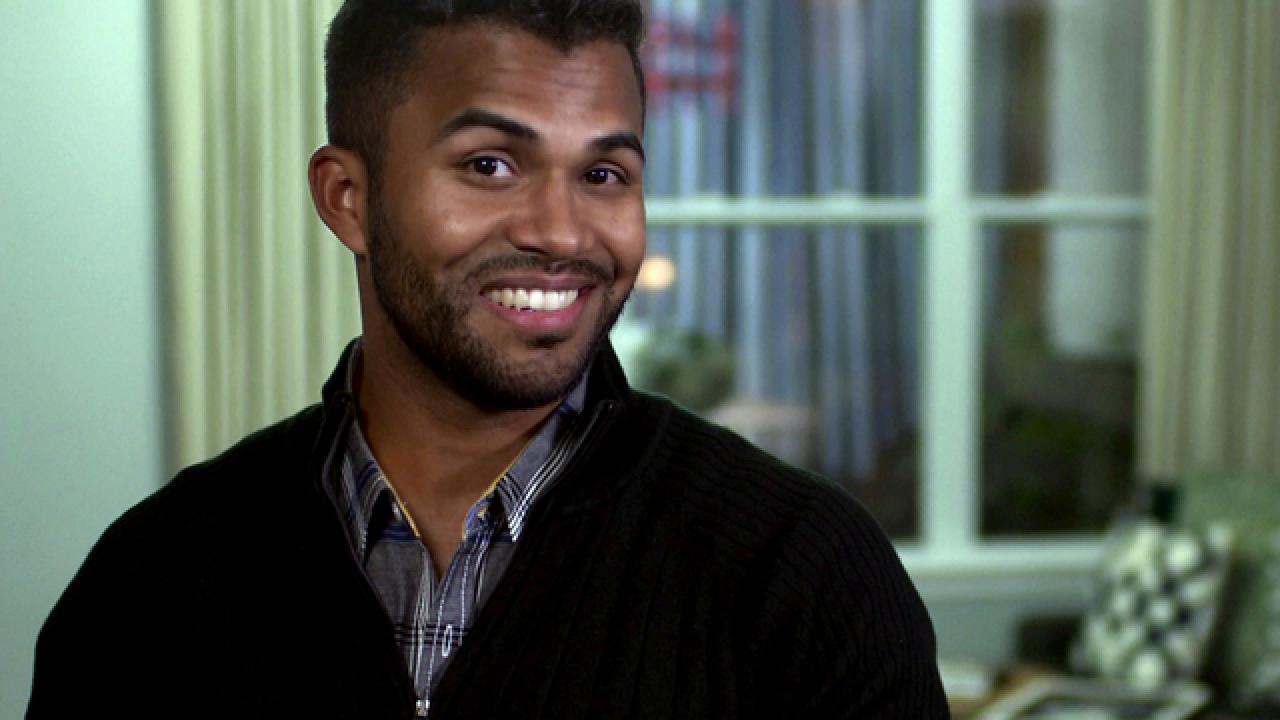 Consider Each Room's Role
"If you love to cook and spend a lot of family time in the kitchen, you may want the warmth of peaches and terra cottas and soft golds, which are all energetic, warm, nurturing and fun," says Melanie Wood, an interior designer and color consultant in Knoxville, Tenn, "However, if you want quiet time to heat up your take-out after a busy day at work, you may prefer the tranquility and serenity of soft grays, blues and greens."
After you've chosen what mood you want in a room, choose your color scheme. Here are the basics, according to The Color Scheme Bible by Anna Starmer:
Pink: fun, lively, positive and feminine
Red: passionate, daring, intimate, comforting, stimulates appetite
Orange: stimulates creativity, evokes warmth and coziness
Yellow: welcoming, sunny, and linked to promoting intelligence
Green: tranquil, invigorating, restful and balancing
Blue: clear thinking, calm, meditative
Violet: stimulating, sexy; blue-violets are cooling, spiritual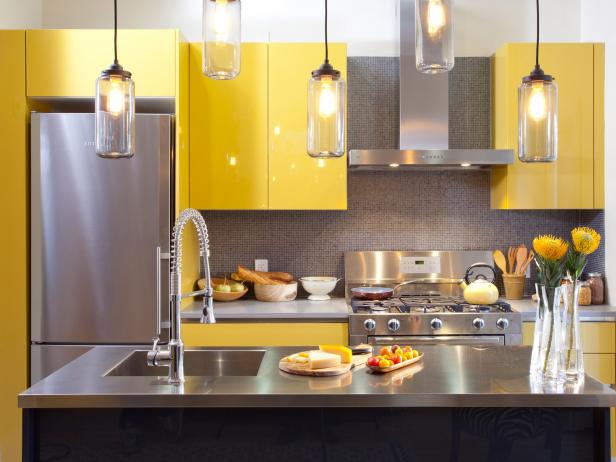 Modern Kitchen With Glossy Yellow Cabinets
Sleek. minimalist yellow cabinets are the star of the modern-style galley kitchen. Stainless steel appliances, counter, range hood and industrial pendant lights complete the look.
Design Tip: Beware of large doses of any of these colors. Bright yellow, for example, can quickly move from cheerful to abrasive. Rather than painting an entire room the color of McDonald's golden arches, choose a toned-down shade or use that vivid yellow as an accent against a neutral backdrop, like gray. "A room works like an artist's canvas," designer Melanie Wood says. "Soft grays work as a background, making bright colors and objects stand out. Yellow and white are the first things you see when you walk into a room. The eye goes to the brighter colors."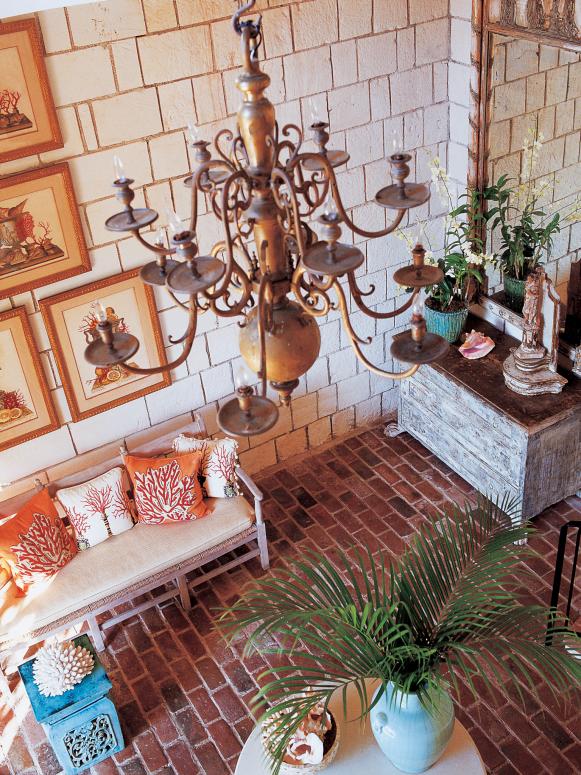 Mediterranean Entryway With Coastal Touches
An antique chandelier hangs above an entryway covered with limestone tiles on the wall and brick pavers on the ground. An antique mirror and framed etchings decorate the walls above a settee and dresser.
Photo Credit: Jenifer Jordan, Gibbs Smith, Charles Faudree Interiors, Charles Faudree, Jenifer Jordan (photographer)
Before choosing the mood of an entryway, consider your surroundings. For example, "in Florida, color and landscapes are more pure and pastel than in New England, where nature is more subdued and colors are muted," says Jonathan Poore, architectural designer and author of Interior Color by Design.
Design Tip: If your home is in an urban neighborhood, "you might want the entryway to feel safe and home-like, whereas if the area is already so safe it puts people to sleep, you can use color to add some excitement," Poore says. For dark and shady entryways, paint them gold so they glow, suggests Poore. Similarly, a cool blue space is more soothing against bright exteriors.
"One of the most common mistakes people make is to zero in on a paint sample and say, 'I can't live with that,'" designer Joseph Berkowitz says. "But creating a color scheme for a room is like putting together a puzzle. The wall color is just one piece of the puzzle. Window treatments, furniture, pillows, carpeting and lighting all affect the color and mood." He recently created a cozy master suite by pairing chocolate brown walls with lime green accents and cream-colored carpet and bedding. "The end result is a warm, romantic cocoon," he says.
Mood Enhancing Tip: Brown or gray may seem drab on their own but are often transformed by other colors in the room. Accents of lime green or powder blue brighten brown tones, and red or gold will warm up gray.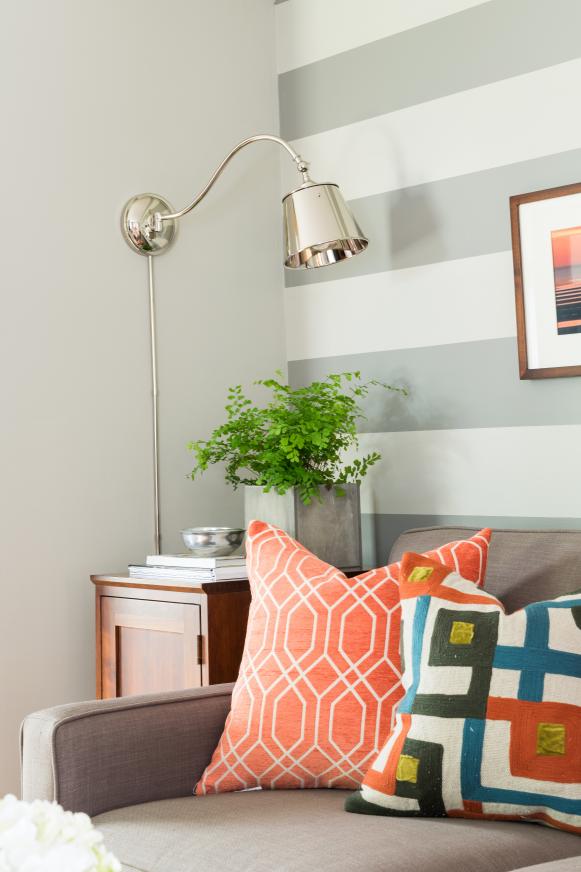 Chic Living Room With Gray and White Striped Accent Wall
This contemporary living room features a gray and white striped accent wall complemented with a nickel sconce and colorful, graphic pillows. The couple had a hand me down wall unit that was taken apart and repurposed into a side table in the space.
Jessica Delaney Photography
"We talk about colors as individuals, but in reality, you never see them individually but always in the context of other colors," says Leslie Harrington. For example, that lavender paint chip looks dramatically different in the store than it does beside your furniture and rugs.
Design Tip: Paint a board with your chosen color and place it on each wall — against a neutral shade, not the wall color it will replace. If you like your choice (and you've lived with it for a couple days), paint the walls and put the furnishings back in place for the full effect. "If you've made a conscious decision, it will all come together in the end," designer Vincent Smith-Durham says. "And if it doesn't? It's just a coat of paint. You can always change it."
Turn to fashion designers who have mastered this trick. "You see it in men's neck ties," says Joseph Berkowitz, an interior designer in Penn Valley, Pa. "A stripe of peach or hot pink will be surrounded by blacks, browns or grays to tone it down. In the same way, you can create a very elegant, traditional room using intense colors." Berkowitz has painted dining room ceilings teal or terra cotta to spice up neutral-colored walls and furnishings.
Design Tip: You don't have to be as bold as pink — choose any bright shade in the color wheel to get your drama fix.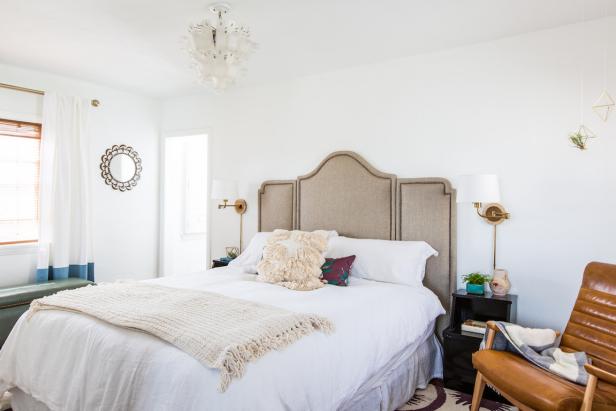 Serene Master Bedroom With Neutral Upholstered Headboard
This light and bright master bedroom features a custom neutral upholstered headboard and fresh white bed linens. Lampshade sconces on either side of the headboard provide the perfect light for reading, while a leather armchair adds a cozy spot for relaxing.
Designer Joseph Berkowitz sometimes uses several shades of white in a bedroom: soft cream, beige, pale gold. "The mood is very serene, very spa-like and soothing. Using a stronger color in this case can make the walls too dominating and spoil the ethereal quality."
Design Tip: Resorting to white walls simply to avoid color is missing a design opportunity. Treat white like any other color and don't be afraid to use it liberally.
"When you look into the leaves of a tree, the beauty is in the many tonal variations," says Joseph Berkowitz. "It's the same with decorating. You need to stray a little from the perfect match and get comfortable mixing colors together."
Design Tip: Sometimes the best inspiration for a mood-inducing palette is right outside your front door. For example, use reds and golds of a sunset lit with the warm glow of candlelight to create an exotic ambience and romantic mood.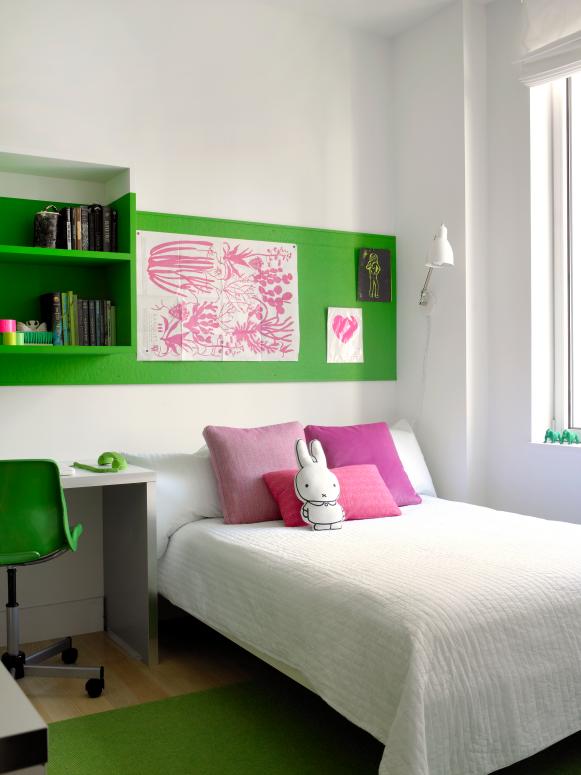 Modern Pink & Green Kids Room
A bright green stripe creates the illusion of a headboard in the modern kids room. Pink throw pillows and artwork are lively accents in the ultra-modern space.
Ghislaine Viñas Interior Design
"You can alter the mood of a color by putting other colors with it," Leslie Harrington says. "That's where complementary colors come into play." Red and green always look more vivid together, for example, which is why an apple looks riper in the tree than in your hand.
Design Tip: Placing mint green next to bubblegum pink instantly relieves an otherwise overwhelming color and creates a lighthearted, playful mood.