Learn why green, a soothing shade of nature, is a neutral that is ideal for any space.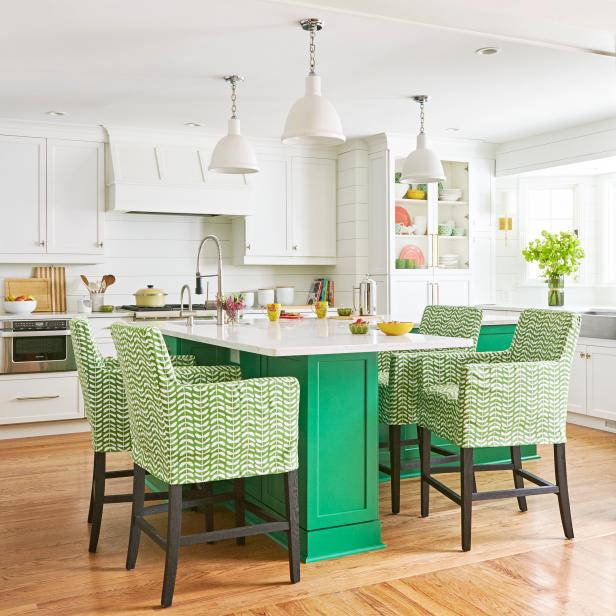 White Kitchen With Green Island and Chairs
This white country kitchen features white Shaker-style cabinets, three pendant lights, shiplap walls, and a bold green eat-in island surrounded by four green chairs.
Kim Cornelison Photography
Green represents growth and renewal. You associate the color with grassy fields, luscious leaves and other gifts of nature, so it lends a calming feel to a room. Green comes in many shades, so you can create various moods and use its versatility to pair it with a range of other colors.
"Green has been my favorite color for my entire life," says interior designer Shannon Kaye. "You can decorate an entire room with greens and have contrast, drama, richness and balance. It's so versatile. Celery green looks light and airy in a kitchen, crisp and clean in a bathroom, and relaxing and warm in a living room."
The soothing quality of green makes it ideal for almost any room. Turn your bathroom into a relaxing spa-like retreat by using blue-greens mixed with gray and white. If you want more drama, transform a simple powder room into an elegant jewel box by using a rich, emerald-green palette.
Make a kitchen feel open and airy by including sea-green cabinets. Deeper greens like spruce or evergreen can add a hushed mood to a den or library. Pops of lime green add energy to a room with a mostly white palette.
When paired with light gray, paler shades of green can create a contemporary look that feels fresh and clean. Mix green with wood tones to imbue a room with an organic, natural feel.
"We respond to green and blue because green and blue are the colors of the planet," says color expert Elaine Ryan. "You're bringing the natural world inside when you use green, and it will work with everything as long as it's the same tonal value."
Gray-green, moss, olive and other earthy green colors are well-suited for the exteriors of homes in natural settings. Earthy greens complement the architecture of bungalow and shingle-style houses, while brighter shades like lime green can add vitality to the outside of a modern or art deco home.
More Ways to Create a Mood With Green
If your home is surrounded by rolling green hills, make your yard look bigger by planting a green ground cover that blends with the hills in the distance.
Use citrus greens (think lime and melon) to bring brightness to a gloomy space.
Use green in an entry hall to provide a natural link from the outdoors to the inside of your home.
A hunter green or emerald green (in high gloss for a gem effect) creates a welcoming front door for a traditional home.
See how 11-year-old Zoe Kon gets a nature-inspired bedroom with shades of green.