The 4 Essentials You Need to Host a Game Night at Home
Games + food + drinks + friends = the easiest party ever.
We all love hanging out with friends, but planning a party can get a little complicated. Enter the game night: It's the perfect excuse for a casual, laid-back night with a few of your favorite people. The best part? It's a snap to put together an evening centered around competition and snack foods. Here's how to plan the ultimate game night at home.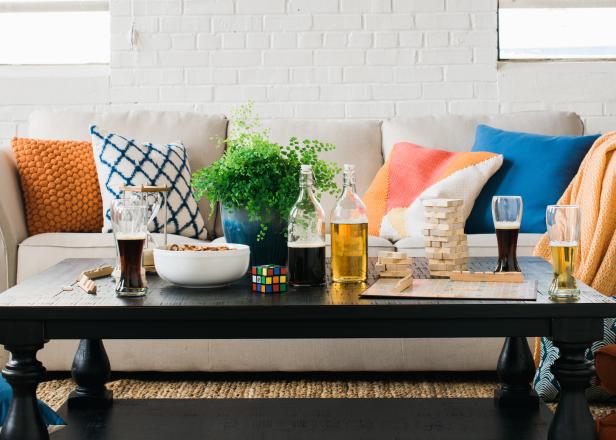 Living Room Entertaining: Adult Game Night
Keep the conversation casual and intimate by hosting game night for family and friends at the coffee table. Lay out an assortment of cards and creative games and serve chips, dip and crackers in simple vessels. For an artisanal touch, try serving beer in clear glass vessels and keep glasses within arm's reach to make self-serving easy.
Rustic White Photography, LLC
What games should you break out at the party? Well, that depends on the guest list! Simple word games, board games and card games are great for small groups. For groups of more than six, avoid games with individual written responses or lots of moving pieces. Interactive team games like charades or an electronic trivia game are great crowd-pleasers.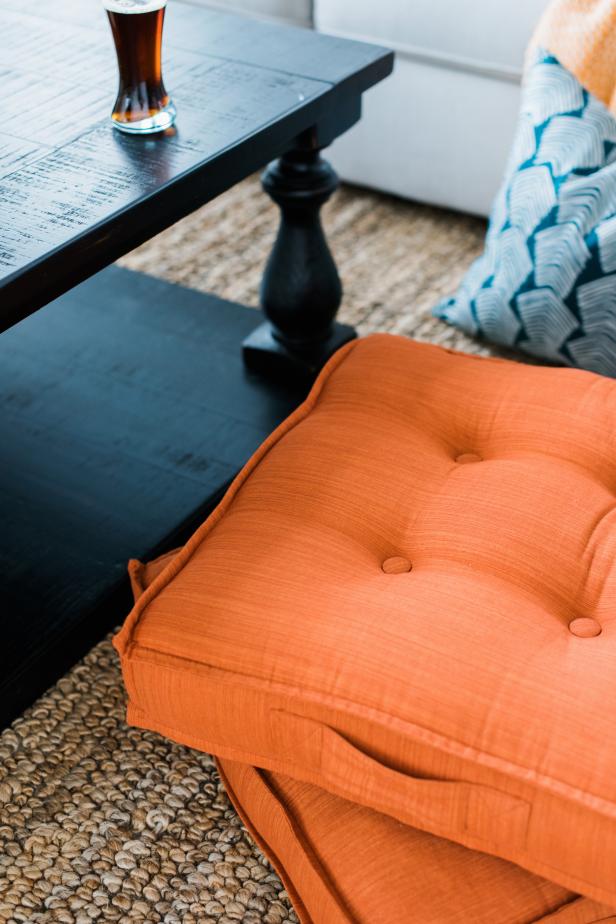 Indoor-Outdoor Floor Cushions in Living Room
Since games can last for several hours, make sure to keep guests seated comfortably by adding indoor-outdoor floor cushions around the perimeter of the table. Pick up more than you'll actually need so guests can stack them as needed for an extra boost of height.
Rustic White Photography, LLC
Give guests a comfy spot to settle in. For board games, line the coffee table with floor cushions. For larger group games, move furniture into a semi-circle so everyone can have a seat and enjoy the fun.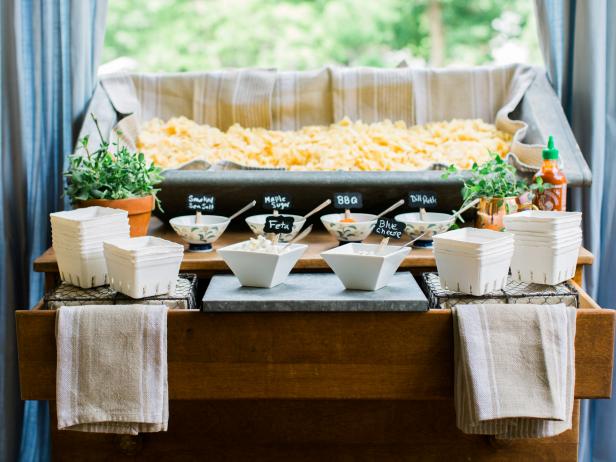 How to Settle Up a Kettle Chip Bar
Create an interactive spot for guests to make their own culinary creations with a bar stocked with kettle chips, seasoning, toppings and clever vessels.
Flynnside Out Productions
For game night success, plan for small bites that guests can grab between turns. Creating a potato chip bar with a variety of chips, dips and toppings allows guests to make a custom blend. Cardboard berry baskets make the perfect individual serving vessel.
Add small bowls of snacks on the game table to allow guests to munch as they play. Homemade beer cheese is a crowd-pleasing dish that never disappoints; serve with pretzel rods and crudité.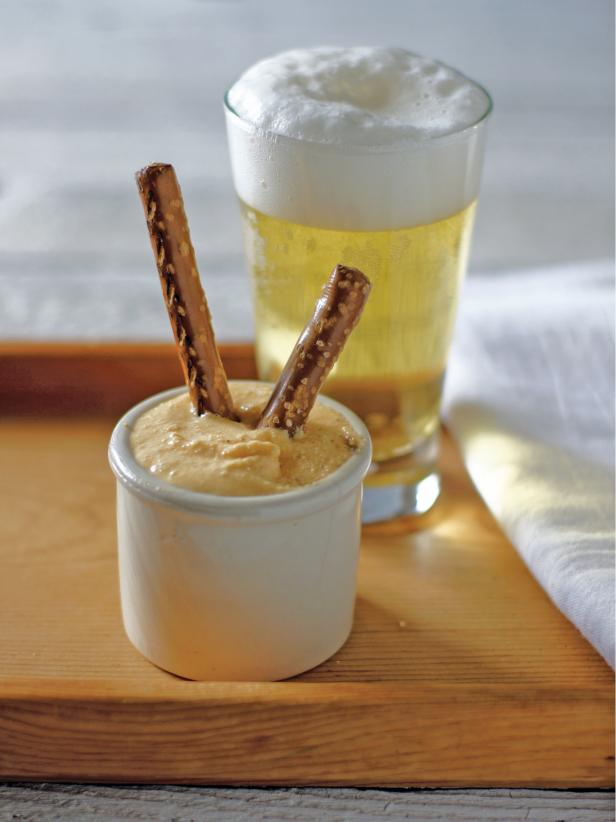 Beer Cheese Dip
Have a couple of savory options available at your Halloween party. Serve pretzels along with beer cheese dip to keep adults at the party happy.
Roasted nuts are another delicious table snack that guests won't be able to resist. These cashews are tart and spicy thanks to chile and lime. Make the roasted nuts up to a week before your party for easy night-of prep.
For a more substantial snack, try these individually-sized pizza pies -- the pocket shapes make them easy to eat with one hand. These are stuffed with sauce, pepperoni and cheese, but add your favorite toppings or serve a mix to accomodate different tastes.
Make This: Pepperoni and Cheese Pizza Hand Pies
Don't forget the dessert! These big-as-your-head cookies will give guests the energy they need to compete all night.
Punch is perfect for a crowd: You can make a big batch before the party to avoid playing bartender all night, and putting the alcohol on the side makes it perfect for non-drinkers, too! This sparkling cranberry-lemon juice is great with a splash of vodka or without.
Want to spice up your punch? Learn to make a mojito ginger splash, plus get more tips for the perfect casual game night:
Game Night with Canada Dry
02:16
Chuck and Amy make a Mojito Ginger Splash with Canada Dry Ginger Ale.
Enjoy the refreshingly real taste of Canada Dry Ginger Ale, made with real ginger. Enjoy it alone or in a cocktail as a great way to brighten up your gatherings this holiday season.