Celebrate Valentine's Day With a Stay-at-Home Date Night
If crowded restaurants aren't your style, and PDA makes you cringe.
Maybe you forgot to make dinner reservations, or maybe you're not a fan of crowds. Maybe you're on a tight budget, or maybe you simply like the idea of a romantic night in the comfort of your own home. Whatever your reason for staying in on Valentine's Day, I totally get it. I'm a big fan of stay-at-home date nights, especially when it comes to super-busy holidays like Valentine's Day. Just let me say one thing, fellow love hermit. Don't let your night roll by like any old, regular night. Resist the Netflix urge, and hide the takeout menu. Make plans and preparations, so you and your S.O. actually feel like you're on a romantic date night. (By make plans, I mean follow the plans I've already laid out for you below, and thank me later.)
Step 1: Make a DIY Valentine's Day Gift
A handmade gift, like this 52 Reasons I Love You Jar, is a thoughtful, meaningful — not to mention budget-friendly — alternative to a store-bought trinket. You'll want to make this gift in advance, as it might require some time.
Step 2: Decorate Your Home
Make Valentine's Day (and your S.O.) feel ultra-special by decking out the house in festive, love-themed decor. This XOXO wreath is a perfect way to greet your love.
Valentine's Day Paper Heart Garland
This paper heart garland is easy to make and is the perfect way to add a touch of whimsy above your dining table.
Step 3: Make a Flower Arrangement
Step 4: Sip Cocktails in Fancy Flutes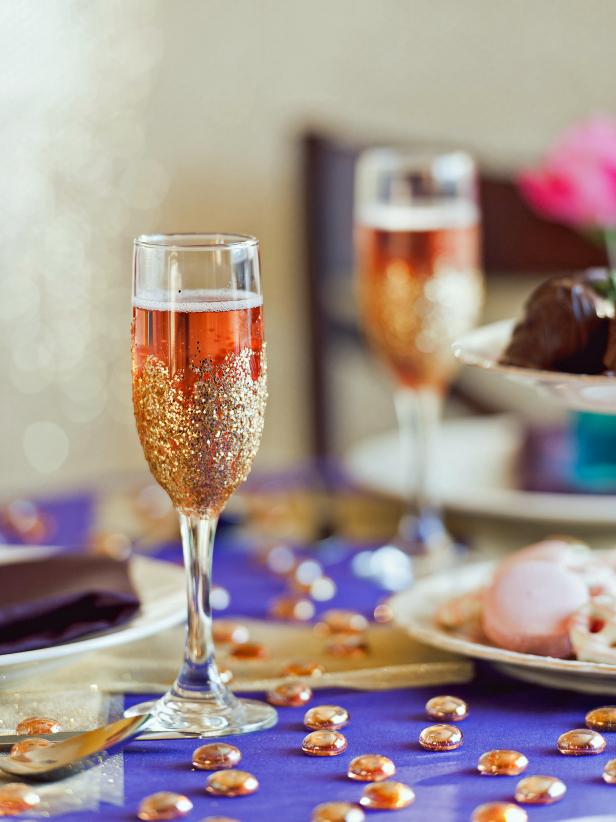 DIY Glitter Champagne Flutes
Make easy glitter champagne flutes to add sparkle to a romantic tablescape.
Step 5: Serve an Unexpected Dinner
Impress your Valentine with a bright red bowl of Borscht. This Russian soup is delicious and chock-full of romantic powers thanks to the beet, an aphrodisiac.
Step 6: Satisfy Your Sweet Teeth
Is it even Valentine's Day if you don't overload on sugar? Make one of our tasty treats, and woo your sweetheart with your creativity.
BONUS STEP: Cook V-Day Breakfast
If you're really looking to make Valentine's Day a win, start the day with a breakfast full of heart-shaped carbs for your honey.