Our Favorite Moments from 'Home Town' Season 1
Bonus: A sneak peek at the critters, heavenly hardwoods and babies on the way in Season 2.
The Napiers love Laurel, Miss., to pieces, and they're revitalizing its historic downtown streets one new-family-plus-dream-home match at a time. We met Erin and Ben just a year ago, but it seems like we've known them forever—and we can't wait to follow them into a new season of Home Town, starting Jan. 8.
In the meantime, we're reliving the best of Season 1, spending some time behind the scenes and taking a few sneak peeks at what they have in store—including the arrival of baby Helen, who also (tentatively) premieres in January. Spoiler: She already looks like her mom! Here's a bit of what we love about the Napiers' Home Town.
When Ben Announced the Show on Instagram
We also "met" the first of many, many boxes Erin has perched atop in order to make it into close-ups beside Big Ben. Hey, these are the tools of the trade when you're 5-foot-5 and your husband/partner is 6-foot-6...
When Ben Joined the Inventory at Morgan Brothers Cabinet Factory
One of the best things about collaborating with artisans you know is, of course, that the projects you complete together will be extra special. Another is that they'll send you down the conveyor belt on a piece of raw lumber if you ask them nicely.
When Ben Built a Library Ladder out of Barn Door Hardware
No previous experience with rolling ladders? No problem: As Ben explains, Erin asked for one in the Pickering House, and he "basically [does] everything [he does] to impress [his] wife. Husbands, impress your wives."
When Erin Went on CheeseQuest
Erin and Ben make no secret of their fondness for food: Laurel Mercantile's inventory includes a candle tribute to Pancake Day, when they and their friends and neighbors line up on Oak Street for all the pancakes and sausage they can eat. No surprise, then, that they spent an hour in New York City chasing a cheese sandwich Erin spied on Instagram. The woman takes her cheese seriously.
When Ben Met "The Tiny Door"
Has a man ever loved a weird architectural detail as much as Ben loves the mysterious, narrow door in Kyle and Brooke's Craftsman (in "Homecoming," episode 3)? What's the situation there? "The situation is it's the best part about this house," he maintains. With a bit of updating and some wainscoting as camouflage, The Tiny Door becomes a secret passageway worthy of the Clue mansion (or an episode of Scooby-Doo). OK, Ben. It's pretty cool.
When Erin Revealed Herself to be a Bowling Hustler
In theory, the Napiers visited a new local bowling alley because Erin caught wind of the fact that its owners were discarding some spare flooring. True enough, Ben was able to reclaim some of that wood and create this one-of-a-kind kitchen island—but we all know Erin also wanted to "discover" her knack for rolling strikes.
When Ben Gushed to the Internet About Erin
No wonder he's always trying to impress her.
When Erin Went to Town with a Sawzall on the Walker House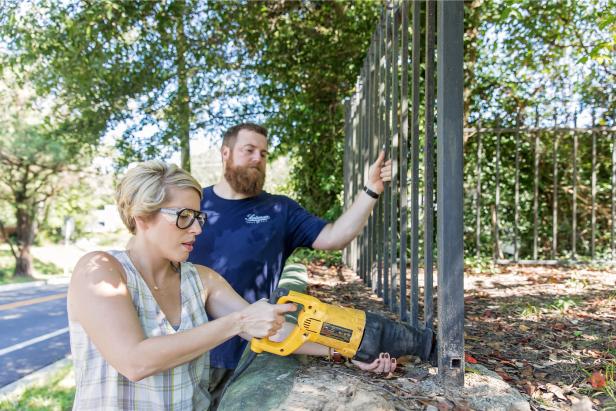 As seen on Home Town, Ben (C) and Erin Napier (L) work on the wrought iron fencing in the front of the Walker residence. They are using a sawzall to remove the center sections of the fence to give the front of the house a more open feeling. Ben and Erin Napier are renovating this house for the Walker family. (demolition)
Todd Douglas/ Getty Images
Don't let Erin's diminutive size and delicate paintings fool you: She's got the heart of a demolition derby driver, and she can make short work of wrought-iron fences (or awkward walls) that stand in the way of her artistic vision.
Sneak Peek #1: Candy the Crane
Keep your eyes peeled for Erin's one-of-a-kind staging details in Season 2—including this critter, "who loves Jesus but believes in ghosts." Whatever you say, Erin ...
Sneak Peek #2: Erin Chilling With Her Team
We can't all kick back with coworkers quite as casually as the Napiers do, but it does our hearts good to see how comfortable they are with the men and women who have their backs. When they say Home Town is all about creating friends and neighbors, they mean it.
Sneak Peek #3: Ben's Next-Level Flooring
Don't let Ben's comparatively-recent career change (prior to working with Erin, he spent a decade as a full-time youth minister) fool you: The man is a woodwork whisperer.
Hello, baby Helen—we can't wait to meet you next year!
An all-new season of Home Town premieres Monday, Jan. 8 at 9|8c—we'll see you then!