Fans Hungry for More 'Home Town' Get a Double Helping
By popular demand, HGTV brings 'Home Town' fans a two-for-one special for two weeks only. Here are some reasons why fans can't get enough of this delectably enticing show.
Anyone up for more of a good thing? Forget 'less is more.' More is better, right? To that end, we're happy to let you know that, owing to its steady and growing popularity and overwhelmingly positive fan response, HGTV is airing Home Town in double premieres this month — on Sunday and Monday nights. New special Sunday premieres begin February 9 at 8p|7c. Monday premieres are in the familiar 9p|8c time-slot.
Now in its fourth season, this charmer of a renovation show has captivated audiences and shown steady growth in viewership since it premiered in 2016, with this year's season premiere up 22% compared to last year's. In the parlance of the current TV landscape, that's pretty big stuff. Gauging from the talk in HGTV hallways, there are some network execs who are justifiably proud.
For the uninitiated (and where have you been?) Home Town stars the certifiably adorable Erin and Ben Napier. (There's really no other way to state it. Empirically, they are adorable.) The show follows the couple as they endeavor to save vintage and historic homes in their beloved town of Laurel, Mississippi — while celebrating and reinforcing the city's historic and endearingly bucolic character — and welcoming newcomers to the distinctive joys of Southern small-town life. (Oh, and this season, watch closely for occasional guest appearances by new family addition, baby Helen Napier.)
The two have a chemistry that's undeniable and uplifting, joyful and smart, playful and genuine. And for those watching with an eye for design inspiration, Erin articulates her vision skillfully and eloquently with every home transformation, and Ben is her perfect counterpart with practical down-to-earth know-how, a true craftsman's passion and a reverence for history.
In fact, that latter attribute, it might be argued, essentially forms the underpinning for the entire series. Erin's design aesthetic, for instance, tends to eschew superficial, cutesy and transitory trends in favor of classic elements, ties to the past, period-appropriate antiques and repurposed materials with a history. (And though she was practicing it before the style had a name, it's generally in keeping with a new school of design that's been recently and cleverly dubbed "Grandmillenial style.") Moreover, both Erin and Ben exhibit respect for original architecture and, most especially, for the human connections associated with the homes they're helping to save and the new families that will now occupy them.
Looking for feel-good television? Probably safe to say that, with Home Town, you may just have hit the jackpot. Now coming to you with generous double and loving spoonfuls (or is it spoonsful?) for the next couple of weeks. After that, more new episodes to follow for the rest of the season in the regular Monday 9pm slot.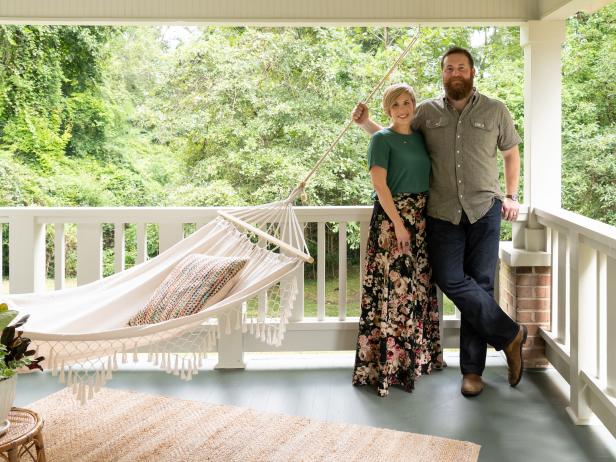 As seen on Home Town, Ben and Erin Napier (R) stand on the covered porch of the newly renovated Guay home in Laurel, Mississippi. On the exterior, the old pipe columns have been removed and new wood columns and decorative railing has been installed. New paint, landscaping and new porch roofing help to improve the exterior. (portrait)
Todd Douglas/ Getty Images
And as long as we're on the subject of more of a good thing, take note that Home Town's current season comes with bonus episodes – 16 in all, versus the more standard HGTV seasons of 13. There will also be some new Home Town specials along the way, and new episodes of the exclusive digital series Erin'spired. You're welcome!
When it comes down to it, who doesn't like seconds of something as wonderful as Home Town? Could someone please pass the mashed potatoes and gravy?
Keep checking back at Home Town Central for more new photo galleries, articles, exclusive video and Home Town news.
"Laurel, Mississippi by Way of LA"
'The Littlest House in Laurel'