Aubrey Marunde's Best Bargaining Tips
Planning a renovation? You could save a fortune on finishings by taking cues from Flip or Flop Vegas' cost-cutting guru.
Las Vegas homebuyers expect homes with showstopping details, and Aubrey Marunde knows a thing or two about pulling them together within a strict budget. Here's how she gets serious bang for her bucks — and how anyone can follow in her (spike-heeled) footsteps.
To score a truly great deal, you've gotta look everywhere. For Aubrey, that means thinking far outside the showroom.
"I buy [items like] used doors, tubs and furniture on Craigslist, at consignment stores and on apps like OfferUp," she explained. "There are always great deals on gently used and, sometimes, new items — and I can save up to 80 percent."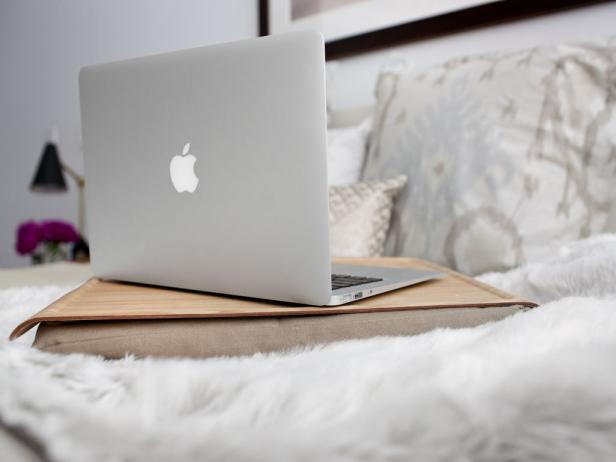 Laptop in Bed
Erin prefers to blog from the most comfy spots in the loft. Although her living room desk gets its fair share of use, the writer composes the majority of her blog posts while sprawled out in bed. By investing in a laptop tray, the blogger instantly adds a desk-like surface on which she can type away while lounging comfortably.
Haggling successfully is all about "[knowing] your s**t," as Aubrey puts it.
"Research the product that you're purchasing," she advised. "Know the cost difference between the materials [themselves] and what other retailers or wholesalers are charging. If you don't know the product you're bargaining for, you have no way to negotiate a sale."
Always Work With the Boss
In terms of potential savings, it pays to ask to speak with a manager about your project as opposed to working with a sales rep.
"Managers and owners can [authorize] discounts where sales reps cannot," Aubrey said.
Make Friends (and Ask Them for Deals)
As an amateur renovator, you might not have besties in businesses all over town, but that doesn't mean you can't make a few. That could pay off in the future — or right now.
"It's always easier to get discounts when you have relationships with vendors," Aubrey said. "But [even] if you're just buying for one project, it never hurts to ask! Talk to managers and owners if you can and tell them about your project. People want to know how you're going to use their product, and that you're excited about it."
The title itself is undisputedly Aubrey's, but don't be shy about stealing her moves.
"I look online for coupons all the time—sometimes when I'm waiting to pay," she confessed. "You can purchase coupons online from sites like eBay, too."
If you turn up empty-handed, you can even inquire about promotions at checkout: "If I don't have a coupon in my email or find one online, I ask the cashier," Aubrey said.
Learn to Speak 'Sales Tag'
Knowing how long big-ticket items like appliances have been up for grabs can make a big difference in your ability to find wiggle room in what they'll cost you.
"If you flip over to the back side of a tag, it's going to say when the appliance was put on the floor," Aubrey said. "If it's been more than 30 days, you can negotiate a much bigger reduction in price. Also, if you buy multiple pieces, you can offer a discounted price for all of them."
Aubrey also noted that clearances happen all year long, and that keeping your eyes peeled for drastically discounted items will often pay off.
"Appliances are in the clearance section all year round. One might be a special order return or an item that was repaired but is like new and still under its manufacturer's warranty," she said.
"Fabricators and cabinet companies make a margin on product, so if you go directly to the wholesale supplier—where the fabricators and companies go—you can buy direct from them at discounted prices," Aubrey said. "Always negotiate your slab prices, too. If there are only a few slabs left in a bundle, you can negotiate to 'take all'"—and save big.