The Best Laser Levels for 2023, Tested and Reviewed
Adding a laser level to your toolbox will increase your productivity and craftsmanship for projects like hanging cabinets, laying tile, creating gallery walls and more.
Keep in mind: Price and stock could change after publish date, and we may make money from these affiliate links.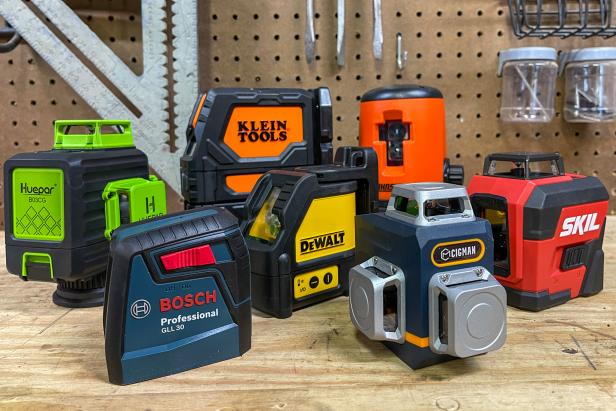 A Group of Laser Levels From Popular Brands
To find the best laser level, the tool experts at HGTV selected 12 popular laser levels from brands like DeWalt, Klein Tools, SKIL and more, putting them through a series of tests that would test things like beam brightness, self-leveling, beam configuration, user-friendliness and more.
Our Top Picks for Laser Levels
Laser levels have a place in everyone's tool kit, from homeowners to avid DIYers to professionals alike. Unlike a traditional level, which must be held and adjusted in place to achieve a level guide, laser levels project a perfectly level laser line against the wall, giving you a constant reference point that's totally hands-free.
Whether you're looking to hang curtains, install a row of cabinets, hang a gallery wall across multiple walls, lay a tile backsplash, install a drop ceiling or do anything else you'd need a standard level for, there's no denying that a laser level is the ideal tool for the job. Below, we've laid out our favorite laser levels according to testing and explained some of the key things to consider when shopping for laser levels.
To find the best laser level, we compared 12 different options with positive customer reviews from various brands. Each laser level was tested for brightness, accuracy, beam configuration, beam color, beam size, beam visibility both indoors and outdoors, range, mounting options, durability and user-friendliness. We also took into consideration the included accessories and power options.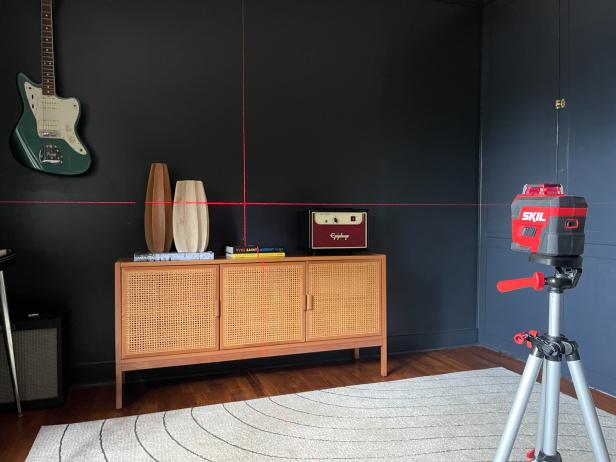 Kamron Sanders
To hang a gallery wall using a laser level, set the laser level to project on the wall and align the beams with your desired layout.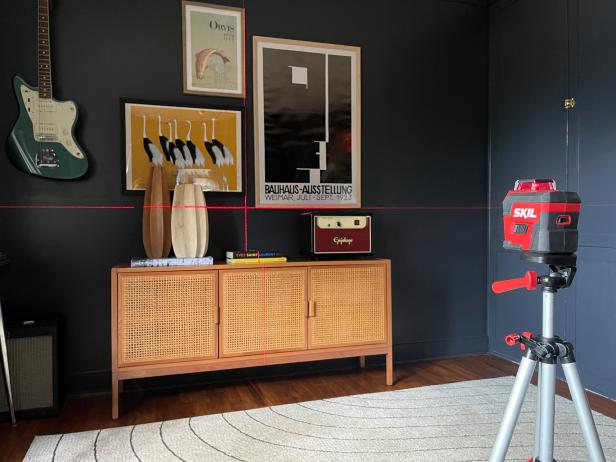 Kamron Sanders
To hang a gallery wall using a laser level, use the laser beams to align the frames to create a picture-perfect layout.
To put each laser level to the test, we set them up on tripods and used them to lay out a gallery wall consisting of varying frame shapes and sizes. The wall in question was painted a dark color but positioned in a room with ample natural light, which meant beam brightness and visibility were a must.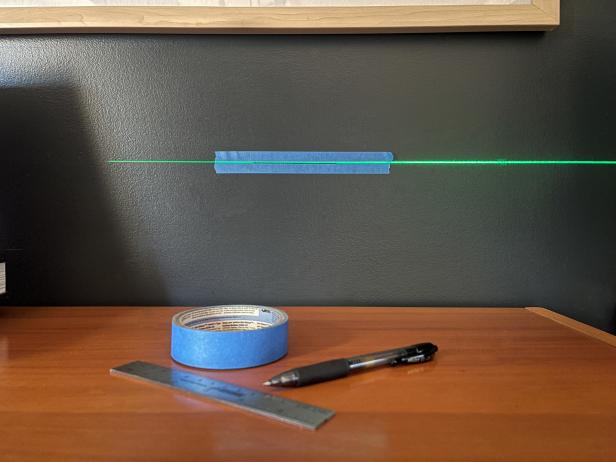 Kamron Sanders
To test the accuracy of a laser level, cast one end of the beam on a piece of tape and trace the line using a straight edge.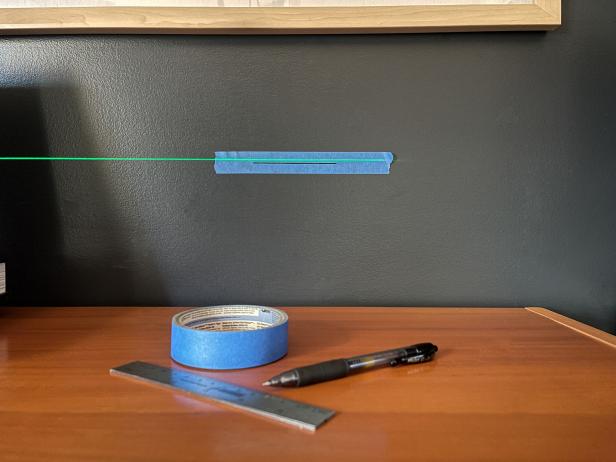 Kamron Sanders
To test the deviation of the laser level, move the beam to show the other side on the tape and mark the deviation.
To test the accuracy of the lasers against each brand's claims, we set up a simple test that would show the deviation between the extreme sides of the beams at a controlled distance. To do this, we set up the laser on a tripod 15 feet from the wall and positioned one end of the beam on a piece of tape, then used a straightedge to precisely mark the bottom of the beam. We then rotated the laser until the other end of the beam was hitting the tape and measured the deviation of the beam against the line.
To test the durability of each option, we dropped them from the height of the tripod (approximately 4 feet) to the ground three times each. We then retested all functions, making note of their ability to self-level and whether or not they maintained their accuracy.
What to Consider When Shopping for a Laser Level
Kamron Sanders
Typically, green laser beams are considered brighter and more visible than red laser beams, so we set up two laser levels side by side to show the difference.
Accuracy: A laser level's accuracy is directly related to its performance. While every laser level we tested was able to consistently cast a level line across the wall, the deviation varied in the brands' claims as well as the real-world testing results. This affects how inaccurate the level line is across large surfaces, which is increased the further the laser is moved from the surface. While a laser level's slight deviation probably won't show when hanging curtains or artwork, it can make a big difference on larger jobs like tile installation.
Beam Color: Typically, green laser beams are considered more visible than red beams. This is most important in an outdoor setting, as the green beam options we tested were noticeably brighter than the red beam options. On the other hand, red beams are traditionally cheaper and use less power than green beams. So, the average user may not benefit much from paying more for a green beam.
Beam Orientation: Most laser levels project both a horizontal level line and a vertical plumb line. Some even have a 360-degree horizontal line, which casts a level line across the entire room. The most capable laser levels feature 3D 360-degree lines, which means they project a 360-degree horizontal line and two perpendicular 360-degree vertical lines. Some laser levels also feature a plumb spot, which projects a plumb spot on the ceiling and floor directly above and below the laser level. 360-degree lasers are often more expensive and may not be worth the added expense if the majority of your projects are across just one or two walls.
Range: For homeowners, DIYers and even most interior contractors, a laser level's range isn't the most important factor, as nearly every laser level on the market has a sufficient range for interior work. However, for those working in extra-large interior spaces, it's crucial to have a laser level that can reach as far as possible. For exterior use, long-range laser levels will almost always require a laser receiver, which beeps to indicate when it reads the level line. This allows some laser levels to be read hundreds of feet away, though the line isn't visible.
Self-Leveling: A self-leveling laser level is one that is able to achieve a level laser projection on its own when placed on a relatively level surface. Most laser levels do this with the help of a pendulum-mounted laser, which allows the internal laser to move independently of the tool.
Mounting: The mounting options for a laser level determine the ways in which the tool can be used. A self-leveling laser level must be placed on a solid surface to project a steady, level line. The easiest way to use a laser level is to mount it to a tripod, which allows you to easily rotate and adjust the height of the laser level. If a laser level can't be mounted on a tripod, it must be set on a ladder or other surface. Some laser levels include wall hangers, magnetic mounts and clamps, which allow the user to mount them in a plethora of spots.
How to Keep a Laser Level in Accurate Working Condition
Laser levels are built to be as durable as possible, but they're still fragile devices that must be handled with care. When operating the laser level, treat it with the same care that you would a camera or smartphone. When you're done, follow these steps to safely store a laser level:
Lock the pendulum. Many laser levels feature a pendulum lock, which serves two purposes. First, this disables the self-leveling function, which allows the laser level to be used at any angle that the tool is positioned in. Second, and most important for storage, the pendulum lock locks the internal components of the laser to help prevent shock as the tool is moved.
Remove the batteries. Batteries shouldn't be left in tools during long-term storage as they have a tendency to corrode. If your laser level features an internal rechargeable battery, pay close attention to the manufacturer's instructions for storage.
Wipe away dust and debris. Clean off the tool's outer shell before placing it in storage to prevent scratches and other damage. Most user manuals recommend using a soft, damp cloth to wipe off the laser level.
Dry off any moisture. After cleaning, thoroughly dry the laser level using a dry, soft cloth.
Place the tool in the provided case or a hard, protective toolbox. If the laser level comes with a case, always utilize it for storage. If no case was included, we recommend buying a protective toolbox to store the laser level in.
Place it in a moderate, dry area inside and out of direct sunlight. Store the laser level somewhere that doesn't see extreme hot or cold temperatures or high humidity. Keep it out of direct sunlight.
Once it comes time to use the laser level again, place new batteries or fully charge the internal rechargeable battery. Check the laser level's accuracy before use, following the manufacturer's instructions to do so.
Frequently Asked Questions
How does a laser level work? Laser levels work by projecting a laser through a clear window from an internal pendulum-mounted laser. The pendulum allows the lasers to self-level with the help of magnets.
What types of projects are laser levels good for? Laser levels are useful for any project that you'd use a standard level or a plumb line and more. These projects include hanging cabinets, mounting electrical receptacles, hanging pictures, hanging gallery walls, mounting curtain rods, hanging wallpaper, laying tile and many more.
Is a red or green laser level better? Green lasers are often considered better than red lasers because they are much more visible, especially in outdoor settings. However, green lasers are more expensive and use more power than red lasers, so they aren't always worth it if you don't need a brighter beam.
How do you use a laser level to hang pictures? To use a laser level to hang pictures, set up the laser to project a line across the wall, then adjust the line to fall where you wish to hang the picture. For single pictures, laser levels are helpful for adjusting the picture to hang level or lining the picture up with certain architectural features. For multiple pictures, laser levels are great for aligning frames, such as on a gallery wall.
How do you use a laser level without a tripod? Use a laser level without a tripod by simply placing it on a relatively level surface. If the surface is too far out of level, the laser level will let you know that it is unable to self-level by either flashing the beam or illuminating an indicator light. Most laser levels can self-level on surfaces within around four degrees of level.