Designer Anisa Darnell shares her story of an entryway remodel that features a modern cottage style.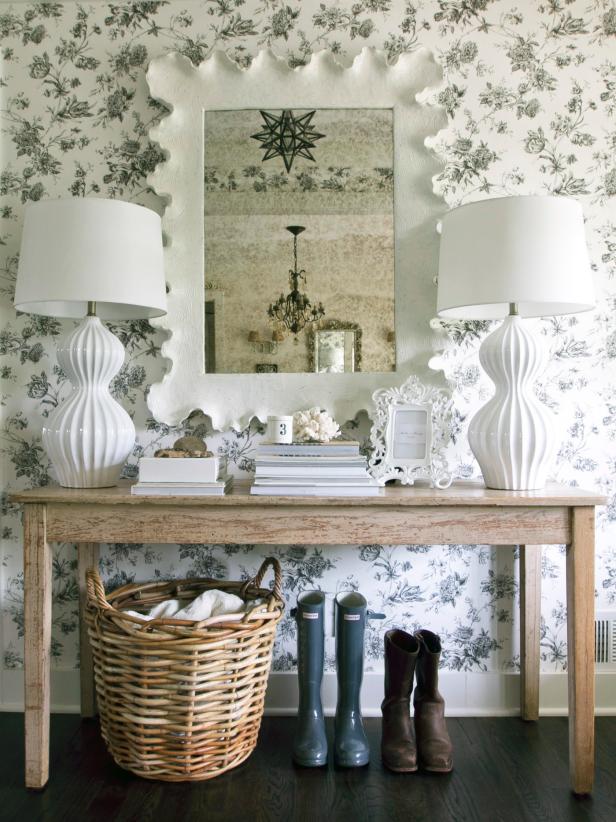 White Shabby Chic Foyer With Floral Wallpaper
In this foyer, delicate floral wallpaper feels crisp and fresh accented by flat white accessories and a pale wood table. Beneath the table, a large basket conveniently holds extra linens and throws.
Designer Anisa Darnell updated a front entryway with a rustic farmhouse table, contemporary lamps and a sage green door.
We caught up with the designer to find out how she conquered design challenges and achieved her goals during this project.
Describe the homeowners' wish list.
They wanted to add charm, brighten up the space and make it unique.
What were the homeowners' design problems?
Making it brighter. This house was so dark and dated, but adding white everywhere made the house light and airy.
What was your biggest obstacle in this space?
Removing the wallpaper and ripping up the old parquet floors. We hired professionals to do those tasks.
How does the end result match up with your original vision?
Turned out better. The wallpaper was a huge success, and we love the back of the front door, which we painted green.
What lessons did you learn?
You can have an overall process, but sometimes things happen organically along the process, like the front door.
What are the "hidden gems"?
The wallpaper, the rustic farm table for the console and the green door, star pendant and funky mirror.