Traditional Chic Living Room
Designer Heather McManus used soft gray hues and floral upholstery to give this living room traditional design appeal.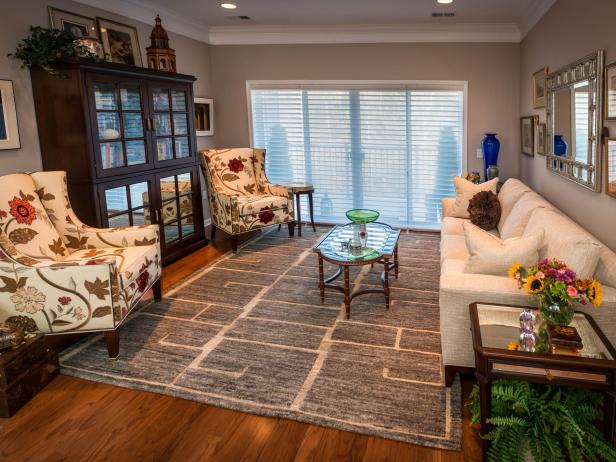 Gray Traditional Living Room
By spreading the furniture out against the walls, this living room utilizes the center space to create a larger feel. Floral chairs create an interesting mix.
What were the main items on the homeowner's wish list?
The client had recently moved, downsizing from a big 4-bedroom home to a 2-bedroom condo in a retirement community. She had recently lost her husband as well. The redesign of her condo was like therapy. Her main goal for the living room was to have a welcoming space that invites you in for entertaining friends and relaxing with a book.
What was the single-largest challenge you wanted to address for this client?
The layout was a challenge, since the room was completely open on one side to the kitchen and the opposite wall was the pass-through for the balcony. Only having two walls to work with, and wanting to keep the open flow, made placing the furniture a challenge. I designed the room in a traditional living room setup that allows for conversation with a sofa facing two wing chairs. This kept the open flow and welcomed guests into the space.
How does the end result match up with your original vision for the space?
We got lucky on this one as it all fell into place without any issues. I'm always thankful when that happens.
What surprised you the most about the project?
This client's artistic eye and willingness to go outside of her normal comfort zone was very surprising for me. She was an older woman who dressed conservatively; to look at her, you would say I bet she's a proud and wonderful grandmother. The design choices we made together are to this day some of my favorites because she was willing to be a little daring and unexpected. You really can't judge a book by its cover, and I have learned that even the seemingly most conservative client can have a wild side when it comes to their home decor.
What are the hidden gems in your plan?
I love this room and all of its elements, big and small. I love the traditional lines of the John Whitcomb coffee table against the modern lines of the Tufenkian area rug. The use of mirrors and glass added reflective glamour and lightness to the room. The big, bold floral print on the modern wing chairs adds the pop of color and pattern that the room needed.