Contemporary Family-Friendly Backyard
Landscape designer Scott Lucchetti creates a multi-functional outdoor living space that features chic garden style.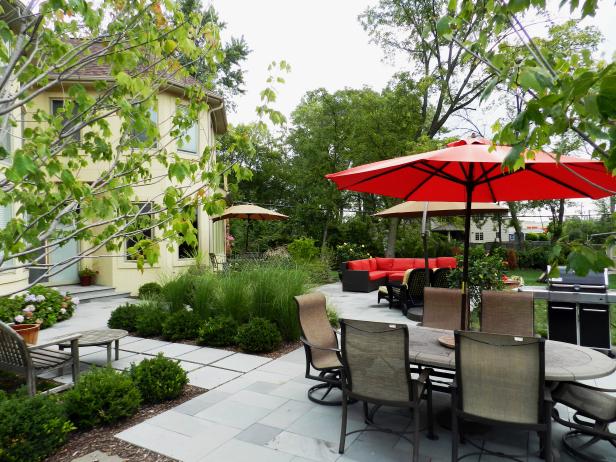 Contemporary Backyard Patio With Red Umbrella
Easily maintained landscaping creates a lush green space on this stone patio featuring separate seating areas. A cherry red umbrella adds a refreshing splash of color and shade to the outdoor dining table.
Landscape designer Scott Lucchetti uses a central hub in this Downers Grove, Ill., backyard design for a soft focus to multiple outdoor functions, including cooking, entertaining and play space for kids.
Describe the homeowners' wishlist.
Being a younger couple with three small children, the clients wanted enough space to cook and entertain friends and family. They asked for enough "unprogrammed" space for the kids to ride their big wheels, draw with chalk, etc.
What were the homeowners' design problems?
The main design problem came from the amount of functions they wished to accomplish outside. I needed to incorporate enough space to meet their needs while avoiding the appearance of a paver parking lot in the backyard.
What was your biggest obstacle in this space?
The biggest obstacle came from the number of windows along the back facade. I wanted to create a tucked-in patio/landscape combination, but my plant choices were limited due to heights of windows.
How does the end result match up with your original vision?
I met the clients in 2010, my first year in the residential design field. They asked for a simple kidney-bean design. When they called me back in 2012 and wanted to move forward with the original concept, I asked them for a few days to develop a concept I felt fit their lifestyle and architecture better than a standard bean. The concept I returned with is exactly how it was installed.
What lessons did you learn?
This was the first project I had done without seat walls or some type of border paver accent. I let the architecture of the home, ornamental pots and large furniture take center stage. This project changed my entire design process moving forward.
What are the "hidden gems"?
The patio was constructed off a central hub. The three-tiered annual plant located in the central bed sits at the intersection of axis lines running from the back door and the interior living room. The outdoor rooms then were dispersed out from the center, spreading 800-square-feet out and allowing landscaping on either side of the patio to encroach, softening the hard lines.