Designer Denise Maksimowitz transforms an outdated and oddly shaped kitchen with streamlined cabinetry, granite countertops and a functional layout.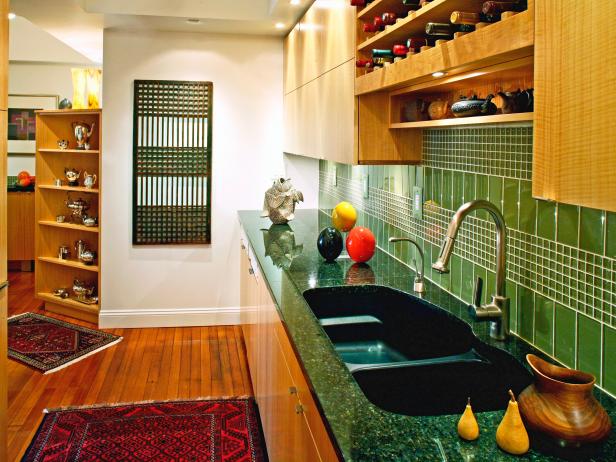 Contemporary Kitchen with Green Backsplash and Countertops
Sleek, contemporary cabinetry in a light wood is paired with dark countertops. Bright green tiles in two different sizes are used to create a stunning backsplash. Above the sink, the designer added shelves for wine storage.
Instead of fighting the odd angles of the Washington D.C. kitchen, designer Denise Maksimowitz of DenMak Design embraces them with custom sleek cabinetry and countertops.
We spoke with Maksimowitz to see how she tackled challenges and incorporated her client's goals into this remodel.
Describe the homeowners' wishlist.
The homeowners wished to create a beautiful serene space with increased functionality to make the most of the kitchen and adjoining butler's pantry.
In addition to the expected appliances, the remodel includes a washer and dryer, media component cabinet, recycling, beverage cooler and a wine rack that becomes the focal point of the butler's pantry.
What were the homeowners' design problems?
Many physical constraints had to be accepted as unchangeable: the trapezoidal footprint of the kitchen, a large concrete column in the butler's pantry, exposed hot water pipes, and the dumbwaiter access. Ultimately, we overcame these constraints by incorporating them into the remodeling plan without sacrificing the aesthetics or the functionality of the space.
What was your biggest obstacle in this space?
Access to this apartment in a 100-year-old building was problematic, since the elevator could not handle the demands of the job. Contractors walked almost everything up four flights of stairs. Also, the electric and plumbing sat on top of the original plaster walls. In the process of remodeling, these services were trenched into the plaster; then the walls were repaired.
How does the end result match up with your original vision?
The end result closely matched the original vision. What differed were some of the actual dimensions of some of the cabinets, but not the design. We had the cabinet maker re-measure the space after it was remodeled (after demo, electric, plumbing and wall repair) so that the cabinets could be fabricated to fit the space exactly without filler strips.
What lessons did you learn?
It's not unusual to discover embedded systems (electrical and plumbing) that are not code compliant and that must be brought up to code during remodeling. Addressing these issues when they arise adds both cost and time, and may even impact the design plan so it's best to discuss this very real possibility with the homeowners up front to set realistic expectations.
What are the "hidden gems"?
Decorative woven metal conceals the hot water pipes while allowing the heat to safely escape into the space. We traced the curve of the glass range hood and reproduced it in the granite backsplash below. Track lighting in each of the two rooms terminated on the common bulkhead, suggesting that a single track actually pierced the bulkhead.