Baseball-Themed Teenage Boy's Room
Inspired by his favorite baseball team, a teenage boy's formerly cluttered room is given a Yankees-themed makeover.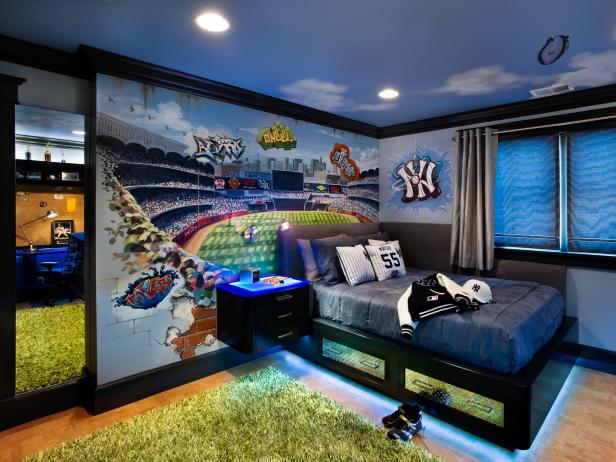 Boy's Baseball Themed Bedroom
Created for a major baseball fan, this teenage boy's bedroom pulls out all the stops including pillows made from the jerseys, a New York Yankees logo painted on the wall and a spectacular mural that makes you feel like you're standing in center field.
When designing a New York Yankees baseball-themed bedroom for a teenage boy who had grown out of his boring, beige space, designer Leslie Lamarre pulled out all the stops, including a wall mural of Yankee stadium, turf-style carpet, jerseys for pillows and a bold color palette.
Describe the homeowner's wish list.
Our client's teenage son had outgrown his "big boy" bedroom. He wanted a hip place to hang out with his friends with a bed that could double as a couch, a good work surface for his homework, plenty of storage for books and a place to keep his carnivorous plant terrarium. He's a big Yankees fan and wanted his room to pay tribute to his favorite baseball team.
What was the biggest issue the design addressed?
It was pretty clear to me that in order to give the space the urban, edgy feel this teenager wanted, the cottage white trim had to go. Ditto on the off-white carpet. The owner had not considered changing either of these features. Winning her over on these two elements enabled us to completely transform the boy's room.
Describe an obstacle in the space.
The biggest obstacle in this modest-sized space (11 feet by 11 feet, 9 inches) was the closet door: a pair of 3-foot-wide panels swinging into the room. We replaced them with Cascade Coil Drapery panels that fit the same opening but allow space for a desk just outside the closet. We also saved space by building a dresser into the closet and incorporating drawers in the platform of the bed.
How did the end result match your original vision?
Originally, I had envisioned AstroTurf on the floor, but in reality, it felt pretty scratchy underfoot. Instead, we opted for cork flooring, which mimics the look of the baseline and feels warm and comfy. For the "field" effect, we tossed in a grass-like throw rug from CB2.
What lessons did you learn from this project?
We were thrilled that our client accepted all our design recommendations, from the cork flooring and charcoal-black trim color to the accent lighting and the innovative countertop material (Chroma from 3-Form). This experience helped reinforce my commitment to fully represent design concepts I truly believe in, despite any real or anticipated objections. Once the client understands the design details, they can appreciate how important they are to the overall project.
What are the hidden gems that make a big difference?
Our hidden gems include: accent lighting below the nightstand, bed, desk and countertops and above the bookshelves; kick-plate drawer fronts, outlet covers and switch plates; a built-in, upholstered headboard that jogs around the window trim; metal mesh cabinet door panels that coordinate with the coiled-steel drapery; jerseys of the teenager's three favorite players, transformed into throw pillows; letters of the boy's name, "I-A-N," subtly stacked behind the New York Yankees logo on the window wall; names of his favorite players "tagged" on the wall that was inspired by a real Yankees mural on an old brick wall in New York City.