Designer Karen Needler shares her story of a small kitchen remodel featuring pro-quality appliances and floor-to-ceiling cabinetry.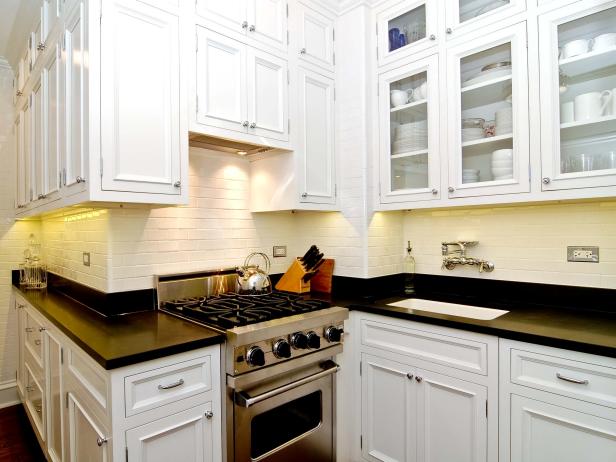 White Kitchen With Black Countertops
Smart black countertops and a stainless steel range break up the sea of white in this grand kitchen. Cabinets reach all the way to the ceiling to maximize storage space.
When designer Karen Needler started on this 68-square-foot kitchen remodel, she knew space was going to be an issue.
With smart storage solutions, small-scale appliances and a striking white color palette, Karen was able to give the homeowners the gourmet kitchen of their dreams.
Describe the homeowners' wish list.
The clients requested "timeless elegance." They wanted a gourmet kitchen in their vacation home, a pied-à-terre boasting treetop views of Lake Michigan in Chicago that looked like it was always a part of the 1929 vintage building.
What were the homeowners' design problems?
With only 68 square feet, a place for the refrigerator posed an issue. We decided to flush a combination fridge/freezer drawer into the nine-inch-deep service hallway cabinetry. The 24-inch-deep paneled unit sits into the wall and closet behind. There is room for a second fridge down the hall in the storage closet.
What was your biggest obstacle in this space?
The biggest obstacle was just that: an obstacle. A concrete post ran through the center of the unit (the bumped-out corner left of the sink) supporting the building and preventing us from opening or moving walls within the space. Working within the extra-small 68-square-foot kitchen, we removed the dropped ceiling, taking the stacked cabinetry to the ceiling.
What lessons did you learn?
Bigger is not always better. Working within only 68 square feet did pose its challenges, but with some creative problem-solving, we were able to deliver a fully functional gourmet kitchen. Now, I look forward to designing small spaces. It gives us such an opportunity to splurge.
How does the end result match up with your original vision?
We are used to seeing challenging spaces, but this one took the cake. In the end, the extra time and planning that was given to the details of the design means this kitchen, within its original footprint, lives up to our clients' expectations of a gourmet kitchen with timeless elegance.
What are the "hidden gems"?
Side doors on corner cabinetry make for easy access, while the vintage faucet was reconditioned and wall mounted, allowing for a larger sink. The backsplash and walls are lined with 2"x4" subway tile, making the room look bigger. Everything is scaled to the room, including a 24-inch pro range and an 18-inch dishwasher.