Cottage-Inspired White Kitchen
See how designer Tobi Fairley transformed a ho-hum space into a high-end kitchen infused with cottage style.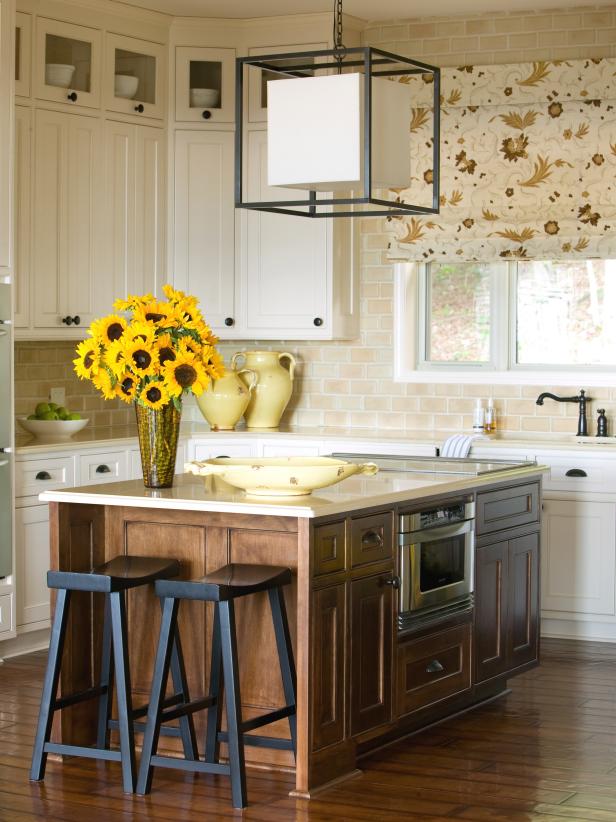 Cozy Cottage Kitchen With Island
The creamy countertops are the same throughout the kitchen, but the island features an earthy brown cabinetry, which helps to ground the mostly white space. Two bar stools tuck neatly under the island for extra seating
Just outside Hot Springs, Arkansas, designer Tobi Fairley remodeled a kitchen on a budget of $40,000.
We talked with Fairley about her simply elegant kitchen design, which features a subway tile backsplash, floor-to-ceiling cabinetry and stainless steel appliances.
Describe the homeowners' wish list.
The remodel was primarily cosmetic. They wanted the kitchen to reflect their style, be brought up to date and incorporate some classic materials that would last for years to come.
What were the homeowners' design problems?
Style. The room did not reflect the homeowners' taste and they wanted to make sure it was welcoming and flowed with the rest of the home as well as the natural surroundings. I have worked on other projects with this family and felt it was very important that guests see their vacation as a reflection of their style.
What was your biggest obstacle in this space?
Didn't really have big obstacles. The clients were onboard with maximizing storage space by taking cabinets to the ceiling and enlarging the island. And also with the decorative finishes that gave the room its appeal.
How does the end result match up with your original vision?
The project was fortunate in not having a lot of hiccups. There was a seamless transition from the initial vision to the end result.
What are the "hidden gems"?
I love how the barstools tuck neatly under the kitchen island. It gives you a place to sit without taking up lots of room in the walkway. Also, the microwave was installed into this same island to keep the cabinets free of "appliance clutter." While the room has a classic palette, details like the lantern over the island and the fabric on the shade bring it to life.
What lessons did you learn?
The cabinetmaker on this project is a genius at construction and has a knack for details, including building hidden spaces into the bottom of the upper cabinets for electrical outlets, which keeps the backsplash from being marred with outlets. This was also one of the first projects where I took the tile backsplash all the way to the ceiling for impact.