Ocean-Inspired Guest Suite
Designer Ashley Yeates Lathrop creates a comfortable guest suite with a soothing color palette and cozy furnishings.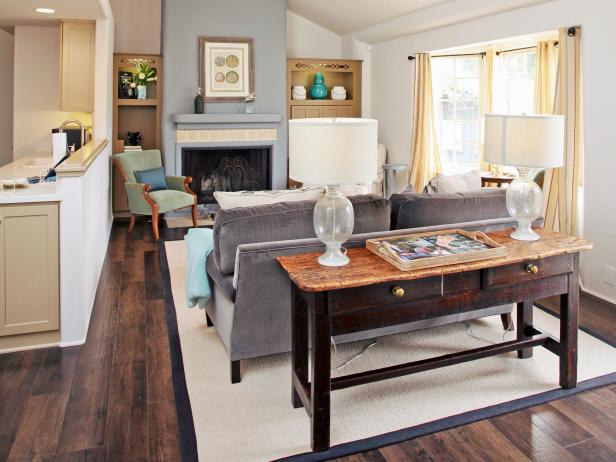 Eclectic Living Room With Rustic Console Table
Photography by Evynn LeValley Photography
Photography by Evynn LeValley Photography
For this Carmel-by-the-Sea, Calif., project, designer Ashley Yeates Lathrop brings the stunning ocean views into the homeowners' guest suite.
The suite features a living room, dining area, bathroom and kitchen, which she infuses with a sophisticated and comfy vibe. We caught up with the designer to see how she pulled the project together.
Describe the homeowners' wishlist.
The homeowners wanted to create a peaceful guest suite for business and personal guests. A complete renovation was necessary with the top items on the wishlist being a functional and elegant kitchen and living space with comfortable furnishings made to withstand high traffic.
What were the homeowners' design problems?
Although the guest suite has ocean views, the cool and foggy climate creates a need for lighting and brightening the space. Beyond this aesthetic concern, the project has great upside potential if the design worked to increase the value of the property upon completion. This design both brightened the space and created a marketable appeal.
What was your biggest obstacle in this space?
This space was commercially zoned but in need of residential appeal. Combining the multipurpose uses and vastly different design tastes of the homeowners was the challenge. As it is one of three separate spaces in the completed project, all aspects had to connect in some way as well as result in the expression of both homeowners.
How does the end result match up with your original vision?
Originally, the design goal mimicked the end result but was created from a residential perspective versus commercial perspective. The design specifications shifted toward functionality and durability when the guests of the adjoining commercial recording studio were considered. We needed to create a haven for musicians who like to party.
What lessons did you learn?
I came into this project after the builder had partially completed the project. There were design and structural issues not being addressed or had passed by, heating for example. It was a good reminder of the importance of my role in keeping the clients thinking ahead and focusing on issues beyond aesthetics.
What are the "hidden gems"?
The beauty of the project is its location in charming Carmel and proximity to the beach. The hidden gems are no longer hidden as the colors, accessories and textures bring the beauty of outside within. Whether the calming blue accent colors, fabrics, glass chandelier or the bowl of sea items on the coffee table, one is reminded of the world outside the front door.