Swanky Bachelor Pad Makeover
Cool gray hues with pops of yellow and contemporary furniture choices gave this living room a stylish spin suitable for a modern man.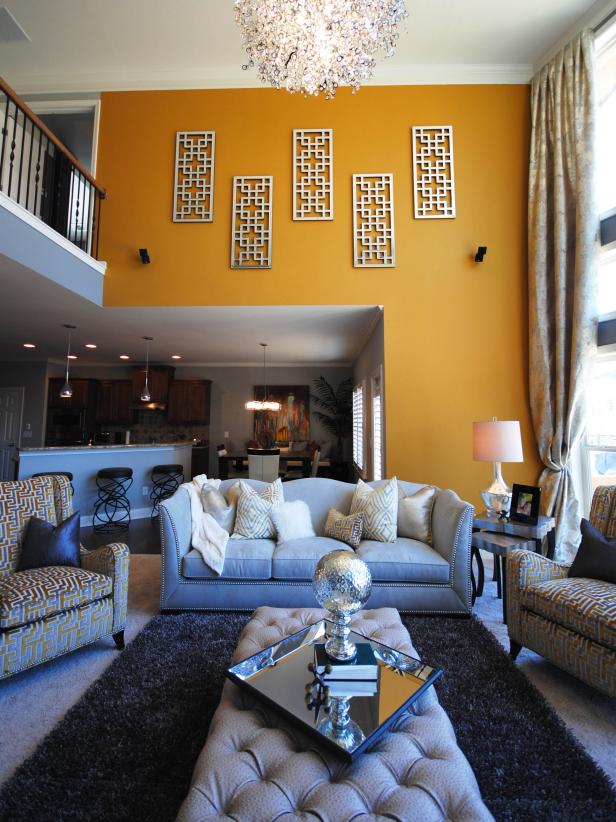 Yellow Living Room With High Ceilings
Natural light floods into the whole house from the grand two story living room. Painted a fun yellow, the open living space is connected to the whole house through a lofted hallway on the second floor.
Designer Paisley McDonald struck a fine balance between posh and understated when giving this Georgia living space a makeover. Not only was her client newly single, but he was also seeking a space his two children would be able to enjoy. The end result was a modern living room that blended comfy furniture and fluffy pillows with sleep table accents and a stunning chandelier.
What were the main items on the family's wish list?
This client is newly a bachelor with two children. He desired a space that was a reflection of him, his family and a place that his kids would feel comfortable living in.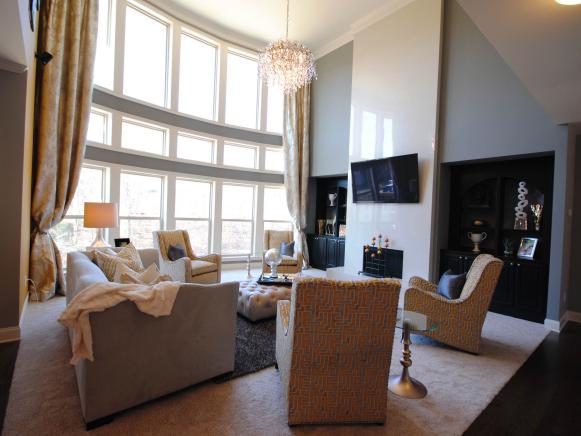 Transitional Living Room
A spacious living room in gray tones with lots of windows to let in the light. The transitional furnishing are arranged to create a conversational space or for television watching. Built-in bookcases provide ample space for storage and display
What was the single largest challenge you wanted to address for this client?
The biggest issue in this room was the stacked stone fireplace. Though it was very attractive, it was not at all my client's design style or a reflection of him. I knew the stone had to go if we wanted to accurately design the space and not make the room feel like we were "forcing it". I would call my clients taste more contemporary and slightly Miami Vice-ish. The rustic, traditional nature that stacked stone provides did not work with his style.
What was your biggest obstacle in this space?
My biggest obstacle in this space was selecting a material for the fireplace that would reflect my clients design style and be a backdrop for what I envisioned, yet compliment the rest of his home. You have to realize, this home is set in suburbia. Other elements in the home are very traditional, so as much as I wanted to do a really funky, contemporary tile on the fireplace, it wouldn't suit the rest of the house. The polished ceramic that we chose gave a chic and classy elegance. It is also heat resistant which was a factor to consider since it was installed on the fireplace.
How does the end result match up with your original vision for the space?
I had originally desired for the mirrors on the long wall to be installed at one height, once getting them up there, I decided that varying heights would create visual interest and make it seem as an art form. A funny side story is that the art on the wall adjacent to the stairs actually had a subject to it. I didn't like the subject so I hung the piece upside down and now you can't even tell what it was! Overall, the space turned out beautifully and the design/install was rather seamless!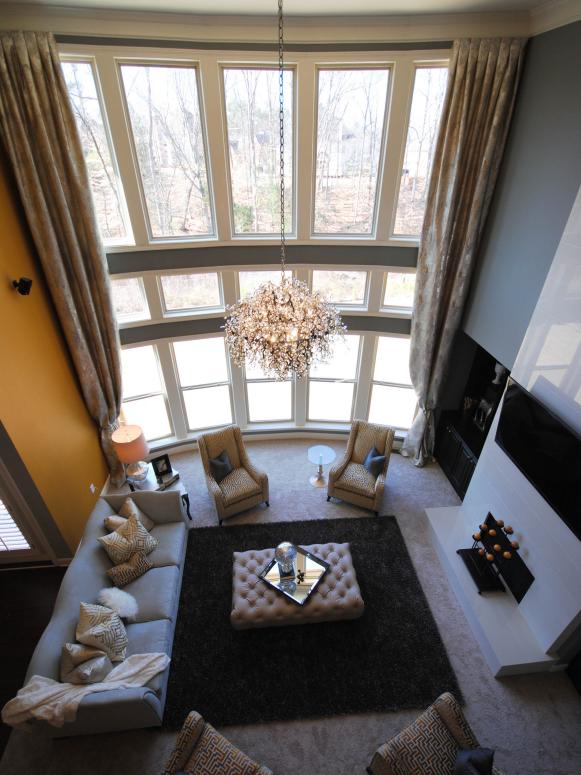 Transitional Gray Living Room With Two-Story Windows
Contemporary furniture and cool gray hues with a yellow accent wall give this living room a stylish flair suitable for a modern man. Gorgeous two-story windows not only provide natural light, but also draw the eye upward to the stunning crystal chandelier.
What surprised you the most about the project?
Structural elements are very important to consider.. If they don't work in your design., then don't force them! If we had left the stacked stone, the whole design would have been compromised. A few people ragged on me for ripping out such beautiful stone but I knew at the end of the day, it as the right thing to do. Just because something seems permanent (e.g. stone fireplace) doesn't mean it is!
What are the hidden gems in your plan?
Some hidden gems in this room are how I tied the accent walls into the chair fabric. I used a rich, umber color which was masculine enough to pop the wall and chairs with. The shag rug also makes a big difference in this room- It provides dimension on top of the carpet floor. My favorite gem of this room is the cosmic ball chandelier. It sparkles and reflects a really neat pattern on the walls when the sun is setting.