Designer Andreas Charalambous shares how he used stunning sycamore paneling to transform an awkward layout into a neutral bedroom retreat.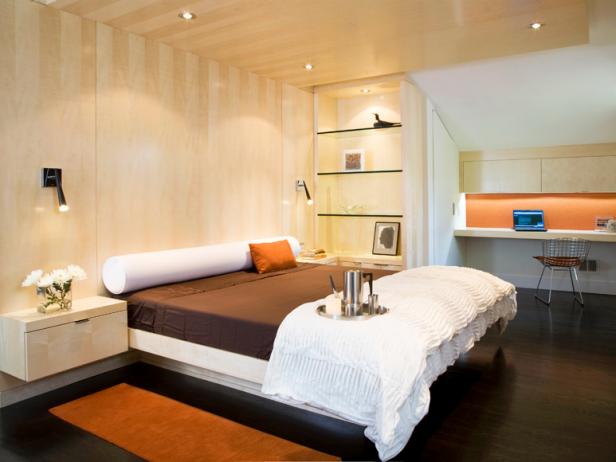 Contemporary Bedroom With Platform Bed
The base of the platform bed gives the illusion of a bed suspended in space. Other elements, like the floating nightstand and glass shelving, add an airy and streamlined quality to the room, which also makes the space seem larger.
For this Washington, D.C., room project, designer Andreas Charalambous of FORMA Design Inc. tackled an irregular room layout to create a functional, relaxing master bedroom and dressing area.
We asked Charalambous how he conquered design challenges and achieved his goals in this modern bedroom remodel.
Describe the homeowners' wish list.
They had a very dysfunctional master bedroom and a dressing area that needed a complete overhaul. They approached FORMA Design, whose work in warm modernism appealed to them, to see if there was a way to renovate the space and make it functional, beautiful and address all the issues they had on their wish list.
What were the homeowners' design problems?
Other than making the master bedroom functional with an office area, ample bookcases and storage area as well as additional clothing storage, the main issue was the irregular layout of the room and the multiple ceiling angles that made the space feel unresolved.
What was your biggest obstacle in this space?
The major issue was the uneven ceiling and irregular layout of the room. We introduced perimeter cabinetry, including bookcases and a built-in desk, all in sycamore, to bring a consistent look throughout the room. We then inserted a canopy bed in the center in the same sycamore paneling that helped disguise the irregularity of the ceiling and bring order to the space.
What lessons did you learn?
In the end, consistency in the finishes, lighting and the way issues are resolved pays off, because you end up with a project that looks good, works well and feels seamless.
How does the end result match up with your original vision?
We decided the size of the master bedroom was actually too big at the expense of the dressing area so we made the bedroom two feet smaller. We added a row of additional closets in the dressing area, which now allows for a niche with a mirror and a seat for getting dressed. The area is lined with floor-to-ceiling mirrors to make the space feel twice as big.
What are the "hidden gems"?
Multiple light sources, such as LED lighting, overhead halogen lighting, sconces for reading by the bed and appropriate dressing area lighting coupled with ample daylight make the spaces feel unified and also allow for the creation of different moods based on the time of day.